This really IS one of the best potato salad recipes ever!
This recipe for Jack's Potato Salad is one of the reasons we started blogging.  We originally started A Family Feast as a fun way to share our most-requested recipes with family and friends – and Jack's potato salad is one of those recipes that we get asked for anytime Jack makes it!  It's so good…in fact, I've often told Jack that we should go into business selling this potato salad!
Jack's potato salad is a mixture of tender-cooked new red potatoes and hard-boiled eggs that are combined with a wonderful dressing made with mayonnaise, Dijon mustard, onion, white and cider vinegar, sugar and other seasonings.  It's the perfect marriage of flavors – creaminess from the mayonnaise, a little bit of zestiness from the mustard and vinegar, and a touch of sweetness from the sugar.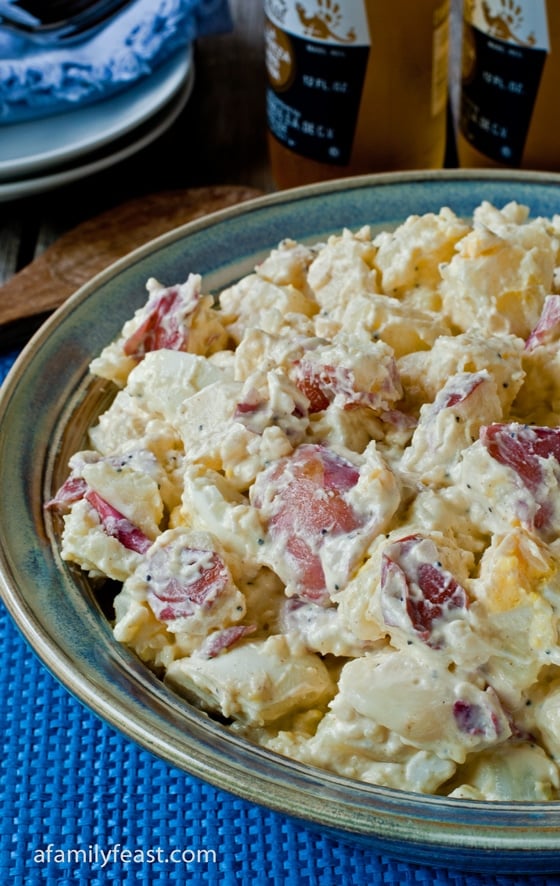 At our barbeques, you'll most often find me with just a big plateful of Jack's fabulous potato salad to eat and a big, satisfied smile on my face!
There are two secrets to this perfect potato salad.  The first is to oil the hot potatoes as you cut them.  This seals out the liquid and stops them from getting too soggy.  The second secret is to mix the mayonnaise mixture separate from the potatoes and add it to the hot oiled potatoes.  Next, the warm mixture is quickly chilled on a flat pan so that it cools faster, then it's transferred to a bowl once chilled.
You can actually adjust the ingredients you put in the potato salad (eggs or no eggs, onion or no onion, etc.) based on your own tastes and preferences.  Just be sure to follow Jack's general technique to ensure that the potatoes stay perfectly moist and tender without getting too mushy.
Enjoy!
You may like these other summertime salads:
Print
Jack's Potato Salad
Prep Time:

20 mins

Cook Time:

40 mins

Total Time:

1 hour

Yield:

15-18 servings
---
5

pounds new red potatoes, skin left on

1 tablespoon

salt

6

room-temperature uncooked eggs

3 tablespoons

white vinegar, divided

1 ½ tablespoons

cider vinegar

1 cup

finely minced sweet onion

2 teaspoons

celery salt

1 teaspoon

white pepper

1 teaspoon

poppy seeds

¼ cup

white sugar

1 teaspoon

Dijon mustard

3 cups

mayonnaise (we recommend Hellmann's or homemade)

1/3 cup

extra virgin olive oil

1/3 cup

canola oil
---
Instructions
Place washed unpeeled potatoes in a large pot and cover with water to about 6 inches above potatoes. Add one tablespoon salt and bring to a boil. Reduce to a medium boil and boil for 30 to 40 minutes depending on the size of your potatoes. Prick with a fork to tell when they are done.
While potatoes are cooking, bring a medium pot of water to a boil, add the 1 ½ tablespoons of white vinegar, and gently add the whole eggs in with a slotted spoon being careful not to crack the shells. Boil rapidly for five minutes. Turn off heat and let the eggs sit in the hot water for 15 minutes.
Drain the eggs and shake the pan back and forth to crack the shells. Under running water remove the shells. Roughly chop the eggs in large pieces and set aside.
In a medium bowl, mix the other 1 ½ tablespoons of white vinegar, cider vinegar, onions, celery salt, pepper, poppy seeds, sugar, mustard and mayonnaise. Set aside and refrigerate.
Mix both oils together in a measuring cup or other small container.
Once the potatoes are cooked, leave them in the hot water and remove one at a time with a slotted spoon to your cutting board. Cut potatoes into chunks and place in large bowl.
Once you are a quarter of the way through cutting the hot potatoes, pour one quarter of the mixed oil over the cut potatoes and gently combine. Continue with cutting and oiling until all of the oil and potatoes are in the large bowl.
Add the mayonnaise mixture to the hot oiled potatoes and gently mix. Add the cooked eggs and gently mix.
Now pour the entire contents out onto a sheet pan spreading evenly. Cover with plastic wrap and refrigerate until chilled to below 40 degrees. Once cool enough remove potato salad to your serving container and enjoy.
If serving this outside, try to keep shaded and, as an added precaution, place a bowl of ice (larger than the bowl you are using) under the bowl of potato salad to keep it chilled while serving. Place leftovers in the refrigerator as soon as you have finished serving.
---