A few days ago, we shared a delicious recipe for deviled eggs – and as part of that post, we also promised you a Cooking Lesson on making Perfect Hard-Boiled Eggs!
When you're making recipes like egg salad,  deviled eggs, or our spinach salad – cooking the eggs correctly is a very important step in an otherwise very simple recipe!  If you cook the eggs too long – the yolks will get tough in texture and turn a greyish-green color.  If you don't cook the eggs long enough – the insides can be a little too soft!  And sometimes, no matter how hard you try, hard-boiled eggs can be difficult to peel.
Today's Cooking Lesson will show you a few tricks of the trade to make perfect hard-boiled eggs that are perfectly cooked and easy to peel!
First of all, you want to start with fresh, raw eggs that have been brought up to room temperature. Bring a pot of water to a boil (you want the eggs to be fully covered with water as they cook, so choose a pot that is large enough to hold however many eggs you are cooking) and add in a few tablespoons of white vinegar.*  The vinegar helps breakdown the tough inner skin so the shell peels right off when you are done cooking the eggs.
(*Note: This lesson cooks 6 eggs in approximately 4 quarts of water with two tablespoons of vinegar.  Adjust the amount of vinegar if you are cooking more eggs in a larger pot with more water.)
With a spider strainer or other slotted spoon, gently place eggs one at a time into the water, being careful not to drop the eggs so quickly that they crack when they fall to the bottom of the pan of boiling water.
Boil the eggs for exactly five minutes.
Then turn the heat off under the pot and let the eggs sit in the hot water for exactly 15 minutes.
Pour the water out of the pan. Then shake the pan (with the eggs still inside) vigorously to crack shells.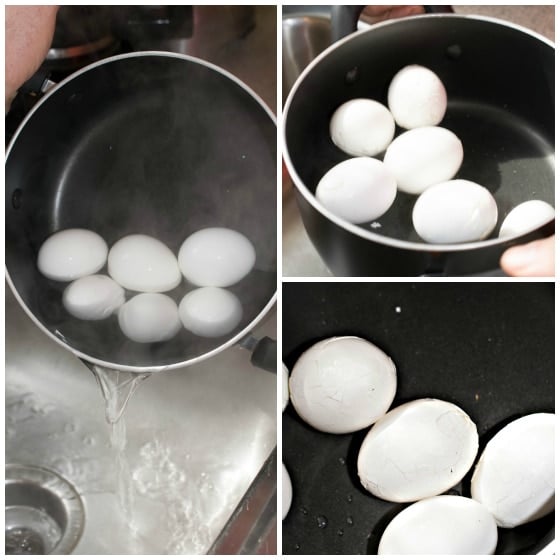 Start running cool water into the pot of cracked eggs.  With the water still running, peel the shells off each egg.
Dry completely on paper towels before using in recipes such as our Deviled Eggs or Classic Egg Salad or our Spinach Salad with Warm Bacon Dressing.
You may also like: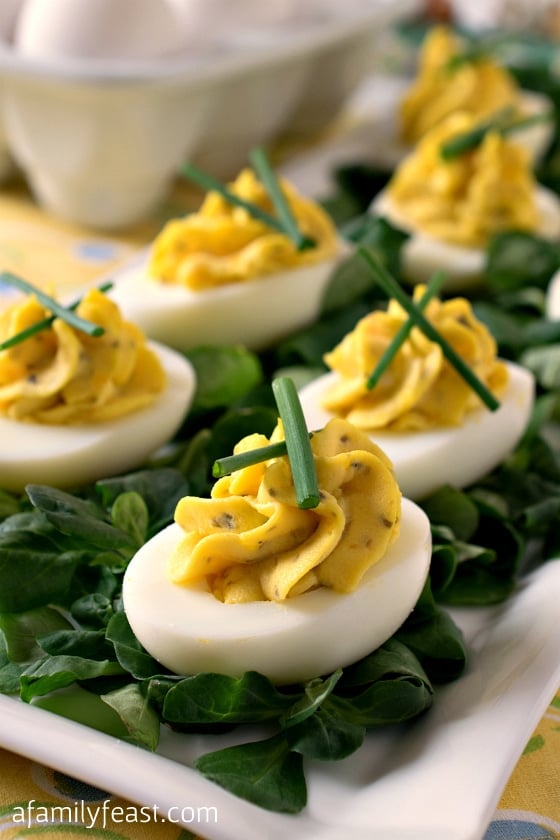 Spinach Salad with Warm Bacon Dressing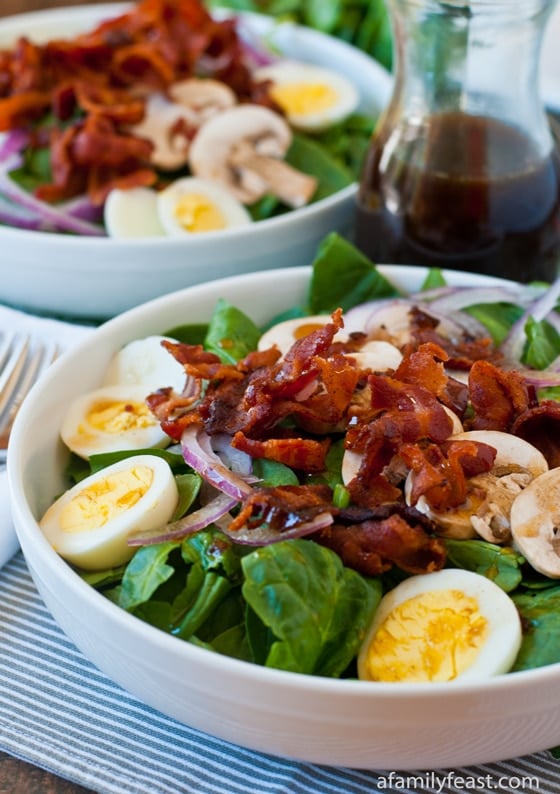 12 Eggs-cellent Egg Salad Recipes