This Kale Apple Walnut Salad is healthy, easy and delicious!
Lots of people ask us where we get our inspiration for the recipes we share here on A Family Feast. In the case of this Kale Apple Walnut Salad – inspiration came from behind the deli counter at a Safeway supermarket in Lake Tahoe, California.
We just spent the last week in Lake Tahoe vacationing with two other families. (Such a gorgeous place!) Since our condo rental came with a very well-equipped kitchen, we decided as a group to cook as many meals 'at home' as possible to save money for other fun vacation activities.
Luckily for us, a supermarket was right across the street – and on our first night after we arrived, we stocked up on groceries, including a delicious Kale Apple Walnut Salad from the deli.
Everyone in our group loved that Kale Apple Walnut Salad – fresh, curly kale with chunks of sweet apple and crunchy walnuts, plus thinly sliced cabbage and red onion, and a little bit of hard cheese – all tossed in a light and mildly sweet dressing. So of course, Jack and I looked at each other and said, "We can make this!" (Yes – recipe inspiration comes from anywhere!)
This Kale Apple Walnut Salad recipe makes a big batch, so it's a great, healthy option to bring along to a summer cookout. It also stores nicely in the refrigerator – in fact, I think this salad tastes even better the next day after the flavors meld together and the kale softens a bit.
The employees working behind the deli counter at Safeway told me that the Kale Apple Walnut Salad is very popular with their customers. I can definitely see why – it's delicious! And while I don't know if our recipe is an exact copycat of Safeway's Kale Apple Walnut Salad – our version comes very close to recreating the same flavors.
Print
Kale Apple Walnut Salad
Author:

Prep Time:

30 minutes

Total Time:

30 minutes

Yield:

8-10 servings
---
1 medium leafy head of green curly kale (8 cups loosely packed leaves)
1 medium leafy head of red curly kale (8 cups loosely packed leaves)
1 cup thinly sliced red onion
2 cups thinly sliced green cabbage
4 tablespoons cider vinegar
3 tablespoons walnut oil (canola or grape seed oil can be used)
1 ½ teaspoons kosher salt
1 teaspoon Dijon mustard
2 teaspoons granulated sugar
1 ½ cups walnuts, coarsely chopped
2 large Fuji apples peeled, cored and diced small (about 3 cups)
¾ cup grated hard cheese such as Romano, Parmesan or Asiago (We used half Romano and half Parmesan)
---
Instructions
Remove leaves from stems by running a sharp knife down each side. Chop the kale into small bite sized pieces. Rinse, drain and dry. You should have about 16 cups (one gallon) of loosely packed leaves.
Place the kale into a large bowl and add onions and cabbage.
In a small bowl mix vinegar, oil, salt, mustard and sugar. Whip to combine and pour over the leaves.
With clean hands, massage the liquid into the leaves for about two minutes. The leaves will start to break down and become a little limp. Let this sit at room temperature for ten minutes.
Place the walnuts in a dry sauté pan over medium heat and toast, about five minutes. Cool.
Add cooled walnuts to salad along with the diced apples and grated cheese and toss.
---
Disclosure: This post contains affiliate links.
You may also like:
Tuscan Kale Salad with Oranges, Currants and Feta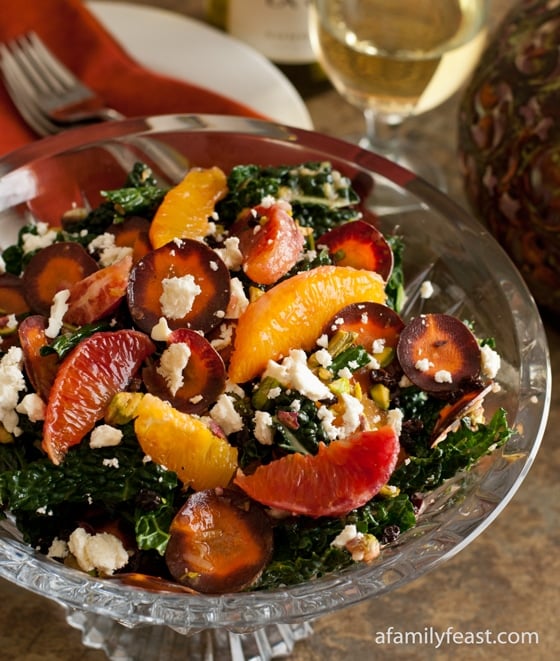 Massaged Kale with Lemon and Pine Nuts