Happy Monday everyone! Here's another classic to add to your summer barbecue recipe collection – a delicious Macaroni Salad!
I know that this is a completely biased opinion, but I think my husband Jack's macaroni salad is one of the best that I've eaten!  It's rich and creamy thanks to a dressing made with both mayonnaise and crème Fraiche (you can substitute sour cream for the crème Fraiche if you can't find it) as well as a small amount of cream cheese, and all that creaminess turns this summertime classic into pure comfort food!
But – it doesn't stop there!  This macaroni salad has great bright and zesty flavors that lighten the creaminess, thanks to the addition of champagne vinegar, capers, scallions, roasted red peppers – and Jack's secret ingredient – sweet pepper relish!  We're not talking about the relish you'd put on a hot dog – look for a flavorful sweet pepper relish (such as Howard's or Uncle Maynard's brands) at your grocery store.
This macaroni salad is made in a way that is similar to our popular Jack's Potato Salad recipe where we add the dressing while the cooked pasta is still warm.  As it cools, the pasta absorbs some of the dressing so it's super flavorful – and sure to be a hit at your next summer party!
Print
Macaroni Salad
Prep Time:

20 mins

Cook Time:

10 mins

Total Time:

30 minutes

Yield:

8-10 servings
---
Description
The Sweet Pepper Relish used in this recipe is not green relish you put on your hot dog. It is made with a variety of peppers (not cucumbers), some hot and some not. It also typically has marinated onions in the jar. There are several good brands out there, such as Howard's or Uncle Maynard's, and they are usually found in the same section as jarred hot peppers.
---
Ingredients
3

eggs, room temperature

1 tablespoon

white vinegar

1 ½ cup

s mayonnaise

1 cup

Crème Fraiche (sour cream may be substituted)

2 tablespoon

s softened cream cheese

½ cup

shredded cheddar cheese

½ teaspoon

garlic powder

1 tablespoon

sugar

1 teaspoon

celery salt

½ teaspoon

white pepper

1 tablespoon

Dijon mustard

2 tablespoon

s champagne vinegar

1 tablespoon

capers, drained

½ cup

frozen peas

¼ cup

minced celery

¼ cup

chopped scallions

½ cup

drained and chopped roasted red peppers

4 tablespoon

s sweet pepper relish (such as Howard's or Uncle Maynard's brand)

½ cup

sliced black olives

½ cup

chopped yellow or orange bell peppers

12 ounce

s uncooked pasta (we like the spiral Cavatappi or Cavatelli noodles)
---
Instructions
In a small sauce pan fill with enough water to cover three eggs. Bring to a boil, add white vinegar and then with a slotted spoon, gently drop the eggs in one at a time. Boil for five minutes and turn burner off, then let them sit in the hot water for another fifteen minutes. Drain, shake to crack shells and peel under running water. Chop and set aside.
In a medium bowl, mix mayonnaise, Crème Fraiche and softened creamed cheese until smooth. Add all other ingredients except pasta. Fold in chopped eggs and hold mixture under refrigeration.
Cook pasta according to package directions until al dente. Drain thoroughly but do not rinse or cool.
In a large bowl, place drained hot pasta. Add mayonnaise mixture to hot noodles and stir to combine.
Spread the pasta salad onto a sheet pan and cover with plastic wrap and refrigerate for two hours.
Spoon the now cooled pasta salad into a serving bowl and serve.
---
You may also like: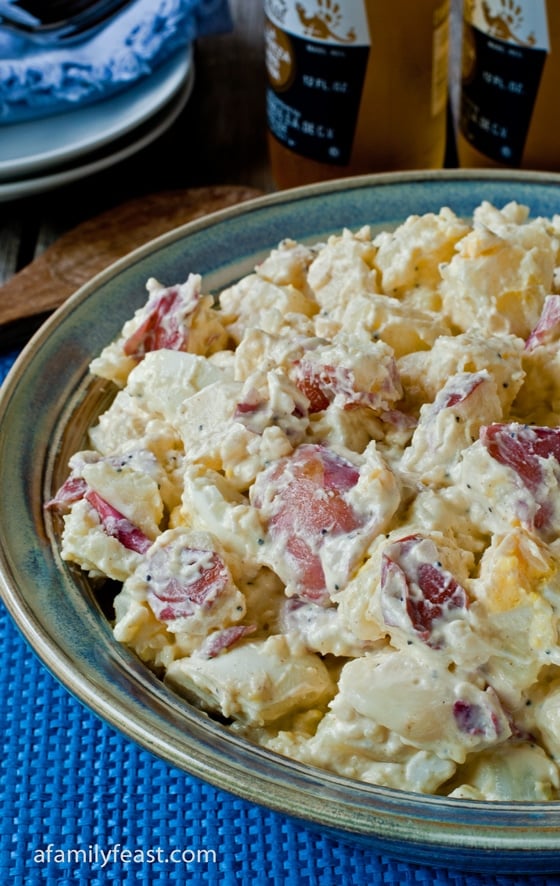 Grilled Summer Vegetable Salad