Hi everyone! We're back with a brand new Cooking Lesson today – showing you how to make Perfect French Fries! (If you've missed any of our earlier Cooking Lessons, click here for the full collection.)
Perfect homemade French fries are actually very easy to make at home – and the flavor and crispy texture can't be beat! We'll show you lots of tips and tricks today – but the key thing is to make sure that your cut potato strips are dry before you fry.
And – you may be surprised to see that we actually fry them twice – the first time to cook the potatoes (you can do this step in advance) and the second time to crisp them up just before serving.
Here's a step-by-step lesson to show you how it's done:
Start with skin-on russet potatoes. (You can peel them if you'd like, but we like leaving the skin on).
Cut the potatoes into long skinny strips. This can be done by hand with a sharp knife, or you can use the julienne attachment on a mandoline like we show here
. (Mandoline blades are extremely sharp so be sure to use a protective glove
to avoid cutting your hand or fingers.)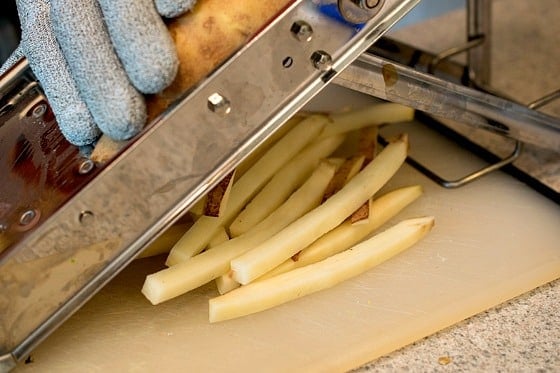 As you cut the potato strips – place them in a bowl or container filled with water. This helps prevent the potatoes from turning brown and also helps remove some of the starch.
Once you're done cutting the potatoes strips – drain and dry them completely. After draining, we layer them in between paper towels so all sides are completely dried.
While the potatoes are drying, heat some vegetable or canola oil in a dutch oven
or other wide, deep pan (about 4-5 quarts) to 325 degrees F. (Use a candy thermometer
to make sure you've reached the correct temperature.)
Near your heated oil, you'll also want to have a spider strainer
or other long handled strainer
and a sheet pan
, as well as all of your dried potato strips.
Carefully add a handful of the potato strips to the hot oil being careful not to splash your hand with the hot oil. (We fry the strips in small batches so that the temperature of the oil stays consistent as you add the potatoes.) Fry the first batch of potato strips – initially for just 3 minutes – keeping the burner on high to maintain the 325 degree temperature.
As each batch cooks, use the spider strainer to remove the strips from the oil and place them on a sheet pan. (No need to drain the excess oil yet).
Just before serving preheat your oven to 350 degrees. Then heat the same oil in the same pan – this time to 375 degrees. Again in batches, fry the pre-cooked potatoes for three more minutes or until lightly golden brown.
After three minutes, place the fries on the sheet pan – this time placing a paper towel on the pan to drain any excess oil. Lightly salt. Place the sheet pan in the oven to keep the fries hot while the second batch is cooked.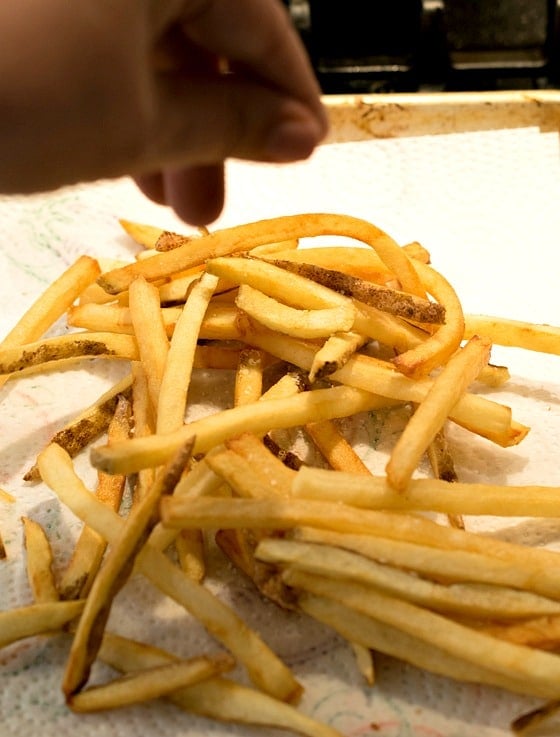 Serve with ketchup or any other favorite condiment.
Disclosure: This post contains affiliate links.
Print
Perfect French Fries
Prep Time:

15 mins

Cook Time:

6 mins

Total Time:

21 minutes

Yield:

2-4 servings
---
2

–

3

large skin-on russet potatoes

2 quarts

of vegetable or canola oil in a 4 quart pot
Salt
---
Instructions
Preheat oven to 350 degrees
Using a mandoline or by hand, cut potatoes into long strips.
Place cut potatoes into water to remove starch, then drain and dry completely using paper towels.
Using a candy thermometer, heat oil to 325 degrees F.
Cook in two batches for three minutes each keeping burner on high to maintain temperature.
Remove using a spider or strainer to a sheet pan, but do not place on paper towels to drain yet.
Heat the same oil to 375 degrees and add pre-cooked potatoes and cook for three more minutes cooking in two batches.
Place each batch on paper towels to drain then place on sheet tray. Lightly salt. Place in the oven to keep hot until the second batch is cooked.
Serve with your favorite condiment.
---
You may also like: