Yesterday I mentioned that we recently took a wonderful family road trip up to the Canadian side of Niagara Falls. As we settled into our hotel and unpacked, my husband Jack went out on a quick scouting mission around our hotel to find a place for dinner.
On the menu at many of the restaurants was a dish called Poutine – a classic French-Canadian dish made from French fries with cheese curds and brown gravy on top. We had heard of it before – but never tried it – so it became part of our vacation plans to try Poutine at least once!
The next day we sampled Poutine at lunch – and instantly fell in love! (So much so – it inspired our recipe today!) The cheese curds melt under the hot gravy and it is a perfect complement to the hot, crispy French fries.
During our visit, Jack spotted a cookbook at a gift shop where he read up on the history of Poutine. What he read is that in the 1950s in Quebec, a gentleman ordered French fries in a pub and was looking for some sort of dipping sauce for the fries. The pub served a rib gravy which he thought would be good – but he was worried that the fries would get too soggy. There happened to be a cheese vendor nearby who sold cheese curds (curds from making white cheddar cheese) so he asked for some – putting the curds over the hot fries to prevent them from getting soggy – then poured the gravy on top.
From that point forward, word spread about Poutine (this site says that word means "mushy mess"), and if our visit to Niagara Falls is any indication, today you can find it just about everywhere in Canada including street vendors and fast food restaurants.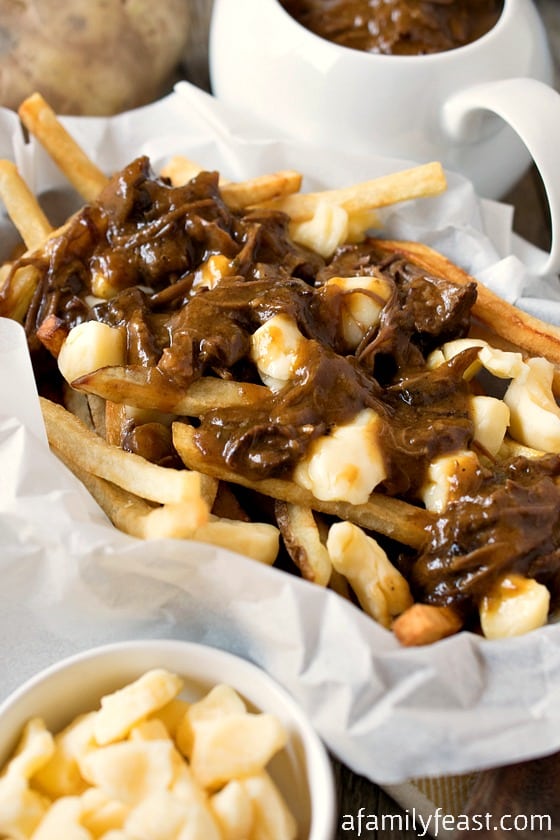 Our version of Poutine is made using our Perfect French Fries (you can see how to make them here) and our Beef Short Rib Gravy (see that recipe here).
I do want to point out that using a hearty, meaty gravy such as ours is not the traditional way that our friends up North make their Poutine gravy – but our version does make for a delicious and filling meal! Traditional and truly Canadian Poutine gravy is a thinner, brown gravy made with peppercorns and vinegar (which helps to cut the richness of the dish).
There seem to be many variations of Poutine these days – we hope our version does the tradition of this fantastic dish proud!
Print
Poutine
Prep Time:

5 mins

Total Time:

5 minutes

Yield:

4 servings
---
Description
Note – Prep and cook times listed do not include the time it takes to prepare the French Fries or Gravy
---
---
Instructions
Place hot French Fries in individual serving dishes or bowls.
Divide the cheese curds evenly, placing them on top of the fries.
Spoon the hot Beef Short Ribs Gravy on top and serve immediately.
---
You may also like: