Our restaurant-quality Shrimp Scampi cooks up in just minutes! Enjoy this easy recipe as an appetizer or meal.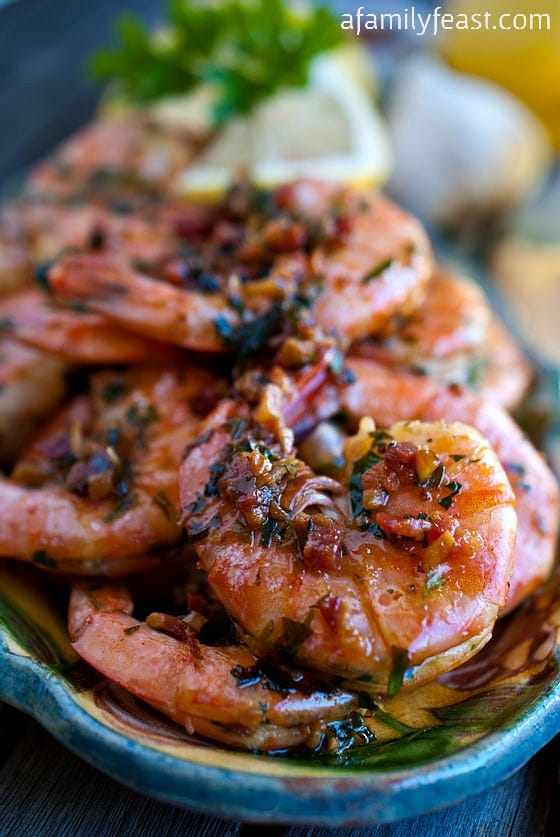 Get ready for the BEST Shrimp Scampi you've ever tasted my friends! There's a secret ingredient added to this recipe that adds so such incredible flavor – you'll want to lick your plate clean!
Many years ago, when my husband Jack and I traveled to Tuscany for our honeymoon, we struck up a friendship with one of the American chefs – a great guy named Chris Covelli – who helped teach some of the cooking classes at Toscana Saporita. We bonded with Chris over our shared love of New England and the Boston Red Sox – plus, among other things, he was just a super sweet guy and very interesting to talk to!
Back then, Chris also owned the restaurant L'uva which was located in Provincetown on Cape Cod, about an hour away from where we live. The summer after our honeymoon, we visited Chris's restaurant for dinner and enjoyed the absolute best shrimp scampi we've ever had in our lives – which inspired our recipe today. (And – yes – Jack and I both cleaned our plates – sopping up every last little drop of goodness from that shrimp scampi dish!)
What kind of shrimp do I buy for Shrimp Scampi?
You can buy fresh or frozen shrimp for Shrimp Scampi – but given the short shelf life of fresh shrimp, we typically buy bags of frozen shrimp at our local market so we can be sure of the quality.
You'll want to use large shell-on shrimp (size 16-20).  FYI – The numbers on a bag of shrimp refer to the number of shrimp that makes up a pound. So a higher number means that the shrimp are smaller; a lower number means that the shrimp are larger.
We also recommend buying shell-on, frozen shrimp, and to cook your Shrimp Scampi with the shell still on. The shell preserves the juices which add great flavor, and it also prevents the shrimp from shrimping as you cook it.
How do you make Shrimp Scampi?
Shrimp Scampi is one of the easiest recipes to make and scroll below to watch our video with all of the steps!
Our friend Chris was nice enough to share his 'secret ingredient' with us – pancetta – which he adds to his shrimp scampi. The pancetta gives this Shrimp Scampi an amazing, rich flavor that perfectly complements the shrimp, garlic and other flavors in this dish!
What do I serve with Shrimp Scampi?
You can serve this as an appetizer with Garlic Bread (great for soaking up the sauce) or over your favorite pasta. Or – just eat it as is, right out of the bowl!
You may enjoy these other Shrimp recipes:
Print
Shrimp Scampi
Author:

Prep Time:

10 mins

Cook Time:

5 mins

Total Time:

15 minutes

Yield:

4 servings

Category:

seafood

Method:

stir-fry

Cuisine:

Italian
---
Description
We recommend that you do not peel the shrimp before cooking – the shell preserves the juices and prevents the shrimp from shrinking as you cook.
---
1 pound large shell-on shrimp (16–20 per pound)
¼ cup extra virgin olive oil
1 ounce pancetta, diced fine
3 tablespoons butter
1 tablespoon chopped garlic
1 good pinch red pepper flakes
Pinch of salt
Few grinds black pepper
4 tablespoons freshly squeezed lemon juice
1 tablespoon lemon zest
¼ cup chopped parsley
---
Instructions
Wash shrimp, drain and pat dry with paper towels. Do not peel.
In a large skillet heat oil over medium heat and add pancetta. Cook slowly until slightly browned. You can remove and discard the pancetta after it is cooked or leave it in. We left the pancetta in but your choice.
Add butter, garlic, pepper flakes, salt and pepper and cook on low heat for three to four minutes or until garlic just starts to brown.
Turn pan to medium high to high and when hot, add shrimp. Toss often and when shrimp is pink and cooked (2-3 minutes), remove pan from heat and add lemon juice, lemon zest and parsley. Toss to coat and return to heat for one scant minute to thicken sauce.
Serve immediately by portioning shrimp out into small plates or bowls and pouring pan sauce over each portion.