Everyone should have a good Garlic Bread recipe in their cooking repertoire and we're sharing ours with you today!
Garlic bread is one of those foods that is delicious served at so many meals – classic Italian dinners, alongside soups or salads. I love it so much – I've been known to fill up on garlic bread before dinner and skip the entrée!
The key to a really good garlic bread (in our opinion) has a crispy outer crust with a flavorful buttery inside – but you don't want to put on so much butter that the bread gets soggy as it bakes! Also – you want a strong and distinctive garlic flavor – but we don't recommend adding raw garlic because it is too overpowering.
Today's recipe, which is the garlic bread recipe that my husband Jack has made for many years, starts by sautéing very finely minced garlic (a garlic press
also works well for this step) in extra virgin olive oil just until golden in color. Once that cools, it is stirred into softened butter that has been flavored with fresh chopped parsley, grated Romano cheese, plus salt and pepper.
That cheesy garlic butter mixture is spread in a generous layer over a loaf of Italian bread that was sliced in half and lightly toasted. Then the whole loaf is wrapped in foil and heated through. (What's also great about this technique is that you can prep it ahead of time, then bake it right before serving.)
Slice and serve along with more of that delicious cheesy, garlic and butter spread – and you'll be in garlic bread heaven!
Print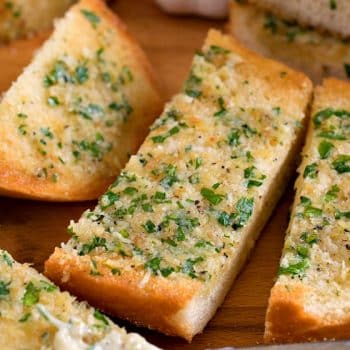 Garlic Bread
Author:

Prep Time:

15 mins

Cook Time:

15 mins

Total Time:

30 minutes

Yield:

1 loaf

Category:

appetizer

Method:

baked

Cuisine:

Italian
---
1 tablespoon olive oil
1 head of garlic, minced very fine or put through garlic press (5 tablespoons)
2 sticks softened unsalted butter (one cup) plus 1 tablespoon, divided
2 tablespoons fresh flat leaf parsley, minced
¼ cup freshly grated Romano cheese
1 teaspoon kosher salt
½ teaspoon freshly ground black pepper
1 loaf Italian bread (1–1 ½ pound loaf)
---
Instructions
Preheat broiler.
In a small sauce pan over medium heat, place oil and garlic and sauté; stirring continually for five minutes. Remove just as the garlic is starting to turn tan in color and pour mixture into a medium bowl.
Add one cup of the softened butter, parsley, Romano, salt and pepper. Stir vigorously to combine.
Cut Italian bread from end to end horizontally down the center so you have a full top half and full bottom half.
Melt the one tablespoon of butter and brush each cut side.
Lay out a large sheet of foil large enough to wrap around both halves but don't wrap yet. Line a sheet tray with it, letting any excess hang off the ends and sides.
Place buttered bread cut side up and broil just for one minute. You want a nice golden brown look.
Remove from broiler and preheat oven to 425 degrees.
Spread ¾ of the garlic butter across the cut toasted bread, saving the remaining butter to serve with the garlic bread.
Now close the top and bottoms together and wrap the foil up around tight. At this point, you could save this for later by refrigerating. Just bring to room temperature first and continue below.
Place pan in preheated oven with rack close to top and heat for ten minutes.
Remove, place on cutting board and cut into thick strips. Serve with the remaining garlic butter mixture.
You may also like: