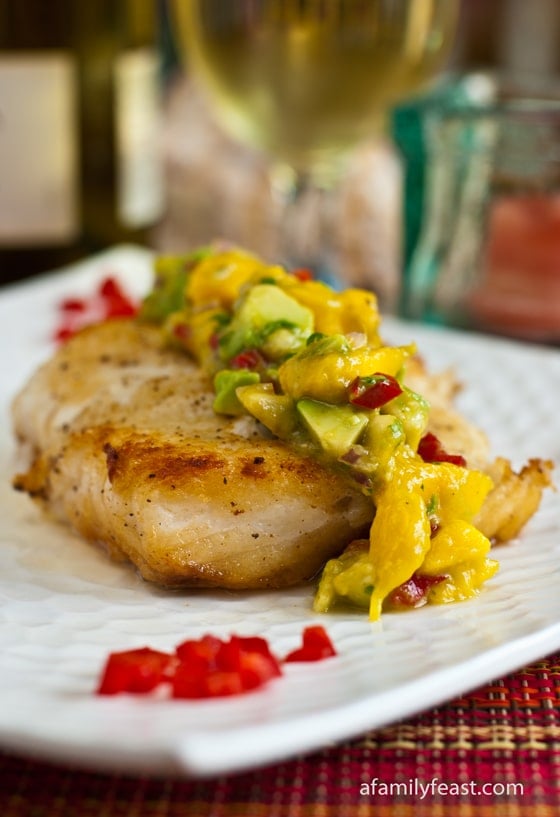 If you're a regular reader here at A Family Feast, you know that my husband Jack loves getting creative in the kitchen!  This delicious recipe for Pan Seared Halibut with Mango-Avocado Salsa is one of his latest creations!
During a recent shopping trip to our favorite local fish market, Jack spotted some gorgeous halibut on sale.  Halibut is a delicious, firm white fish and it can be a little pricey, so we were thrilled to find it at a reasonable price and have it for dinner that night!
Pan seared halibut is perfectly paired with a mango-avocado salsa.  First, Jack made a delicious fresh salsa with mango, avocado, red bell pepper, onion and a little bit of jalapeno pepper in a wonderful dressing of lime juice and seasonings, plus a bit of orange juice which really helped to smooth and brighten the flavors of the salsa.
Then, the halibut was lightly seared in some extra virgin olive oil – a perfect method for cooking this fish because it doesn't over power the wonderful fresh flavors of this mild white fish.  This is another dish that I would gladly eat any day of the week and never get tired of it!
Our mango-avocado salsa recipe was inspired by a recipe originally found in The Professional Chef
cookbook. (Affiliate link.)
Print
Pan Seared Halibut with Mango-Avocado Salsa
Prep Time:

1 hour

Cook Time:

10 mins

Total Time:

1 hour 10 minutes

Yield:

2 servings
---
Description
Chilean sea bass is firmer than halibut and easier to handle, but also much more expensive. Halibut has a wonderful clean taste but will fall apart if you mishandle it so only flip it once as you cook it, and when ready to serve, go from the pan immediately to the dinner plate.
---
Flesh of

one

mango, diced
Flesh of

one

avocado, diced

1/8 cup

lime juice

1/8 cup

diced red bell pepper

1/8 cup

small diced red onion

4 teaspoons

chopped fresh cilantro

1

garlic clove, finely minced

1 tablespoon

orange juice

1 tablespoon

finely diced seeded jalapeno (optional)

½ teaspoon

salt

¼ teaspoon

ground black pepper

2

8-ounce portions fresh skinless halibut, (or Chilean sea bass – see note above) about an inch thick

¼ cup

extra virgin olive oil
Salt and pepper for fish
---
Instructions
In a medium bowl, mix mango, avocado, lime juice, bell pepper, onion, cilantro, garlic, orange juice, optional jalapeno, salt and pepper. Leave at room temperature for one hour to meld flavors.
Preheat oven to 425 degrees.
Liberally salt and pepper the halibut or sea bass on both sides.
In an oven proof sauté pan, heat olive oil to smoking point.
Place fish in the pan (to avoid getting splattered with hot oil, place fish in the pan so it falls in away from you).
Reduce heat to a medium high and sauté two minutes on one side without touching it. A crust will form if you don't disturb it.
With a long fish spatula, gently flip to brown the other side. Brown two minutes on the second side.
Then place the pan in the oven and heat two to five minutes or until fish is done. Push down on the fish; if it springs back or flakes apart, it is done. Do not over cook.
To serve, place fish portion on a serving plate and spoon fresh salsa over the top.
---
You may also like:
Avocado, Corn and Tomato Salad