Make this delicious Sausage Stuffed Zucchini recipe with fresh garden zucchini!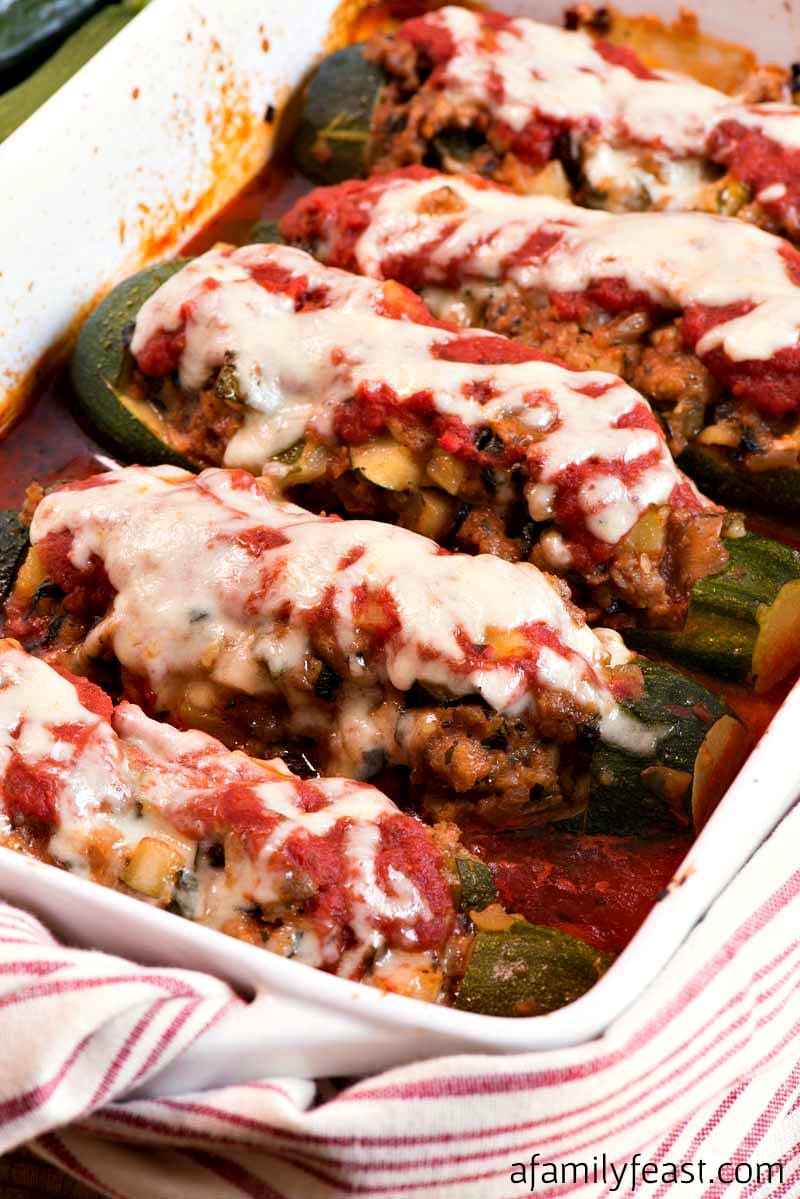 With so much zucchini coming out of our backyard garden this summer, we've been making (and enjoying) this delicious Sausage Stuffed Zucchini almost every week!  I can't complain – this simple meal is outrageously good – and I'll gladly eat this until we pick the very last of garden zucchini.
This flavorful Sausage Stuffed Zucchini is one of those dishes that even vegetable-hating, picky eaters will love.
To make this wonderful recipe, we cut medium-sized zucchini in half length-wise, then scooped out the seeds to create a "zucchini boat" that is filled with sweet Italian sausage, diced tomatoes, diced zucchini, fresh herbs, garlic, Parmesan cheese and a little bit of Italian-seasoned bread crumbs.
Spoon some tomato sauce over the top, then cover and bake until the zucchini is almost cooked through. Then sprinkle some shredded mozzarella cheese on top of the Sausage Stuffed Zucchini and bake for another ten minutes or so until the cheese melts. Serve with some extra sauce on the side.
The zucchini comes out super tender – and the stuffing is SO delicious!
By the way, the stuffing in this Sausage Stuffed Zucchini makes a fantastic meal on its own. If you don't want to go through the steps of stuffing the zucchini halves, just chop up all of the zucchini into bite-sized pieces instead.
Print
Sausage Stuffed Zucchini
Prep Time:

20 minutes

Cook Time:

45 minutes

Total Time:

1 hour 5 minutes

Yield:

6 servings
---
3–3½ pounds zucchini (about 5–6 medium zucchini)
2 tablespoons extra virgin olive oil
1 cup onion, diced
1 tablespoon fresh garlic, minced
1 pound Italian sweet sausage, removed from casings
1 28-ounce can kitchen-ready tomatoes (diced or crushed), divided
2 tablespoons fresh Italian flat leaf parsley, chopped
2 tablespoons fresh oregano, chopped
2 tablespoons fresh basil, chopped
1 teaspoon kosher salt
½ teaspoon freshly ground black pepper
½ cup Parmesan cheese, freshly grated
½ cup Italian bread crumbs (seasoned bread crumbs)
½ cup fresh mozzarella, shredded
---
Instructions
Preheat oven to 375 degrees F.
Take each squash and cut off stem and a small slice off end. Slice a small sliver from bottom side so that the zucchini will sit upright without rolling. Leave a half inch on each end and slice off the top third, saving for later. With a spoon, scoop out and discard seeds.
After preparing each squash, you should have about one pound of squash pieces. Dice these into half inch pieces and set aside.
In a large sauté pan or skillet, heat olive oil over medium high and once hot, add the onion.
Sauté for three minutes then add garlic.
Sauté for one minutes then add squash pieces and cook for three minutes.
Remove all of this to a bowl and set aside.
Add the sausage meat and cook to brown, about three minutes.
Add the mixture from the bowl back to the pan with the sausage along with ½ cup of the tomatoes, the parsley, oregano, basil, salt and pepper and cook one minute.
Remove from heat and stir in the Parmesan and bread crumbs.
Spread one cup of the canned tomatoes into the bottom of a 9X13 pan.
Divide and fill each zucchini with the mixture from the pan, mounding up to use all of the filling.
Place each stuffed squash into the sauce-coated pan.
Spoon another cup of the canned tomatoes over the tops of the stuffed zucchinis.
Cover with parchment paper and foil and bake 30-40 minutes. (Smaller zucchinis will cook in 30 minutes or so and larger will cook in about 40 minutes. Check after 30 minutes).
Remove parchment and foil, and sprinkle with the mozzarella and bake uncovered for ten more minutes to melt the cheese.
Carefully remove the squash to a serving platter (I used a fish turner) and stir in the remainder of the canned tomatoes to the pan. Heat slightly in the oven or microwave and serve on the side with the squash.
---
Disclosure: This post contains affiliate links.


You may also like: