Vegetarian Stuffed Zucchini has fresh zucchini loaded up with a super flavorful vegetable and panko crumb filling. You're going to love this recipe!
Our Vegetarian Stuffed Zucchini is a great way to use the abundant amounts of zucchini that everyone seems to be growing in their gardens this summer!
We make this stuffed zucchini recipe year-round at our house – and turning on the oven, even in the summer, is totally worth it when you're making this delicious dish.
It makes a delicious and hearty meatless meal option, or the perfect side dish to just about any kind of grilled or roasted meat.
Key Ingredients and Substitutions
Fresh Zucchini – Choose medium-sized zucchini for this recipe so that each zucchini is a single portion. Larger zucchini will work too – just cut the larger squash in half when serving. You can also make this recipe with summer squash.
Panko – Panko are light and crispy Japanese bread crumbs. It gives the filling a lighter, crunchier texture – so don't be tempted to swap in regular bread crumbs.
Red Bell Pepper – While any color fresh bell peppers can be used in this recipe, we like using red bell peppers for the contrasting red color, as well as the sweeter taste.
Mushrooms – We chose Crimini or Baby Bella mushrooms for flavor as well as texture. You can swap in white, button mushrooms if you'd like.
Cheese – The filling uses a combination of Parmesan and Romano cheeses. You can swap in other hard cheeses if you'd like.
Herbs and Other Aromatics – The stuffing is seasoned with dried basil and oregano, salt and pepper, plus sauteed onions and garlic add more flavor. You can play around with other seasonings to suit your tastes. You can also use fresh herbs instead, if you have basil and oregano growing in your garden.
 Note –

Since originally posting this recipe in 2013, we had a few readers comment to note that Parmesan and some other hard cheeses aren't technically 'vegetarian' because of the rennet used to make the cheese. If that is a concern, look for rennet-free Parmesan cheese, or swap in nutritional yeast instead.
How do I make vegetable stuffed zucchini?
Trim the zucchini and scoop out the inside so the squash looks like a canoe.
Saute the vegetables, then mix with seasonings, panko, and cheeses to create the filling.
Fill the zucchini with the stuffing, using your hands to create a firm mound.
Place in a baking dish or on a tray, then drizzle the tops with a little bit of olive oil.
Bake until tops of the stuffing are lightly golden brown and the zucchini is tender.
Serve immediately with more grated cheese on top.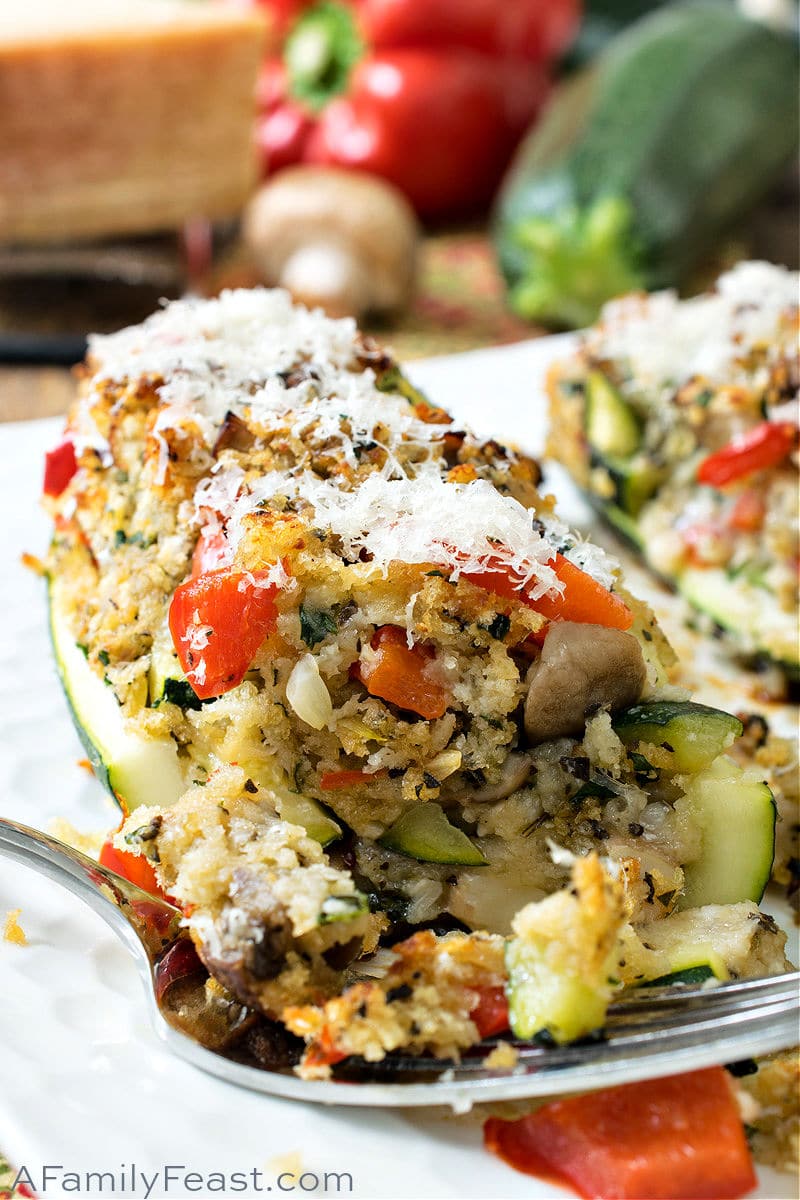 Frequently asked questions:
What can I serve with Vegetarian Stuffed Zucchini? One zucchini boat can be a filling meal all on its own with a side salad or soup. Or, serve as a side dish with grilled chicken, steak tips, kabobs, or roasted pork tenderloin. We've also served this recipe for the holiday alongside Prime Rib.
Can I make this recipe ahead of time? Yes – you can do all of the prep and assembly up to a day ahead of time, then refrigerate until you are ready to bake.
Can I freeze the prepared stuffed zucchini? We do not recommend doing so. The zucchini will soften up after it's thawed and will fall apart as it bakes.
I have extra stuffing. What can I do with it? You can try to really mound up the filling in the zucchini boats before baking, as we did. Or bake the excess stuffing separate in a small baking dish.
You might like these other zucchini recipes:
Print
Vegetarian Stuffed Zucchini
Prep Time:

25 mins

Cook Time:

35 mins

Total Time:

1 hour

Yield:

2 servings

Category:

entree

Method:

baked

Cuisine:

Italian
---
2 medium zucchini squash
3 tablespoons extra virgin olive oil, divided
½ cup sweet onion, diced
1 tablespoon fresh garlic, minced
1 cup sweet red bell pepper, ½ inch diced
1 cup Crimini (Baby Bella) mushrooms, ½ inch diced
1 teaspoon dried oregano (or twice that of fresh)
1 teaspoon dried basil (or twice that of fresh)
2 tablespoons fresh flat leaf parsley, chopped
½ kosher teaspoon salt
¼ teaspoon freshly ground black pepper
1 cup plain panko bread crumbs
¼ cup Parmesan cheese grated, plus additional grated Parmesan to sprinkle over cooked squash
2 tablespoons Romano cheese, grated
---
Instructions
Preheat oven to 375 degrees F.
Line a small sheet tray or baking dish with foil or parchment paper.
Trim stem end from squash and cut a small sliver from one long side so the squash will sit flat without rolling. Then cut one third off the top and dice that long cut piece into half-inch dice. Set aside.
Using a small paring knife, cut around inside of squash then using a melon-baller, scoop out inside until the squash resembles a canoe. Try not to cut through to the bottom and leave an edge all the way around about a half-inch thick so it stands up to stuffing and baking.
In a large skillet or frying pan heat 2 tablespoons of the oil over medium heat. Add onion and cook two minutes. Add garlic, red pepper, mushrooms and cut up zucchini tops. Mix to combine and sauté two more minutes.
Remove from heat, pour into a large bowl and mix in oregano, basil, parsley, salt, pepper, panko crumbs and both grated cheeses.
Divide the filling between each zucchini boat by pressing the filling into each squash over the bowl forming the top in a rounded shape with your hand.
Place onto the prepared dish or pan and drizzle the remaining olive oil over the tops.
Bake for 35 – 40 minutes uncovered until slightly browned on top. Do not overcook, otherwise the zucchini will start to sag and the filling will not stay in.
As soon as they come out of the oven, sprinkle the tops with additional Parmesan cheese and serve.
Keywords: Vegetarian Stuffed Zucchini