This Zucchini Tomato Italian Sausage Soup is a delicious way to use up all of those fresh garden vegetables!
Our backyard garden is on the brink of starting to produce massive amounts of fresh zucchini and tomatoes, and I can't wait! Especially because I know that Jack will be cooking up a batch of this fantastic Zucchini Tomato Italian Sausage Soup!
Now, I know that some of you may be thinking that a hot soup is the last thing you'd think about cooking in the middle of the summer – and I totally get that. But we make and eat soups all year long – especially when they are as delicious as this Zucchini Tomato Italian Sausage Soup.
In fact, we love the convenience of cooking up a big pot of this soup, then reheating leftovers in the microwave for a light, quick meal.
How do you make Zucchini Tomato Italian Sausage Soup?
Most of the prep in this Zucchini Tomato Italian Sausage Soup is chopping and dicing and grating – garden zucchini, tomatoes, onions, celery, red bell peppers, garlic, and carrots, plus fresh basil and oregano, and Parmesan cheese.
After browning some sweet Italian sausage and sautéing the onions, celery and bell pepper in a pot, you'll add all of the other ingredients including vegetable stock to the pot.  Then, a ten to fifteen minute simmer on the stove finishes off this flavorful Zucchini Tomato Italian Sausage Soup – just long enough so that the zucchini and other vegetables are tender and the flavors meld.
Can I add other vegetables in this soup?
Absolutely! We created this Zucchini Tomato Italian Sausage Soup to use up fresh zucchini, tomatoes and some of the fresh herbs from our garden – but you can also add other fresh vegetables and herbs if that is what you have growing in your garden.
You can also add pre-cooked pasta to this soup if you'd like. And, if you like things extra zesty, feel free to swap in hot Italian sausage instead of the sweet.
Can I make this Zucchini Tomato Italian Sausage Soup in the slow cooker?
From the questions we often get, I know that a lot of our readers like to use their slow cooker during the summer to avoid heating up the kitchen! (So, I'm anticipating being asked this question!) 🙂
We haven't tried making this recipe in the slow cooker ourselves – mostly because it only takes about thirty minutes (or less) to cook this soup on the stove. While a slow cooker will sort of technically work, you'll still want to brown the sausage before adding it to the slow cooker, which is half of the cooking time listed in this recipe. Additionally, the zucchini may end up over-cooked before the rest of the vegetables are tender. So, while it's possible, we'd still recommend cooking this Zucchini Tomato Italian Sausage Soup recipe as written because it will take less time and the results will be better.
If you want to save some time when you are rushing to get dinner on the table, feel free to chop all of the vegetables ahead of time.
You may enjoy these other garden zucchini and tomato recipes:
Disclosure: This post contains affiliate links.
Print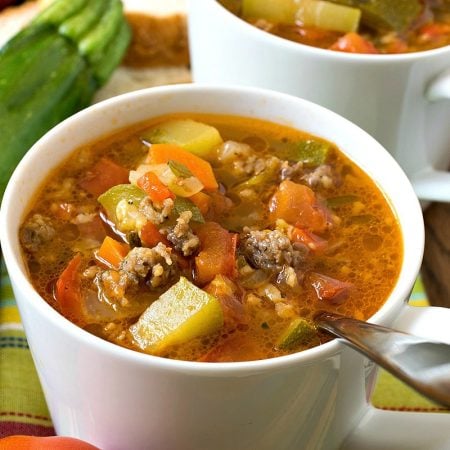 Zucchini Tomato Italian Sausage Soup
Author:

Prep Time:

30 minutes

Cook Time:

30 minutes

Total Time:

1 hour

Yield:

8 servings

Category:

soup
---
Description
Once the zucchini is added to the pot, try to avoid overcooking. The squash should be just tender.
---
1 tablespoon extra-virgin olive oil
1 pound Italian sweet sausage, removed from casings
2 cups onion, diced
1 cup celery, diced
1 cup carrots, diced
2 cups red bell pepper, diced (about one large pepper)
2 tablespoons fresh garlic, minced
Pinch red pepper flakes
¼ cup tomato paste
5 fresh plum tomatoes, diced
2 pounds zucchini cut into bite-sized pieces
1 teaspoon kosher salt
½ teaspoon freshly ground black pepper
2 quarts good quality vegetable broth
1 cup coarsely grated Parmesan cheese, plus more for serving
A few Parmesan cheese rinds (optional but recommended)
2 tablespoons fresh basil chopped
1 tablespoon fresh oregano chopped
---
Instructions
In a large soup pot or large Dutch oven, place olive oil over medium high heat and once hot, add sausage meat. Break up meat while it cooks.
Once the meat has browned, add onion, celery, carrots and bell pepper and sauté for four minutes.
Move the vegetables to the sides and lower heat to medium. Add garlic, pepper flakes and tomato paste to center and cook for two minutes, stirring occasionally. Add tomatoes, zucchini, salt, pepper, broth, Parmesan cheese and Parmesan rinds along with fresh basil and fresh oregano and stir to combine.
Bring to a medium simmer and cook just long enough until the vegetables are tender, about 10-15 minutes.
Remove from heat and remove and discard the Parmesan rinds.
Serve immediately with additional Parmesan cheese on the side.
Keywords: zucchini, tomatoes, garden vegetables, Italian sausage