Seriously…this IS the Best Zucchini Bread Ever!
A few weeks ago, my husband Jack returned from a business trip singing the praises of some delicious zucchini bread that one of his co-workers named Troy had brought to the meeting to share with everyone. It was a homemade zucchini bread baked by Troy's wife Lannette – and Jack said it was the Best Zucchini Bread Ever!
Seriously – Jack would not stop talking about this zucchini bread! For days, he talked about how moist and delicious it was, and that it was perfectly sweet and spicy. And for days, Jack pestered Troy for the recipe so we could make it at home and possibly share it here on A Family Feast.
So I was thrilled when I was introduced to Lannette – and she graciously allowed us to share the recipe with all of you. Scroll below to our recipe card to watch a video showing how it's made.
This really is the best zucchini bread ever! It is super moist and almost cake-like thanks to a generous amount of shredded zucchini in the batter (we actually used a combination of zucchini and summer squash – which is why you see a little bit of yellow in our bread photos) as well as some applesauce! This bread is perfectly seasoned with cinnamon, and a generous amount of chopped pecans add crunch and texture.
Great recipe Lannette and thanks again for sharing! 🙂
You may like these other zucchini recipes:
Print
Best Zucchini Bread Ever
Prep Time:

20 mins

Cook Time:

60 mins

Total Time:

1 hour 20 minutes

Yield:

2 loaves
---
Butter and flour for preparing baking pans

3 cups

all-purpose flour

1 teaspoon

salt

1 teaspoon

baking soda

1 teaspoon

baking powder

4 teaspoons

ground cinnamon

3½ cups

grated zucchini (you can use as few as

2 cups

and as much as

4 cups

)

3

eggs

½ cup

apple sauce

½ cup

vegetable oil

2¼ cups

granulated sugar

4 teaspoons

vanilla extract

1 cup

chopped pecans
---
Instructions
Preheat oven to 350 degrees F. Generously butter and lightly flour two 8"x4" loaf pans.
In a medium bowl, sift together flour, salt, baking soda, baking powder and cinnamon. Stir gently to combine.
Shred zucchini, lightly packing it down as you measure it.
In the bowl of a stand mixer beat eggs, applesauce, oil, sugar and vanilla extract. Mix very well.
Slowly add the dry ingredients (about 1/3 at a time) mixing as you go – then beat well to fully combine.
With a rubber scraper or wooden spoon, stir in shredded zucchini and nuts into the batter and mix well.
Pour half of the batter into each prepared pan.
Bake for 45 to 60 minutes or until a toothpick inserted into the center of the loaf comes out cleanly. (The bake time will vary depending on how much shredded zucchini you add to the batter.)
Remove from the pans and cool on wire racks.
You may also like: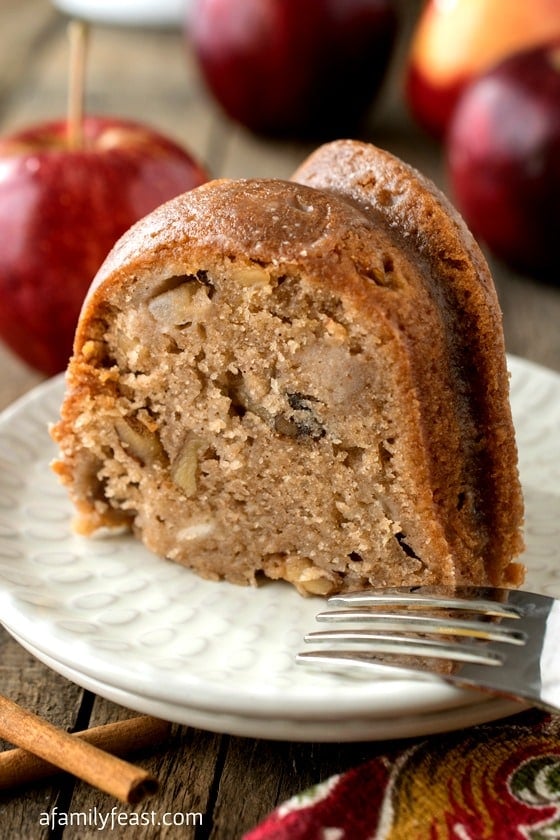 30+ Recipes For Your Garden Zucchini