Scarpaccia is an Italian zucchini tart full of fantastic flavor!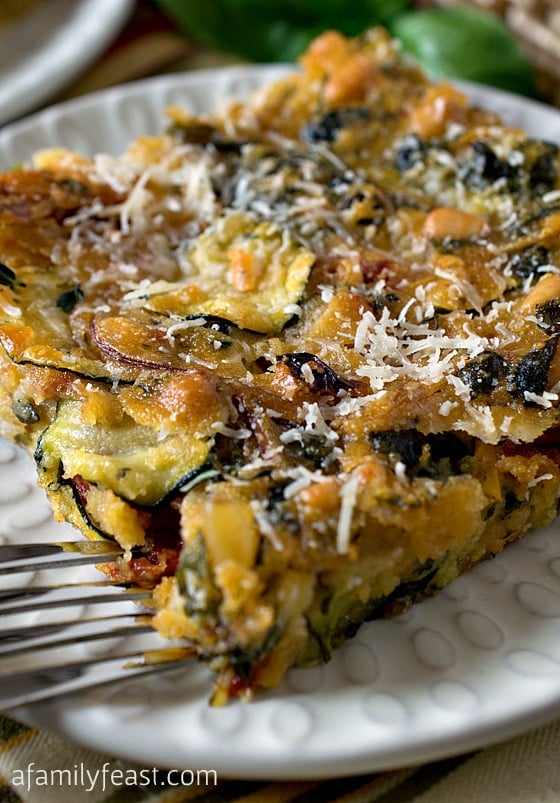 Every Italian family (and every non-Italian family for that matter!) needs a good Scarpaccia in their recipe collection.  Scarpaccia is a delicious zucchini tart or flatbread with such fantastic flavors – we would eat this dish every week if we could!
Scarpaccia is a dish that originates from the Tuscan coastal areas around Viagreggio, an Italian city that Jack and I visited on our honeymoon. The name is loosely translated as meaning 'bad shoe' and some sources say this dish got its name because it bakes up as thin as the sole of a bad shoe!  Other sources describe a 'bad shoe' as one that has been worn by many family members, and scarpaccia is a tart that you can put anything into – like a bad shoe.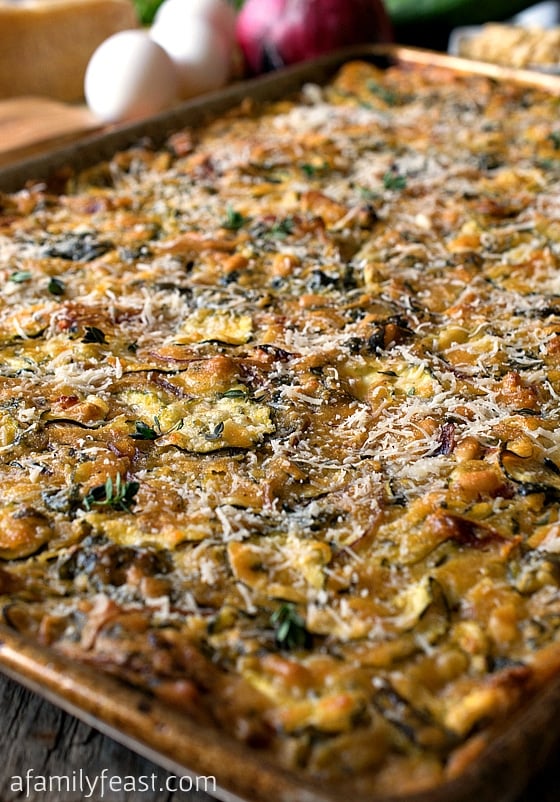 Whichever definition you prefer, scarpaccia was traditionally baked during the zucchini season by retired sailors using the vegetables from their garden.  Scarpaccia traditionally includes zucchini flowers – however most people don't have access to that ingredient year-round, so we made ours with thinly sliced zucchini. (If you are able to find zucchini flowers, by all means add it – and just cut back a bit on the amount of sliced zucchini called for in this recipe.)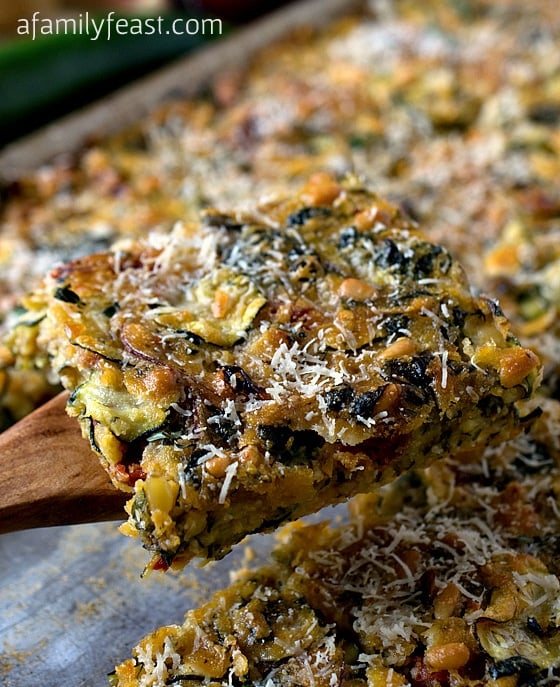 Scarpaccia can be made sweet or savory, thin or thick, crisp or soft – as long as the common ingredients of zucchini and flour are used.  Our version – inspired by both Jack's own family recipe, as well as a recipe we brought home from our honeymoon – has a touch of sweetness along with wonderful savory flavors from sundried tomatoes, basil and thyme and Parmesan cheese.  It also has a bit of texture thanks to adding corn meal as well as the addition of pine nuts to the batter.
Served warm out of the oven with a side salad, this scarpaccia makes a truly wonderful lunch or dinner.  Enjoy!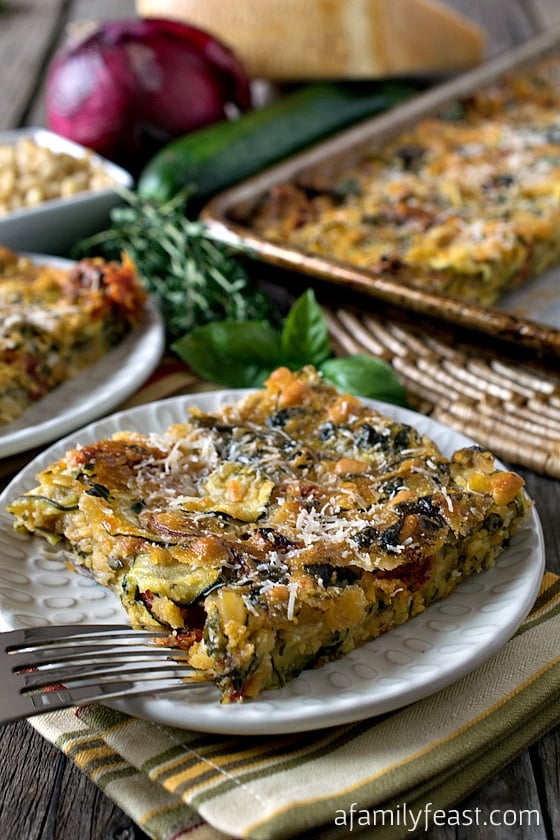 This post was originally published in May 2014. 
You may enjoy these other Zucchini recipes:
Print
Scarpaccia
Prep Time:

30 mins

Cook Time:

1 hour

Total Time:

1 hour 30 minutes

Yield:

12 servings
---
2

pounds zucchini

1

red onion (about

½

pound)

2 cups

tightly packed baby spinach

1

8.5-ounce jar sundried tomatoes in oil

1 cup

pine nuts

1 cup

loosely packed fresh basil leaves

1 tablespoon

fresh thyme, plus one teaspoon for garnish

1 teaspoon

salt

¼ teaspoon

freshly ground black pepper

1½ cups

flour

1 ½ cups

corn meal

1 teaspoon

baking powder

2

eggs

½ cup

sugar
Approximately

1/2 cup

extra virgin olive oil (or enough to add to the oil drained from jar of sundried tomatoes to equal

1

full cup), plus more for drizzling

¼ cup

water

½ cup

Parmesan cheese
---
Instructions
Preheat oven to 375 degrees and prepare a 12X16 inch sheet pan by spraying with non-stick cooking spray.
Slice zucchini into very thin slices and place in a large bowl. Slice red onion into very thin slices and add to zucchini. Also add baby spinach to bowl.
Drain oil from sundried tomatoes into a cup measure and set oil aside. Cut tomatoes into quarters and add to bowl with other vegetables.
Add pine nuts, basil, 1 tablespoon fresh thyme, salt and pepper to the large bowl with vegetables and toss all ingredients together.
In a separate bowl mix flour, corn meal and baking powder. Add this to the large bowl and toss again to mix the ingredients.
In that same smaller bowl, beat eggs and sugar and add to the large bowl, mixing into ingredients.
Take the reserved cup measure with the oil drained from the tomatoes and add enough olive oil to fill one cup. Add to the large bowl, mixing to combine.
Finally, slowly mix in the water to the large bowl, only using enough to make a thin batter. You may not need all of the water.
Pour batter into the prepared sheet pan, drizzle the top with olive oil and bake for 55-60 minutes.
When it comes out of the oven, sprinkle the Parmesan cheese all over the top and drizzle with a little more olive oil and sprinkle the remaining thyme over the top.
Cut into squares and serve.
---