At our house, we recently joined the ranks of people who have turned off their cable TV service.  When we thought about it – most of the time we were watching our local television channels for news, the Food Network or Cooking Channel, sometimes HGTV, and one of the Disney channels (for our 9-year-old) plus an occasional movie on DVD. So it was crazy for us to be spending all of that money every month on cable stations that we never watched!
We've switched to a streaming media player that still allows us to watch all of our favorite shows for much less money than we were paying before, plus we now pick up the local channels (in high definition for free!) using an over-the-air antenna.
So what does this all have to do with Zucchini Risotto with Goat Cheese? 🙂 Well – with these recent changes – we've rediscovered some of the old, classic cooking shows that are still shown on our local public television station, plus newer shows hosted by those same chefs that started the popularity of cooking shows so many years ago!
This Zucchini Risotto with Goat Cheese is a fantastic recipe that we saw prepared by Nick Stellino (do you remember watching Cucina Amore?!) – and as Jack and I laid in bed watching the cooking show, we drooled (it looked delicious) and also discovered that we already had all of the ingredients to make this dish for dinner the next day!
Fresh diced zucchini, onions, garlic and tomatoes are mixed with parmesan cheese and creamy Arborio rice that has been wonderfully seasoned with thyme, basil, parsley and mint – plus a bit of red pepper flakes for some gentle heat.  But what really changes things up in this recipe is the addition of goat cheese which gets stirred into the cooked risotto at the end – adding a wonderful punch of flavor unlike any other risotto recipe we've made! Plus – some crispy prosciutto is sprinkled on top for a delightful salty garnish.
You can find the original recipe here – and while we did follow Chef Stellino's original recipe closely, we adapted the recipe below based on our own experiences making the recipe.
Print
Zucchini Risotto with Goat Cheese and Prosciutto
Prep Time:

30 mins

Cook Time:

1 hour

Total Time:

1 hour 30 minutes

Yield:

6-8 servings
---
4 ounces

thinly sliced prosciutto

1 teaspoon

olive oil

6 cups

chicken stock, preferably home made

4 tablespoons

extra virgin olive oil

1

pound zucchini, trimmed and cut into

¼

inch pieces

4

medium garlic cloves, thickly sliced

½ teaspoon

red pepper flakes (or to your preference)

½ cup

yellow onion, diced fine

1 cup

Aborio rice

1 cup

white wine (we used Riesling)

1 tablespoon

each of fresh thyme, basil, parsley and mint (total

4 tablespoons

), minced

2

plum tomatoes, seeded, cored and diced small

4 ounce

package goat cheese

¼ cup

freshly grated Parmesan cheese
---
Instructions
In a large sauté pan, place the one teaspoon of oil over medium heat and place in slices of prosciutto. Cook to crisp, about 15 minutes, then remove to drain on a paper towel. Once cool, cut into small pieces to use as a garnish for the finished dish.
In a medium pot, heat the stock to hot, cover and keep hot but not boiling, on a back burner.
In a 5 quart Dutch oven or a wide skillet or sauté pan, heat oil over medium high heat and add zucchini. Cook until browned, about 8-10 minutes.
Add garlic slices and pepper flakes and cook one minute.
Add onions and cook for 6-7 minutes until soft.
Add rice and stir to coat.
Add wine and scrape the pan bottom of any brown bits. Cook until almost all of the liquid has been absorbed.
Add herbs and one cup of the hot stock and cook and stir until absorbed.
Add tomatoes and cook for two minutes then add one more cup of stock. Again, cook and stir until almost all liquid has been absorbed.
Repeat this for two more cups of stock, one cup at a time and letting that absorb before adding the next.
The last two cups of stock should be added one quarter cup at a time, cooking between each addition. We did not use the last cup of stock, as our rice was perfectly cooked after five cups.
The entire cooking process from when we started the zucchini to the finished rice was about 45 minutes, but your time may vary. The rice should be cooked but a little chewy and the sauce should be creamy.
Remove from heat and stir in the goat cheese and Parmesan cheese. The finished dish will be thick and creamy, similar to a thick oatmeal consistency.
Serve the crispy prosciutto over each portion and additional Parmesan cheese on the side.
---
Disclosure: This post contains affiliate links.
You may also like: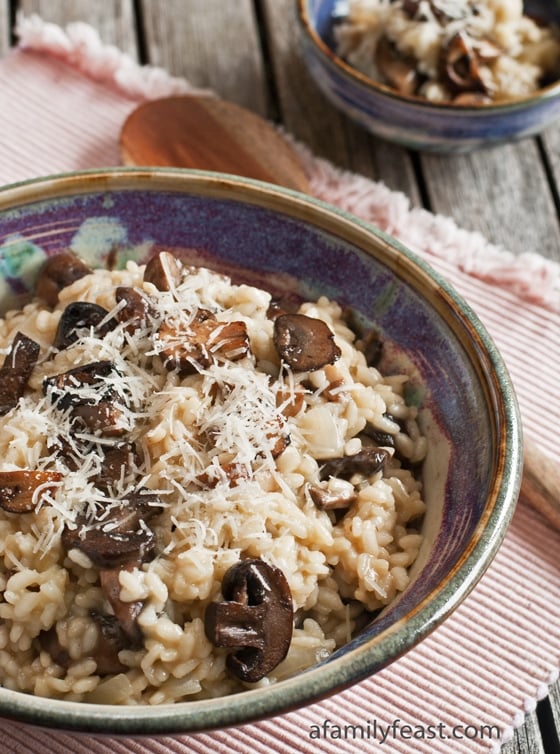 Sausage and Broccoli Rab Risotto