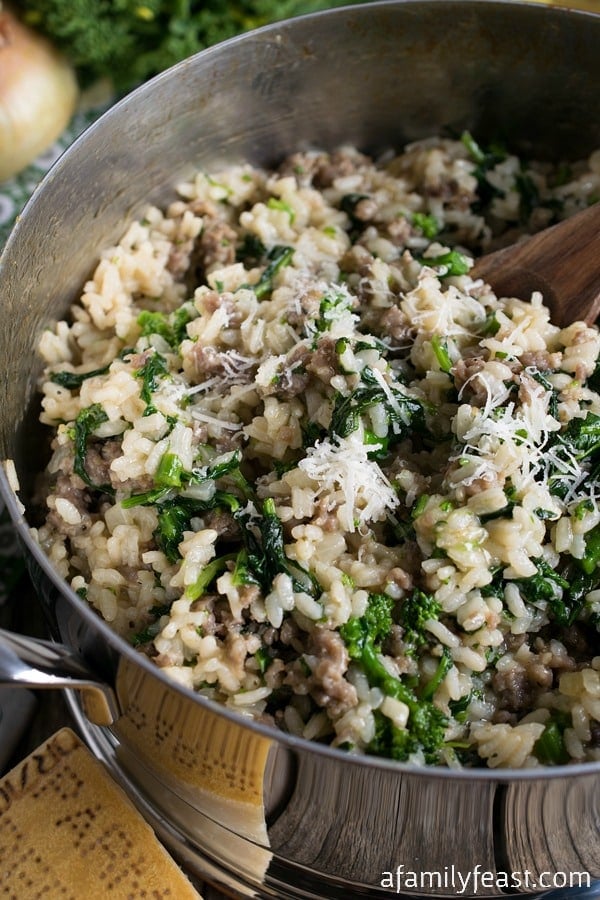 We are very excited to be partnering with Lagostina to tell you all about their fantastic Risotto Pot. And better yet – Lagostina is giving one lucky A Family Feast reader the chance to win a risotto pot of their very own! The details – plus a fantastic Sausage and Broccoli Rabe Risotto recipe are below. #LagostinaRisottoRecipe

Risotto – of any kind – holds a near and dear place in my heart because it's a dish that made my husband Jack fall in love with me! (You can read that story here. 🙂 )
So we were thrilled when Lagostina gifted us with a gorgeous risotto pot (aka "a risottiera") to test out at home. I have to admit, I never knew that there was cookware specifically designed for making a risotto – and this classic Italian stainless-steel pan is one gorgeous and functional addition to our cookware collection!
The Lagostina Risotto Pot is handcrafted in Italy and designed with a low, wide profile that speeds evaporation while cooking risotto, and also reduces fatigue while stirring.
It has a beautiful mirror polish, stainless steel finish and a cherry wood lid that also doubles as a trivet for tabletop serving.
Our Sausage and Broccoli Rabe Risotto turned out perfectly in our Lagostina Risotto Pot! The bonded aluminum and stainless-steel core ensures precise heating as we first sautéed our garlic, sausage and broccoli rabe…
…and the multi-layer design of the pot optimally distributes heat across the entire dish while we sautéed our rice with onions, and simmered the grains in wine and broth until tender.
Now – a little more about our Sausage and Broccoli Rabe Risotto!
Broccoli Rabe (sometimes also called rapini) is a popular Italian vegetable that resembles a slender, leafy broccoli and Fall through Spring is the perfect time of year to cook with this vegetable. Look for small, young, tender bunches of broccoli rabe – larger, more mature broccoli rabe can have a bitter flavor.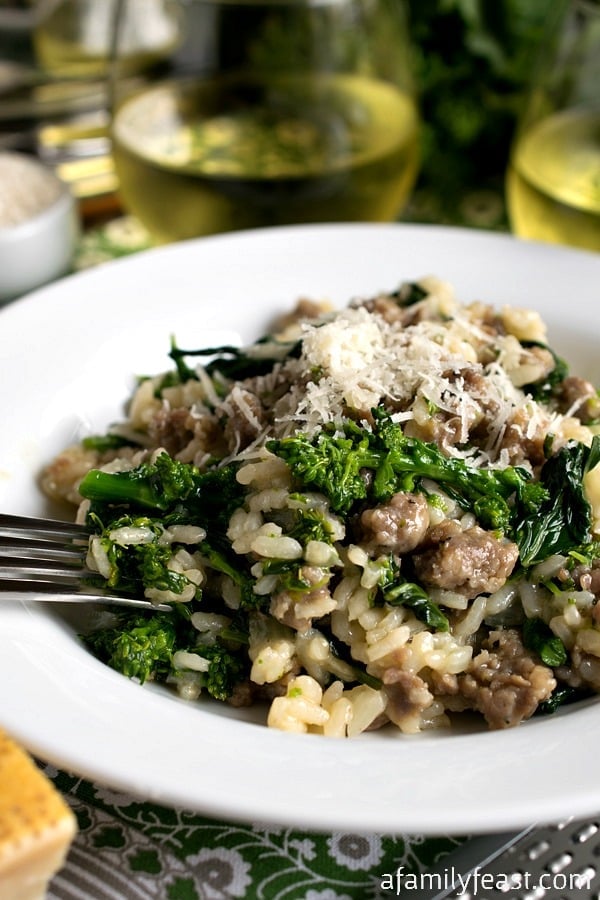 The bold, slightly nutty flavor of the broccoli rabe against the spicy, sweet Italian sausage and the creamy, cheesy risotto is absolutely wonderful – and this flavor combination is one of my favorites and we think you'll love this Sausage and Broccoli Rabe Risotto too.
The Lagostina Risotteria has a retail price of $199.95 and is available at Bed Bath & Beyond, Williams-Sonoma and specialty retailers nationwide. For more information, visit Lagostina.
 We're also thrilled that Lagostina is giving one lucky A Family Feast reader the chance to win a Risotteria for your own kitchen!
For your chance to win*, leave a comment below by 11:59 pm on Sunday, December 13, 2015 and tell us what risotto recipe you would make first in the Lagostina Risotteria?
 *Giveaway Terms & Conditions:  Open to anyone 18 years of age or older with a valid US shipping address in the 50 United States or District of Columbia (No P.O. Boxes please!) Winner will be randomly selected via random.org on December 14, 2015. Winner will be contacted via email so please be sure to enter using a valid email address where we can reach you. Winner will have 24 hours to respond and confirm their shipping address, otherwise a new winner will be selected and so on.
Please note that comments are moderated so if you don't see your comment immediately publish, don't worry – we have received it!  Duplicate entries will be deleted.

Print
Sausage and Broccoli Rabe Risotto
Prep Time:

15 mins

Cook Time:

30 mins

Total Time:

45 minutes

Yield:

6-8 servings
---
4 tablespoons

extra virgin olive oil, divided

1 tablespoon

coarsely chopped or sliced fresh garlic

1

pound good quality lean sweet Italian sausage, removed from casing

¾

pound fresh broccoli rabe, stems sliced into small, thin pieces and rest coarsely chopped

4 tablespoons

butter, divided

1 cup

sweet onion such as Vidalia, diced

1½ cups

Arborio rice

½ cup

white wine, such as chardonnay

5 cups

vegetable stock, plus more as needed

½ cup

Parmesan cheese, grated, plus more for serving
Salt and pepper to taste
---
Instructions
Place a four quart heavy-bottomed pot such as this Lagastina Risotto Pot, over a burner and add 3 tablespoons of oil. Bring the heat to medium and once the oil is hot, add garlic.
Sauté garlic for 30 seconds and add sausage meat. Break up meat as it cooks, about five minutes.
Add broccoli rabe and stir and cook for 3-5 minutes or until tender but still a little crisp.
Remove from heat and pour entire contents into a bowl and set aside. Note…If you purchased good quality sausage, there should only be a small amount of fat left after cooking. This will be added back into finished dish later in this recipe. However if your sausage has a high fat content, you may want to drain off some of the fat.
Add the remaining oil along with three tablespoons of the butter and heat over medium heat.
Once hot, add onions and sauté until translucent, about four minutes.
Add rice and stir to coat and cook for one minute.
Add wine and cook until all of the wine has evaporated, about 2-3 minutes. Immediately add one half cup of stock. Cook and stir this until almost all of this first half cup of stock is gone. Then keep adding one half cup of stock at a time, letting it absorb into the rice before adding the next. After about 15-20 minutes, you should have all the stock in and the texture of the rice should be cooked but just slightly chewy. The cooking time will vary depending on how hot your burner is, the quality of the rice, etc. After 12-15 minutes, check texture and adjust remaining cooking time based on the doneness.
Turn off burner and stir in the reserved sausage and broccoli rabe mixture.
Cut the remaining tablespoon of butter into pieces and dot the top of the rice. Sprinkle on the half cup of Parmesan but do not stir. Cover and let sit untouched for five minutes.
Remove lid, fluff and serve with additional Parmesan cheese.
Note: Depending on the brand of sausage you buy, you may or may not need additional salt and pepper. Taste once finished and adjust seasoning as needed.
---
You may also like: