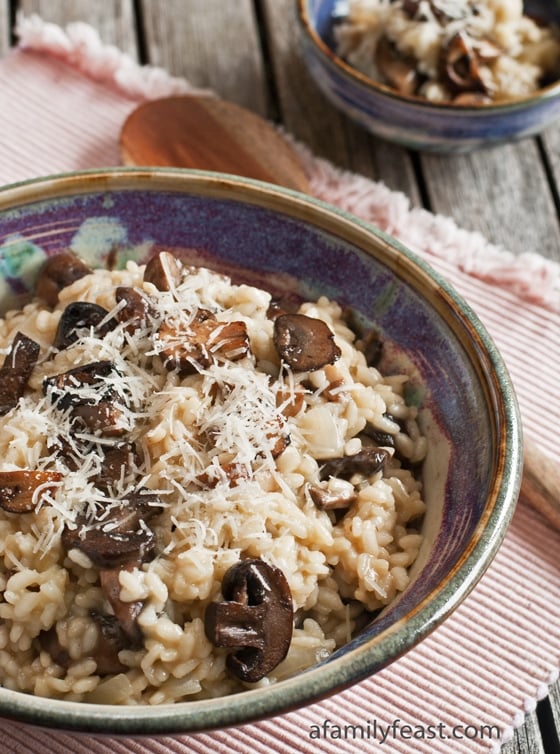 This recipe for mushroom risotto changed the course of my life.  I know – that sounds very dramatic, but if you asked my husband about the exact moment he knew he wanted to marry me, he would tell you that he knew I was "The One" when I made this mushroom risotto for him for the very first time.
Back when Jack and I first started dating, we used to take turns cooking dinner in hopes of impressing each other with our culinary skills. We both loved to cook and both appreciated good food, so when we started dating it was a lot of fun to cook for an appreciative audience – or conversely, to be pampered by a delicious home cooked meal.
Like most risotto recipes, this one takes time and attention to prepare, since you must stir the Arborio rice frequently during the cooking process.  But otherwise, the rice is simply and perfectly flavored with onion, chicken stock, parmesan and sautéed crimini (also sometimes called baby bella or baby portobella) mushrooms.
While I can't promise that making this recipe will change the course of your life like it did mine, I can promise that it's a delicious way to prepare risotto.
Print
Mushroom Risotto
Prep Time:

15 mins

Cook Time:

45 mins

Total Time:

1 hour

Yield:

4-6 servings
---
Description
Risotto with crimini mushrooms and parmesan cheese.
---
Ingredients
For preparing the mushrooms
1

8-ounce package crimini or baby bella mushrooms

1 tablespoon

unsalted butter

1 tablespoon

extra virgin olive oil
salt
For preparing the Arborio rice
2 tablespoon

s unsalted butter

2 tablespoon

s extra virgin olive oil

½

large onion, finely diced (about

1 cup

)

1 cup

Arborio rice

1/3 cup

dry white wine

2 ½ cup

s chicken stock

¾ cup

grated parmesan
Salt and pepper to taste
---
Instructions
To prepare the mushrooms, clean the mushrooms by brushing them off (do not wash if possible) and cut into quarters (stems may be left on).
In a medium sauté pan, melt the 1 tablespoon each of butter and olive oil. Add the cleaned and quartered mushrooms and sauté over medium-high heat until lightly browned, stirring frequently. (Note – it's important to sauté the mushrooms over somewhat high heat in order to get the mushrooms to release their moisture without steaming the mushrooms.) Once the mushrooms are lightly browned and tender and plump, sprinkle lightly with just a touch of salt and allow to sauté for another minute more – this step will release just a bit more of the moisture in the mushrooms. Remove the mushrooms from the heat and set aside.
To prepare the rice, in a medium heavy-bottomed saucepan, melt the butter and olive oil together over medium-high heat. Add the diced onion and sauté for 5 minutes, until the onions are translucent.
Add the Arborio rice, stirring frequently for 2-3 minutes until the rice is just starting to turn lightly golden.
Quickly pour in the white wine and allow the liquid to boil and be absorbed into the rice. Then pour in ¼ cup of chicken stock to the rice, stirring constantly. (If necessary, adjust the heat under the pot – you want a medium simmer.) Add more stock ¼ cup at a time – adding more just as most but not all of the liquid is absorbed before adding in more stock.)
Cook the rice and stock together in this manner for approximately 25 minutes or so – until the rice is tender but not mushy. Turn the heat off when there is still some liquid remaining in the rice and stir in the parmesan cheese and mushrooms and salt and pepper to taste. Stir to combine completely.

Remove from heat and cover – let sit for 5 minutes before serving.
Note: Risotto may be reheated by adding in some additional chicken stock and stirring to incorporate into the risotto.
---
You may also like: