I've mentioned before, that my husband Jack worked many years ago at a cool, funky and very popular Mexican restaurant called The Edgewater Café, located about an hour north of Boston.  The food was fantastic and anytime Jack cooks Mexican for us, he draws inspiration from the dishes he cooked while working there.
This recipe for Beef and Bean Enchildas was another customer-favorite at The Edgewater and better yet, it's easy to make at home!  White corn tortillas are stuffed with a generous filling made from our super-delicious Mexican shredded beef, refried beans, black beans, and cheese.  Then, Jack's terrific Enchilada Sauce is ladled over the stuffed tortillas and baked until heated through and the cheese is melted and golden.
Serve these beef and bean enchiladas with some fresh chopped lettuce and tomatoes, sour cream and some Mexican rice or other side dish of your choice (like salsa and chips or  guacamole or even our avocado, corn and tomato salad) – and I think you'll know why The Edgewater was such a popular place to eat!
Note: These beef and bean enchiladas can be made using store-bought refried beans and enchilada sauce if you are in a hurry.  But if you'd really like to make a memorable meal for you and your family, I highly recommend making this with our version of homemade refried beans and enchilada sauce – the fantastic flavors are well-worth the extra effort!
Print
Beef and Bean Enchiladas
Prep Time:

15 mins

Cook Time:

20 mins

Total Time:

35 minutes

Yield:

2 servings
---
Description
Note: Preparation and cooking time does not include the time required to prepare the Mexican Shredded Beef used in this recipe.
---
4

white corn tortillas

¼ cup

vegetable oil

4 tablespoons

refried beans (see recipe here, or your favorite canned variety)

4 tablespoons

canned black beans, drained and rinsed

1 cup

Mexican Shredded Beef (see recipe here)

1 ½ cup

Monterey or Hot pepper Jack cheese, or a mix of both, divided

2 cups

Enchilada Sauce (see recipe here)
---
Instructions
Preheat oven to 375 degrees
In a small pan, heat oil to hot. With a pair of tongs, heat tortilla shell in oil one at a time for no more than five seconds per side. Drain on paper towels. You are only heating the shell to soften it up and make it pliable. If you cook it longer, it will crisp up and you won't be able to roll it.
Lay out the four shells and divide the refried beans, black beans and beef between each. Divide the ½ cup of Jack cheese between the four shells. Roll each tight ending seam side down.
Spray a baking dish large enough to hold the four enchiladas and place the four prepared rolls seam side down in the pan. Pour the 2 cups of enchilada sauce across the surface letting it drip down into the pan. Cover the top with the one cup of the cheese.
Bake the dish uncovered for 20 minutes. Move to the broiler and broil just long enough to brown tops.
Serve two to a portion with chopped lettuce, tomato, sour cream and Mexican side dishes of your choice.
---
You may also like: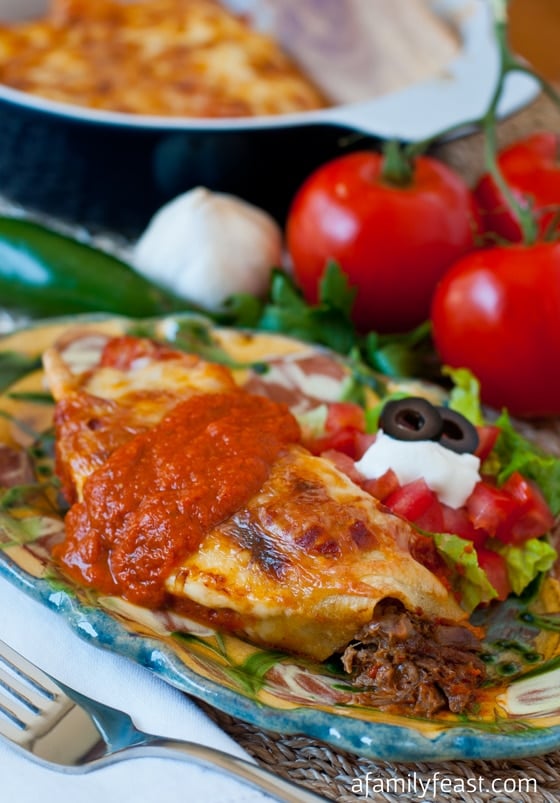 Chicken Enchiladas with White Sauce