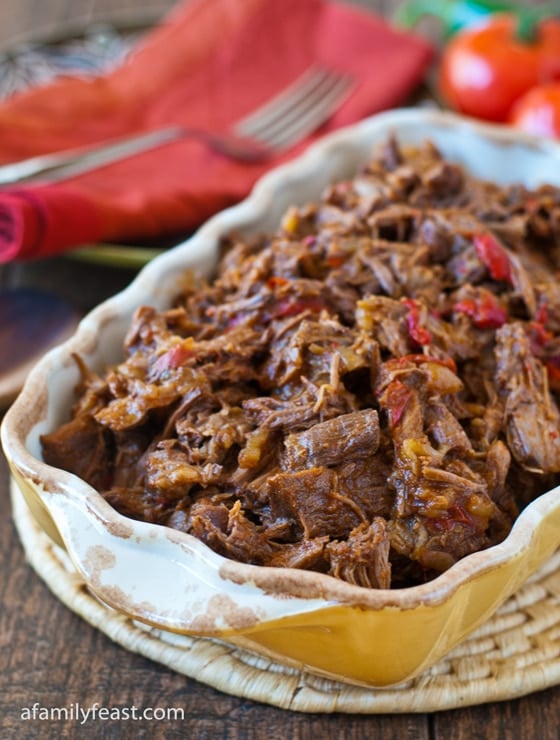 Ever since we published our recipe earlier this year for Mexican Pulled Chicken, as well as all of the various recipes you can make using pulled chicken (see here, here, and here), we've had a number of readers comment or email us, asking if we had beef versions of those recipes.
Happily – the answer is yes!  And today's recipe for Mexican Shredded Beef is the first of several that we will share over the next few days using this versatile and delicious recipe!  This Mexican shredded beef is an adapted version of the one that my husband Jack made many years ago, when he worked at the popular Edgewater Café, in Magnolia, Massachusetts.  At the restaurant, they used pressure cookers to cook the beef, but our version is cooked low-and-slow in the oven, making it a recipe that anyone can make at home!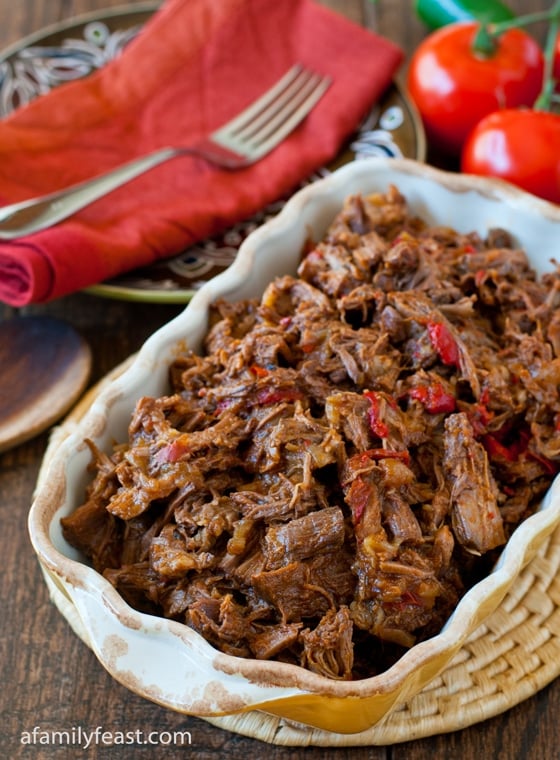 And I've got to say – the smells filling the house when this Mexican shredded beef is cooking in the oven is pretty amazing!  First a layer of sliced onions and peppers is placed in the bottom of a baking dish which serves as a bed for the beef.  Then a wet rub made with tomato paste, honey, spice, chili sauce and our popular Rocket Fuel (or your favorite hot sauce) is slathered over the beef before it is cooked.  Roast in the oven for about 3 to 3 ½ hours and your Mexican shredded beef will be fork tender and ready to shred!
And coming up later this week, we'll be sharing some more great recipes that use this Mexican shredded beef including Beef and Bean Enchiladas, and Beef Chimichangas – plus a fabulous homemade Enchilada Sauce that you won't want to miss!
Note: We have received some reader questions asking if this Mexican Shredded Beef can be made in a slow cooker.  The answer is yes – however, we found that the best results came from cooking the beef in the oven as written in this recipe.)
Print
Mexican Shredded Beef
Prep Time:

30 mins

Cook Time:

3 hours

Total Time:

3 hours 30 minutes

Yield:

8 servings
---
Ingredients
½

large onion peeled and cut into large slices

½

large red bell pepper seeded and cut into large slices

1 tablespoon

tomato paste

1 tablespoon

Agave Nectar or honey

1 teaspoon

onion powder

½ teaspoon

garlic powder

½ teaspoon

dried cumin

½ teaspoon

chili powder

1 teaspoon

dried oregano

1 ½ teaspoons

ground coriander

1 teaspoon

Rocket Fuel, or your favorite hot sauce

½ teaspoon

Sriracha chili sauce

2 ½

pounds chuck roast

1 cup

beef stock
---
Instructions
Preheat oven to 300 degrees.
In a 9×13-inch glass baking dish or Dutch oven, lay sliced onions and peppers on bottom.
Mix tomato paste, Agave or honey, all the dried spices, Rocket Fuel and the chili sauce. Smear all over beef and set beef over peppers and onions. Pour the beef stock around the sides of the beef.
Cover with parchment paper and then foil, sealing tight.
Roast in over for three hours or until fork tender. Check after three hours and cook for another 30 minutes if not falling apart tender. Depending on the size, grade, quality and cut of the chuck, this cooking time could be much longer, see notes. *
With two forks, shred meat and mix with all liquid, cooked onions and cooked peppers.
Use as a filling for a variety of Mexican or Southwestern-inspired dishes.
---
Notes
* I have made this a few times with different grades of chuck from a really nice Angus beef to a really low grade of beef known as "select". The cooking times varied greatly as a result. The low grade of beef for example took almost five hours to become fall apart tender, where the Angus was tender in a little over two hours. Depending on all of the variables, you need to keep checking and cooking until tender. May be easier to make this a day ahead or start it early in the day.
You may also like: