Our Perfect Prime Rib recipe takes a different approach than most other recipes you see online these days. But it's a pro technique that results in a tender and juicy roast every single time!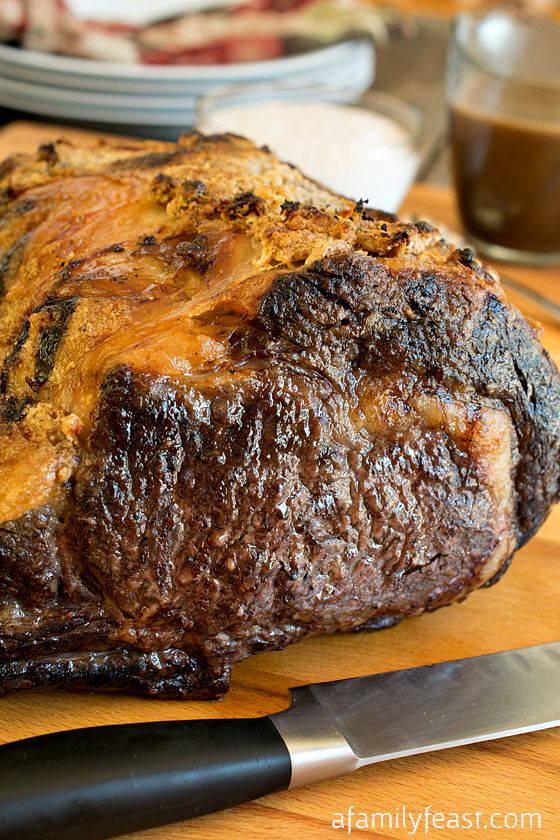 Hi everyone – Jack here. I'd like to start off by suggesting that you forget everything you've learned about roasting a prime rib of beef.
In culinary school, two of the very first rules I learned were:
NEVER salt a rib roast just before you put it in the oven to roast.
ALWAYS cook the roast low and slow – and wait until the end to brown.
I know – this is completely counter to most other prime rib recipes these days, where experts have you start off by cooking the beef at a very high heat. But hear me out.
Back in school, our class roasted four very large, steamship rounds of beef. (Those are the giant sub primal cuts of beef you see a chef carving at a restaurant buffet line, with a large bone sticking out the top.) With such expensive cuts of beef on hand, there is no way our teacher was going to teach us the wrong way to cook them.
The same principles taught to us then apply to large cuts of beef, as well as the smaller prime rib roasts you would make at home – or for that matter, any roasted muscle meat.
First, we were taught to salt and season the roast the night before, and allow the roast to sit overnight, uncovered, under refrigeration. The salt draws out the moisture and then – only with time – it grabs the seasonings and infuses it back into the meat. (If you salt just before you roast, the same chemical reaction will happen, except the juices will be at the bottom of the pan, instead of in the roast where you want them to be.)
Second, always cook it low and slow – and wait until the end to brown. This guarantees the same doneness throughout, instead of the roast being red in the center and over-cooked towards the outer edge. If a prime rib roast is truly done right – only about 1/16th of an inch or so from the outer edge will be cooked more than the rest.
Why you'll love this Perfect Prime Rib recipe!
You'll be following a time-tested, proven technique that yields professional results.
You can feel confident that your expensive holiday roast will be cooked to perfection.
The beef is cooked to a medium rare throughout – the ideal way to enjoy a prime rib dinner.
Key Ingredients and Substitutions
Beef Rib Roast – For the best results, choose a roast that says Prime on the label. Roasts can be sold with or without the rib bones protruding from the end. Either is fine for this recipe and it won't affect the cooking method – just note that a boneless roast will cook faster than a bone-in roast.
Seasonings – You won't need much more than kosher salt and freshly ground black pepper, plus some olive oil that will help the seasonings stick to the meat.
Beef bones – Because this roasting method doesn't leave much in the way of drippings (the juice stays in the meat), we like to roast off extra bones to make an Au Jus (a simple pan sauce) and Yorkshire Pudding. If you just want the beef by itself, you don't need to purchase these.
Red wine – Merlot, Pinot Noir, or Cabernet Sauvignon are all great options if you plan to make an Au Jus to serve with your prime rib. Most importantly, use a bottle you would enjoy drinking on its own!
Kitchen Bouquet – This is a browning and seasoning sauce that enhances the color and flavor of gravies and sauces. It also acts as a thickener as well. Gravy Master is a popular substitute, but again, you won't need this if you aren't making Au Jus.
Chef's Tips:
If you'd like, ask your butcher to separate and tie back the bones – they will serve as the rack underneath the beef. Plus, the bones always add great flavor.
Also, a boneless roast will cook faster, so use the internal temperature as a guide.
Special supplies needed
Roasting Pan – You don't need the metal rack insert unless you are cooking the beef by itself, without the extra bones.
Probe Thermometer – The only way to accurately tell when your roast is perfectly done is by taking the internal temperature. An inexpensive probe thermometer like this stays in the meat the entire time it roasts. Set the desired temperature on the gauge, and the alarm will go off when it's done!
Chef's Tip – Allow the meat to sit on the kitchen counter at room temperature for one hour before putting the roast in the oven. This will ensure even cooking.
How do I make a Perfect Prime Rib?
Coat the beef with oil, salt, and pepper. Place on a platter, fat side up, and refrigerate overnight.
Remove the prime rib from the refrigerator (the next day) and let rest on the counter for an hour.
Roast the bones while the beef rests. (Do this about five hours before serving.)
Place the roast on top of the bones, then roast until it reaches an internal temp of 125 degrees F.
Transfer the meat to a platter to rest.
Simmer wine, water, Worcestershire sauce, and browning sauce, along with the roasted bones, in a saucepan to make an au jus. After simmering, strain the liquid into a separate saucepan.
Place the meat back in the oven to brown for 15-20 minutes.
Rest the meat one more time before you slice and serve.
Serve with hot Au Jus or our Creamy Horseradish Sauce.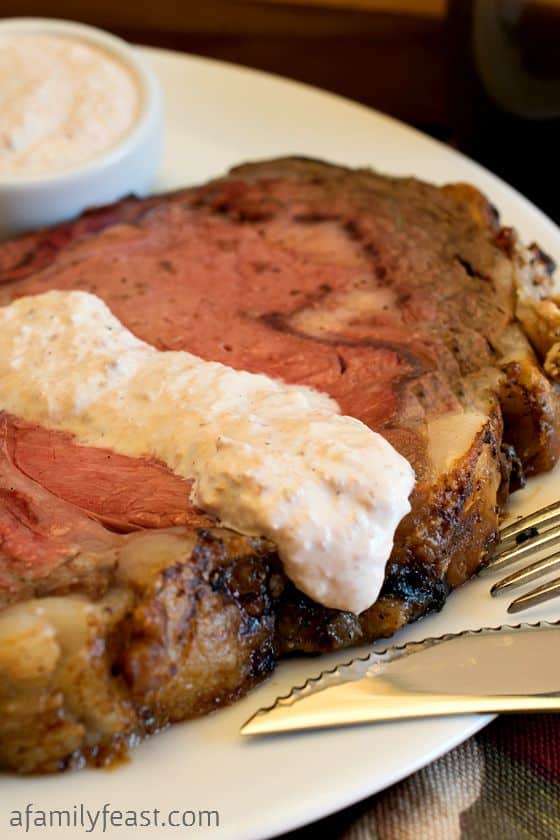 Chef's Tip – If you prefer your roast to be served at medium doneness instead of medium-rare, remove it from the oven when the thermometer reads 130-135°F. As it rests, it will continue to cook until it reaches a perfect 135-140°F when served.
Frequently Asked Questions
Should prime rib be cooked covered or uncovered? For this prime rib recipe, we leave it uncovered.
Do I need to use a roasting rack? We place the meat directly on the roasted beef bones. If you plan to skip that part, you will need to place a metal rack inside your pan first.
Will this recipe work with a boneless roast? Yes! The cook time will be less, but the finished internal temp (125 degrees F) will be the same.
Do I remove the bones from the meat? No, they can stay in, and additional bones are used to create the drippings for Au Jus and Yorkshire Pudding. Just to clarify – this recipe can be followed for bone-in roasts, or boneless roasts. If the bones are removed, ask your butcher to save them for you to use underneath while roasting the prime rib.
How big of a roast should I buy for only two people? A one-bone roast would probably be enough. They are usually sold in larger cuts, so ask the butcher to cut one down to size for you.
I don't have a meat thermometer. How long per pound? As noted above, a probe thermometer (like this) is the very best way for you to know when your roast is done. However – generally – plan for about 30 minutes per pound at 250 degrees F. You'll also need an hour out of the fridge beforehand, and another half hour to rest after.
What do I serve with Prime Rib?
Au Jus (included in the recipe below)
You might enjoy these other roast beef recipes:
This 5-star recipe originally appeared on A Family Feast in 2014.
Print
Perfect Prime Rib
Prep Time:

12 hours 15 mins

Cook Time:

5 hours 30 mins

Total Time:

17 hours 45 minutes

Yield:

6 servings
---
1

3-rib bone-in Prime rib roast (about

6½

to

7

pounds)

2 tablespoons

olive oil

2 tablespoons

kosher salt

1 tablespoon

freshly ground black pepper

5

pounds beef bones including meat and fat, such as necks, chuck bones, etc. I found neck bones on sale as well as some fatty rib pieces

1 ½ teaspoons

kosher salt

½ teaspoon

freshly ground black pepper

2 tablespoons

olive oil

6

large garlic cloves, peeled and smashed

1/3 cup

red wine such as merlot

2 cups

water

2 tablespoons

Worcestershire sauce

½ teaspoon

gravy color and seasoning sauce such as Kitchen Bouquette
---
Instructions
Place the beef on a platter and coat with oil, salt and pepper and refrigerate uncovered overnight fat side up.
Five hours before serving, heat the oven to 450 degrees F.
Pull roast from refrigeration and let sit at room temperature while you roast the bones and fat.
In roasting pan place beef bones and fat, salt, pepper and oil and roast 30 minutes.
Turn the bones and fat and roast 30 more minutes.
Reduce the oven to 250 degrees F and leave oven door open so the oven cools down to this new setting.
Remove pan from oven and place the garlic over the top of the bones then place the roast over that, fat side up.
Insert a probe thermometer into the fattest part of the roast and set alarm temperature to 125 degrees F for medium rare.
Our 6 ¼ pound roast took exactly 3½ hours to cook to an internal temperature of 125 degrees F. It will continue to cook outside of the oven to the proper medium rare doneness.
Remove beef to a platter and cover loosely with foil for 20 minutes to rest, no less.
Increase oven temperature to 450 degrees F.
Place roasting pan with bones on stove top and add wine to deglaze.
When wine has almost evaporated, add water, Worcestershire sauce and gravy color and simmer until liquid has reduced to about a cup to a cup and a half. Strain out solids and pour Au Jus into sauce pan to heat when needed.
After the roast has rested for 20 minutes, remove probe and place roast back on roasting pan and into hot oven and brown for 15-20 minutes or until desired crispiness.
Remove from oven, let sit five more minutes and carve.
Heat Au Jus to hot and serve on the side or over the slices.
Serve Creamy Horseradish Sauce on the side.
With a three bone rib roast, three slices will have meat only and three will have bone in.
One last note; your roast may or may not have the end of the rib bones protruding out of the end. Either way, no change to cooking method, just wanted to point out that it is sold both ways.
---