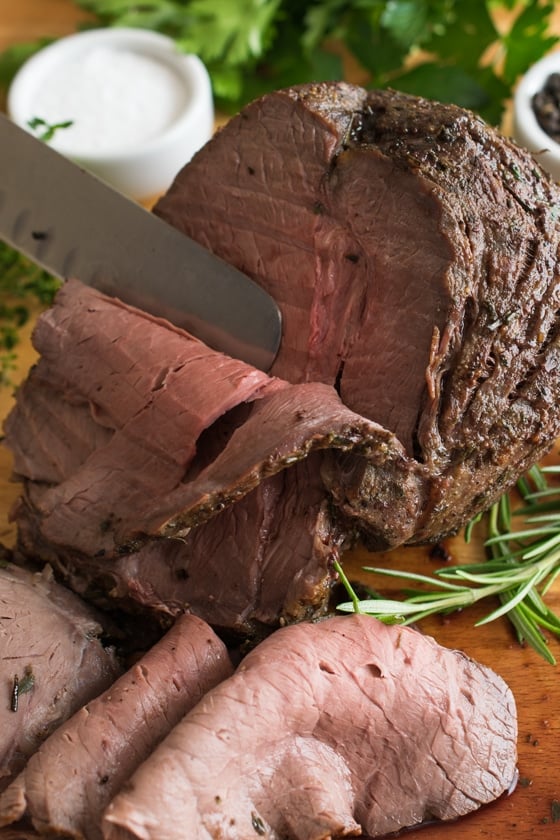 Today we're going to share a technique for cooking a tender Top of the Round Roast!
The top of the round is cut from the hind quarter of a steer, and it's a very affordable cut of beef to buy at your local grocery store. Because it's essentially muscle meat, a top round roast is lean and very flavorful, but it lacks fat and marbleizing throughout – so it can be tougher, and not as juicy as roasts made from more expensive cuts of beef.
Top of the round roasts are often cooked at home as pot roasts where they get tender during a braising process. (Top of the round roasts are also the cut of beef that is typically sold as pre-cooked roast beef at your supermarket deli counter!)
But today, we're sharing an alternative method – called the pre-salt method – that also makes this kind of roast more tender after cooking. Pre-salting involves coating the beef in salt, herbs and spices (almost like a dry rub) and then placing the beef in a sealed plastic food bag for 24 hours before cooking.
Pre-salting 24 full hours in advance does two things: It breaks the sinew of the meat down a little. And – it adds flavor to the inside of the meat.
The magic in this technique is achieved with the salt. The salt draws the liquid from the roast, grabs the flavors you have added (herbs and other seasonings) and then sends all of that flavor back into the meat. As it sits for the full 24 hours in the plastic food bag, you can watch the juices come out – but when you look at the top round roast after the 24 hours – there will be little, if any, liquid left in the bag. That is because the juices all went back into the meat.
This pre-salt method can actually be used on any meat, but not on fish. There is a slightly different method (we do not cover that in today's post) that is used for a steak where less time is needed, but the general idea is the same.
If you decide to follow our recipe, please note that we don't want to mislead you into thinking that your top round roast will be as tender and juicy as a more expensive rib eye roast – it simply won't be the same as that! But for an inexpensive cut of beef like Top of the Round, this method works pretty well to make it tender for eating.
Also – below our recipe, we've shared some suggestions on cutting and slicing this roast. Be sure to read that as well!
Print
Top of the Round Roast
Prep Time:

24 hours

Cook Time:

2 hours

Total Time:

26 hours

Yield:

6-8 servings
---
Description
Please note: This recipe gives you proportions of salt, herbs and spices to use based on each pound of beef. Depending on the size of roast you purchase, calculate the exact amounts needed using our recipe below.
---
1

Top of the Round roast, about

3

–

4

pounds

¾ teaspoon

of kosher salt per pound of beef

¼ teaspoon

of freshly ground pepper per pound of beef

¼ teaspoon

garlic powder per pound of beef

1 teaspoon

of fresh herbs per pound of beef (any combination of fresh thyme, parsley and rosemary)

2 tablespoons

olive oil
---
Instructions
Mix herbs and spices and coat beef. Place beef in gallon zipper seal bag 24 hours prior to cooking. (So if you want it for dinner tomorrow at 6:00 PM, it needs to go into the bag today at 2:00 PM to allow for 2 hours to come to room temperature and 2 hours cooking time.) If you remove it sooner than 24 hours, some of the liquid that the beef gives up in this process will not have worked its way back into the meat and it will roast up dry.
Refrigerate and after 24 hours, and two hours before serving preheat your oven to 325 degrees.
Four hours before serving, remove the beef from the bag and pat dry with paper towels. The only liquid should be just a little surface moisture.
Let roast come up to room temperature, about 1-2 hours.
Heat a cast iron skillet to smoking hot and add olive oil. When the oil is shimmering and hot, add beef and sear on all sides, top and bottom for about 2 minutes on each side. Have a sheet pan or roasting pan ready with an oven proof rack in it.
Once the meat is completely seared, place on rack in pan, if using, insert remote meat thermometer into the thickest part of the roast and place in oven. (Our roast was 3.3 pounds and took exactly 95 minutes to get to 135 degrees for medium rare.) After it is removed from oven and sits, it will cook to 145 degrees so removing at 135 is the perfect temperature. If you are not using a remote thermometer, test for doneness with probe thermometer at the 90 minute mark.
The bits left in the cast iron skillet should be discarded. The searing process sears the meat but burns the herbs so what is left in the skillet after searing is not usable for gravy. However what drips onto the bottom of the sheet pan or roasting pan after it comes out of the oven is usable. See below for a simple gravy.
After the roast comes out, leave thermometer inserted and tent the roast with foil. Let rest for 15 minutes. Make gravy (if desired) while the meat rests.
After it rests, slice on an angle against the grain and serve. Some more liquid will drip as you slice. Add that liquid to your homemade gravy (see notes below for gravy guidelines.)
---
Notes
Some more notes from Jack on Top of the Round cuts:
Usually the roast is cut with two sections of beef connected by connecting tissue – a large cut and a smaller piece. The smaller piece has grain that runs in the opposite direction of the larger piece so when I carve a roast like this, I run a boning knife between the two pieces after the roast comes out of the oven and rests, and I completely separate them. Then I turn and carve each piece against the grain.
If you really want to take this to the next level and have the entire roast cook at the same doneness, you could separate these two pieces prior to roasting and pull the smaller piece out of the oven before the larger one. I have done this before if I know everyone likes the same doneness, however leaving them connected gives you medium rare from the larger piece and medium from the smaller piece for those who don't like it too rare.
Gravy Guidelines:
For every four ounces of fat, add four ounces of flour and that will thicken one quart of liquid. This will work for any sauce using chicken stock, beef stock or milk. Reduce or add proportionally to your needs.
To make a simple gravy, in a two quart sauce pan, melt four ounces of butter and add four ounces of flour and cook over medium low heat for about five minutes until the raw flour smell is gone. Stir this often with a wooden spoon while it cooks. This is called a roux and should smell like cooked chestnuts when done. The longer you cook the roux, the darker the sauce will be. For a white sauce, cook it three minutes, for a darker gravy like for this beef, cook five minutes.
Pour off any juices from the sheet pan into another two quart sauce pan and add water or canned stock to equal one quart total liquid (half the two quart pan). Heat stock to almost boiling.
One third at a time, add hot stock to hot roux, whipping after each addition with a wire whisk. The first one will make a thick paste, the second will thin it out a bit and the third will be perfect pan gravy. Both the roux and the liquid need to be hot to avoid lumping. Adding it one third at a time will also eliminate lumping.
Season the gravy to your taste with salt, pepper or chopped parsley. If using canned stock added to pan drippings, you may want to taste first before adding salt. Let the sauce stay on low while you slice the meat. Then serve both to your guests or family.
You may also like:
Slow Cooker Barbecue Beef Brisket