Easy Salisbury Steak is made with tender, quality ground beef and pork that's cooked into juicy patties. Serve it with an amazing homemade mushroom sauce!
Our delicious recipe is a great dinner option for a chilly day when only a hearty and filling meal will do. This is no frozen TV-dinner version either – it's a tender, flavorful meal that your entire family will love!
We use a blend of ground chuck, sirloin, and pork – and high-quality meats make a world of difference in the flavor of this recipe. While a few other ingredients are added for flavor – as well as to help bind it all together- the finished dish should taste like a good-quality, tender steak and not a meatloaf.
What is Salisbury steak?
This dish was invented by the American physician, Dr. J.H. Salisbury, who was an early proponent of a low-carb diet for weight loss (according to Wikipedia). The term "Salisbury steak" has been in use in the United States since 1897 – and it is commonly made from minced or ground meats that are formed into the shape of a steak.
Salisbury Steak sometimes appears on restaurant menus as "chopped steak with mushroom gravy."
Why you'll love homemade Salisbury steak!
Everything is made from scratch for incredible, rich flavor.
You can do much of the prep ahead of time.
This recipe makes 8 servings – plenty for the whole family or to have leftovers!
Key ingredients and Substitutions
Ground meats – While many other Salisbury Steak recipes use ground beef alone, we've found that adding pork creates a more delicious flavor and really elevates this dish. We also buy a combination of high-quality 93/07 chuck and good quality ground sirloin from the butcher. The finished product is well worth the cost!
Binders – Whole eggs and sliced white bread work together to hold the steaks together.
Beef stock – We always keep some of our homemade brown stock on hand in the freezer. (We freeze it in smaller portions for recipes such as this.) Of course, you can use canned stock instead!
Cream – Heavy cream gives a silky-smooth texture to the mushroom gravy, as well as thickens it. You can use a lighter cream, but the end result won't be as luxurious.
Flavorings – Various combinations of Worcestershire sauce, onions, fresh thyme, gravy color and seasoning sauce, and other seasonings give this dish the classic Salisbury Steak flavor.
Mushrooms – Last but not least, we used Cremini or Baby Bella mushrooms for the sauce. White button mushrooms can be used instead, but we prefer the deeper, almost meaty flavor of the Cremini.
How do I make easy Salisbury steak?
Form the steaks – Sauté onions in butter and oil. Stir in bread, liquids, and seasonings. Once cooled, stir in a beaten egg, then combine the mixture with the ground meat in a large bowl. Divide into eight evenly-sized mounds and gently form into shape.
Start the sauce – Combine the stock, cream, and seasonings in a saucepan. Keep warm but don't allow it to come to a boil.
Sear the steaks – In a separate pan, sear the steaks for about 5 minutes on each side. This is just for color and to lock in the moisture – you will cook them through later.
Add mushrooms – In the same pan, sauté onions and mushrooms until browned. The vegetables should absorb any remaining liquid from the meat. Then, remove from the pan.
Simmer everything together – Make a roux, then whisk in the stock mixture a third at a time. Stir in the mushrooms, then nestle the steaks into the sauce and cover with a lid. Simmer until the meat is cooked through.
Serve with mushroom sauce and mashed potatoes.
Chef's Tip
Use your hands to combine the mixture for the Salisbury steaks, but use a gentle touch and avoid overworking it. Otherwise, the steaks will be dense and dry.
Also – don't be tempted to add more eggs or bread. Very little binder is needed to achieve a tender meat patty texture.
Frequently asked Questions
Can I use bread crumbs instead of bread slices? You can use crumbs if you would like, but we suggest actual slices of bread – they are a lighter and less dense binder for the other ingredients.
Can I make Salisbury Steak ahead of time? You could form the patties, sear them, make the sauce then refrigerate everything. When ready to serve, place everything back into the pan and slowly heat to cook completely. You may need to add additional stock, water, or cream to thin the sauce out.
How do I store leftovers? Store refrigerated for up to three days.
How do I reheat leftovers? Reheat in a pan on the stove over low heat or heat individual portions in the microwave.
Can you freeze homemade Salisbury steak? Note that there is some cream in the sauce, so you run the risk of having it separate a bit after thawing. Freshly made would be best, but freezing and thawing should be fine.
This post originally appeared on A Family Feast in October 2013.
You may like these other steak recipes:
Print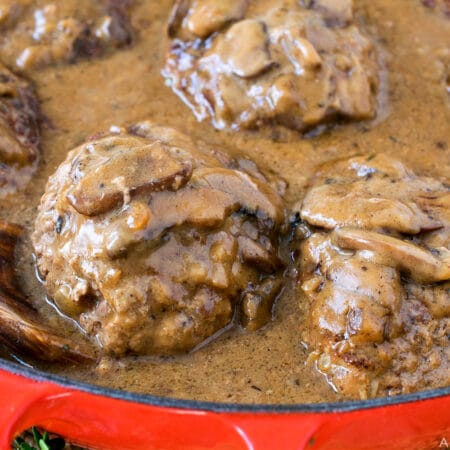 Salisbury Steak
Author:

Prep Time:

45 minutes

Cook Time:

45 minutes

Total Time:

1 hour 30 minutes

Yield:

8 servings

Category:

entree

Method:

stovetop

Cuisine:

American
---
---
Steak Ingredients
1 ½ tablespoons unsalted butter
1 ½ tablespoons extra virgin olive oil
¾ cup yellow onion, diced small
¼ cup heavy cream
3 tablespoons low sodium beef stock or home made (purchase one quart – you will use more in the sauce)
1 ½ teaspoons Worcestershire sauce
1 ½ teaspoons fresh thyme chopped, or half that of dried
½ teaspoon onion powder
1 teaspoon garlic powder
1 teaspoon kosher salt (add only if you are using low sodium beef stock)
½ teaspoon freshly ground black pepper
2 slices plain white bread, crusts removed
2 whole eggs, beaten
1 pound lean ground beef (93/7)
1 pound good quality ground sirloin (we ground our own using this Kitchen Aid attachment, or ask the butcher to grind instead)
1 pound good quality ground pork
Mushroom Sauce
3 cups low sodium beef stock, plus more to thin down sauce as needed when reheating leftovers
1/3 cup heavy cream
Pinch of kosher salt (only if you are using low sodium beef stock)
Few grinds black pepper
1 teaspoon fresh thyme chopped, or half that of dried
½ teaspoon Worcestershire sauce
¼ teaspoon gravy color and seasoning, such as Kitchen Bouquet or Gravy Master
6 tablespoons butter, divided
1 ½ tablespoons of extra virgin olive oil
½ cup yellow onions, chopped
12 ounces Bella mushrooms, sliced thick
2/3 cup all-purpose flour
---
Instructions
If serving with mashed potatoes, start preparing those first and reheat once the steaks are ready.
In a medium saute pan, melt 1 ½ tablespoons of butter in the 1 ½ tablespoons of olive oil over medium heat, add the onions and cook for three minutes until soft.
Remove the pan from the heat and add cream, stock, Worcestershire sauce, thyme, onion powder, garlic powder, salt and pepper and stir to combine.
Place the two trimmed slices of bread directly into the pan and turn a few times to soak the bread. Set this mixture aside to cool.
Once cool, stir in the two beaten eggs.
In a large bowl place the ground beef, ground sirloin and ground pork. Once the egg and bread mixture has cooled, add to the meat and work the mixture with your hands to combine. Only mix long enough to incorporate the ingredients and try not to over work the mixture.
Pour the mixture out and form into a log shape. Cut in half, each half in half then each quarter in half yielding eight 8-ounce portions.
Form each into an oval shaped patty and line up on a parchment lined sheet tray.
In a medium sauce pan, place three cups of stock, 1/3 cup of cream, salt, pepper, thyme, Worcestershire sauce and gravy color. Heat to hot and hold warm until needed.
In a very large saute pan, nonstick if available, heat 2 tablespoons of butter and the 1 ½ tablespoons of olive oil over medium heat.
Once hot, place four steaks at a time in the pan and cook for three minutes per side, moving to a platter once seared. They will not be fully cooked. Repeat for the remaining four steaks, also moving them to the platter.
Keep the heat on medium and add the onions and cook one minute.
Add the mushrooms and cook for five minutes then remove the mushrooms and onions to a bowl.
Add the remaining four tablespoons of butter and lower the heat to medium low.
Once melted, add the flour and cook for three minutes, stirring often.
Using a whisk, add in one third of the hot liquid from the sauce pan, whisking as you add. The mixture will be very thick. Add another third and whisk in, then the last third, whisking until smooth.
Add the cooked mushrooms and onions back in and stir.
Nestle the seared steaks in and spoon sauce over each one.
Cover the pan and cook on low for 10-15 minutes until a probe thermometer inserted into one of the steaks registers 160 degrees F.
If the sauce is too thick, use some of the remaining stock, water or cream to thin down.
Serve one steak per person with mashed potatoes and a vegetable and spooned mushroom sauce over each.
Keywords: Salisbury Steak, Chopped Steak