Salisbury steak is comfort food at its best – and our delicious recipe is a great dinner option for a cool, fall day when only a hearty and filling meal will do!  This is no frozen TV-dinner version of Salisbury steak – it's a tender, flavorful meal that your family will love!
Salisbury steak was invented by the American physician, Dr. J.H. Salisbury who, according to Wikipedia, was an early proponent of a low-carb diet for weight loss.  The term 'Salisbury steak' has been in use in the United States since 1897 – and it is commonly made from minced or ground meats that are formed into the shape of a steak.
Our recipe for Salisbury steak is a blend of ground chuck, sirloin and pork – and we believe that the key to the perfect Salisbury steak is in using the best quality meats you can find!  Jack drove straight to our local butcher and bought grass-fed beef to create a mix of 50% chuck, 25% sirloin and 25% good quality ground pork for this recipe.  And the high quality meats make a world of difference in the flavor of this Salisbury steak!  While a few other ingredients are also added in order to flavor the meat and bind it together into the shape of a steak, the finished dish should taste like good-quality, tender steak and not meatloaf.
This Salisbury steak is perfectly paired with our mushroom sauce and served with mashed potatoes.  Enjoy!
Print
Salisbury Steak
Prep Time:

15 mins

Cook Time:

30 mins

Total Time:

45 minutes

Yield:

5 servings
---
Ingredients
For the Salisbury Steak
1 tablespoon

butter

1 tablespoon

extra-virgin olive oil

½ cup

chopped onions

1/8 cup

milk

1/8 cup

heavy cream

1/8 cup

beef stock

1 teaspoon

Worcestershire sauce

1 teaspoon

chopped fresh thyme (or

½ teaspoon

dry thyme)

½ teaspoon

onion powder

½ teaspoon

garlic powder

½ teaspoon

salt

¼ teaspoon

black pepper

1 ounce

of white bread, crust trimmed off (

1/2 cup

)

1

egg, beaten

1

pound good-quality 80/20 ground chuck

½

pound good-quality ground sirloin

½

pound good-quality ground pork
For the Mushroom Sauce
2 cup

s beef stock

¼ cup

heavy cream
Pinch of salt
Few grinds black pepper

½ teaspoon

chopped fresh thyme(or half that of dry)

¼ teaspoon

Worcestershire sauce

¼ teaspoon

Kitchen Bouquet

3 ounce

s butter divided

1 tablespoon

extra virgin olive oil

¼ cup

chopped onions

8 ounce

s baby bella mushrooms sliced

2 ounce

s flour
Cooked mashed potatoes for serving
---
Instructions
To make the Salisbury Steak
In a medium sauté pan, melt butter in olive oil and cook onions for three minutes over medium heat. Remove from heat and add milk, cream, stock, Worcestershire sauce, thyme, onion powder, garlic powder, salt, pepper and the bread. Mix to combine letting bread soak up all liquid. Once mixture is completely cool, add beaten egg and stir again to dissolve bread and egg into mixture.
In a large bowl, combine three meats and add onion and bread mixture. Gently work mixture with your hands but do not over work the meat.
Form into five equal sized football shaped patties.
In a medium sauce pan, heat beef stock, cream, salt, pepper, thyme, Worcestershire sauce and Kitchen Bouquet. Hold on medium heat.
In a large skillet, heat 1 ounce of butter and olive oil over medium high heat. Once hot and frothy, add the five patties and cook about five minutes on each side. Gently remove to a platter. They will not be fully cooked at this point.
Add the onions to the pan and cook over same heat for one minute. Add the mushrooms and increase heat to almost high. Cook for four or five minutes until mushrooms are browned and have absorbed the liquid. Remove mushrooms to a bowl and hold.
Reduce heat to medium and add the remaining two tablespoons of butter. Once melted add flour and cook for four or five minutes until raw flour smell is gone. One third at a time add hot stock whisking with each third. Add reserved mushrooms and stir with wooden spoon. Add Salisbury steaks to sauce, along with any liquid from the platter and then spoon sauce over top of each steak. Cover pan and cook on medium low for 15-20 minutes or until a probe thermometer reaches 160 degrees when inserted into the center of one of the steaks.
Serve steaks with mashed potatoes and spoon mushroom sauce over both.
You may also like: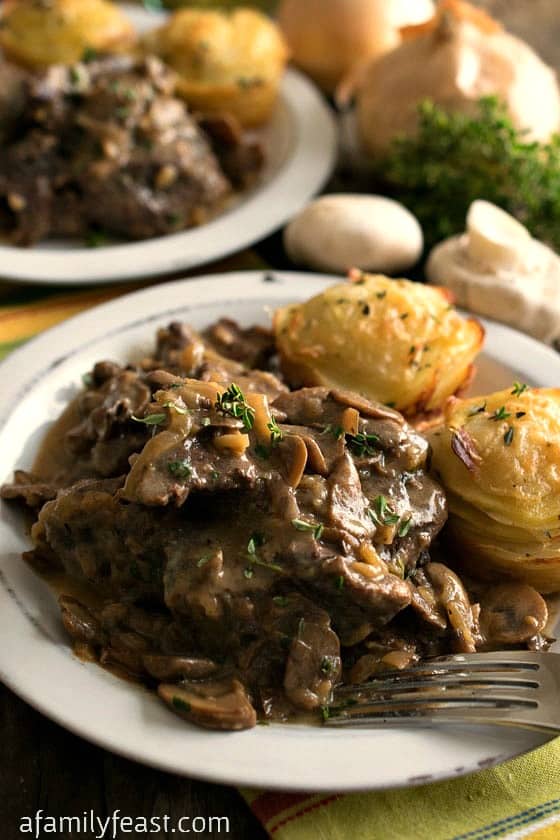 Steak au Poivre with Crispy Shallots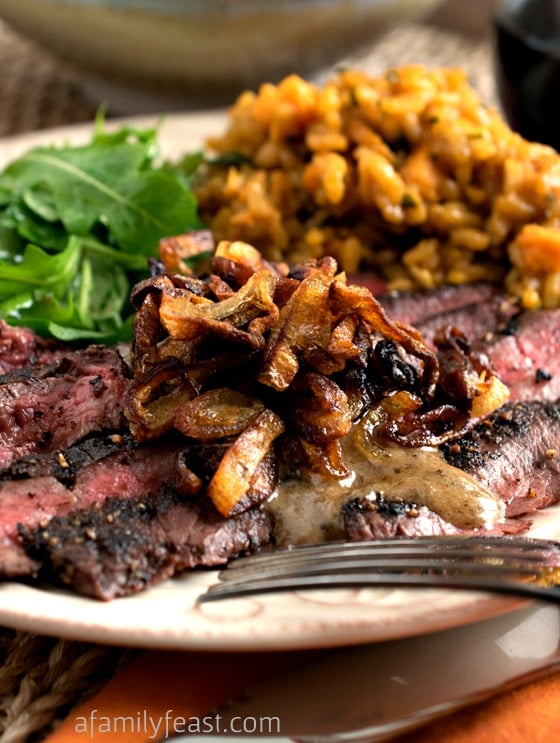 Steak Tips with Caramelized Onions