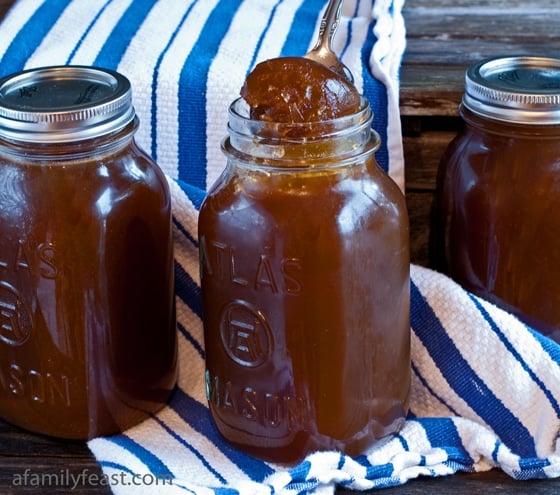 This week on A Family Feast we're sharing our Beef Soup Series – a collection of delicious soup recipes all centered around beef!  By the end of our four-part series, you'll not only know how to make a super flavorful, homemade brown stock – the basis for all beef soups – but you'll also know how to prepare several hearty beef soups for your family.
Brown stock (the more formal name for beef stock) is the base for hundreds of recipes – soups, stews, chili, and other dishes – and is a must-have in our house. While canned beef stock can be used of course, the flavors from a can just can't stand up to this rich and hearty, homemade brown stock.
Our trick: Make a batch and freeze it in smaller bags so you always have some of this delicious brown stock on hand.  Admittedly, making this stock is time-consuming, but once you taste it, you will never want canned stock again.
This recipe is a variation of the recipe found in the Culinary Institute of America's, The Professional Chef.  (Affiliate Link)
Print
Brown Stock
Prep Time:

30 mins

Cook Time:

6 hours

Total Time:

6 hours 30 minutes

Yield:

2-3 quarts
---
4 ounces

vegetable oil, separated

1

6-ounce can V-8 vegetable juice

1

6-ounce can tomato paste, separated

7

pounds beef or veal trim (part marrow bones, part beef scraps, part meaty ribs, etc.)

2

pounds bone-in chuck steak

7 quarts

cold water

1 cup

roughly chopped carrots

2 cups

roughly chopped onions

1 cup

roughly chopped celery

1 cup

celery tops (if you have them)

¼

bunch Italian parsley with stems

½ teaspoon

fresh or dried thyme

½ teaspoon

whole black peppercorns

1

bay leaf

1

garlic clove

1 teaspoon

salt
---
Instructions
Preheat oven to 450 degrees.
Pour 2 ounces (1/4 cup) of the oil into a large roasting pan and place into the oven. Let the pan get hot in the oven for about ten minutes.
While pan and oil is in the oven getting hot, mix the V-8 with half of the tomato paste and slather all over the meat and bones.
Open oven and place meat and bones into hot roasting pan. Cook for 30-45 minutes until bones are deep brown. Open oven occasionally and turn bones. Watch during the last 15 minutes of the roasting time to make sure they don't burn.
Remove from oven and place in a 10-quart stock pot. Cover with six quarts of cold water and bring to boil.
While pot is coming to a boil, pour remaining one quart of water into roasting pan and heat on the stove top to deglaze the pan. Scrape up any brown bits and pour into stock pot.
Once stock comes to a boil, reduce to a simmer and skim off any scum that floats to the top. Simmer for 5 hours, skimming occasionally.
While the stock is simmering, place a 14" heavy bottomed skillet on the stove top along with the other half of the oil and heat over medium high.
Place carrots, onions, celery and celery tops (if used) in the hot oil. Sauté for 15-20 minutes until the onions are nice and browned.
Add in the remaining tomato paste and cook for an additional 2-3 minutes. Add a few ladles of the stock to loosen up the mixture and to scrape up any bits stuck to the bottom. Let cool and then set this mixture aside in the refrigerator.
After the stock has simmered for the full 5 hours, place the carrot and onion mixture into the stock along with the parsley, thyme, peppercorns, bay leaf, garlic and salt.
Bring back to a boil then reduce to a simmer. Simmer for an additional hour.
Strain the stock back into the stock pot. If you can salvage any beef from the steak and bones, do so and use in your soup recipes, otherwise discard the solids.
This stock may be used in any recipe calling for beef stock, beef broth or brown stock. Before using, however, it is a good idea to skim any fat from the stock.
The best way to cool your stock before refrigerating, is to fill your kitchen sink half full with ice water and set the pot with the strained stock into the sink. This will cool the stock down quickly. You may need to change the ice water a few times, but you can get the stock down in temperature pretty quickly using this method. Stir occasionally to distribute the heat. Then refrigerate and remove fat after the stock cools, usually overnight.
This stock freezes well in small zipper seal plastic bags.
---
Also in our Beef Soup Series: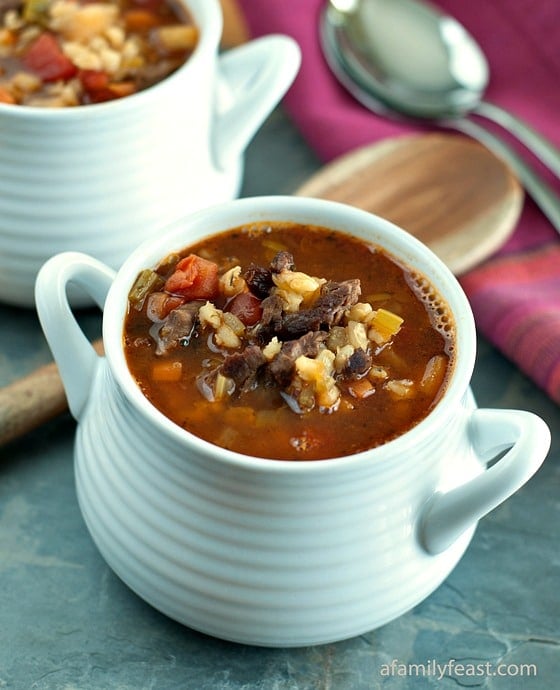 Part 3: Hearty Beef Vegetable Soup