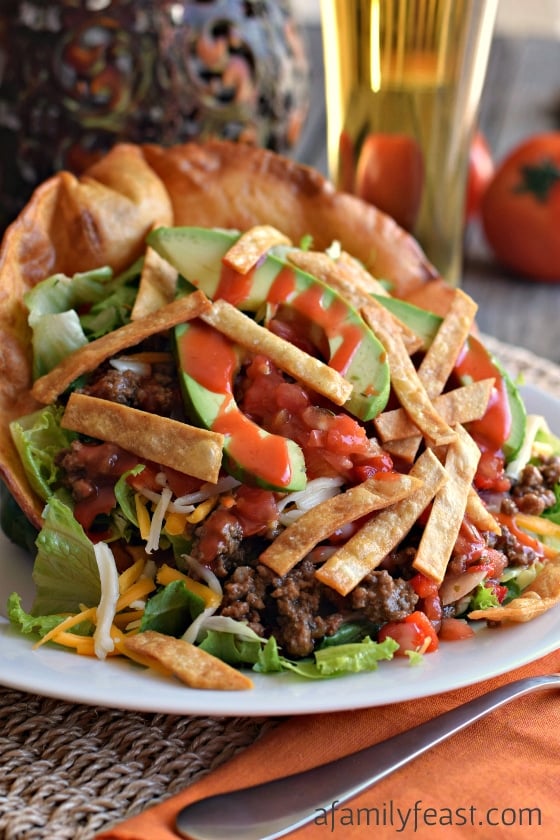 Today's recipe is the last in our four-day taco series, and we're ending with one of my all-time favorites – Taco Salad!  This taco salad is really a variation on a classic taco recipe – with all of the same delicious flavors – just combined together in the form of a salad!
The inspiration behind this taco salad came from a small restaurant I used to go to for lunch near a former job of mine.  As a new employee – I still remember everyone in the office raving about the 'taco salads from Claudia's' that everyone would have for lunch – and after one taste, I was hooked!  (Sadly – Claudia's has since closed – but her taco salad inspiration lives on!)
Just start off by frying a large tortilla in a wok (or a dutch oven
if you don't have a wok), to create a delicious crispy shell for the salad! (See our tutorial here: How to Make a Taco Shell Bowl.)  Load it up with fresh chopped lettuce and your choice of toppings.   Our taco salad here is topped with the same ground beef mixture from our ground beef taco recipe from earlier this week – but you can also make this salad with pulled chicken or shredded beef or even carnitas, if you prefer).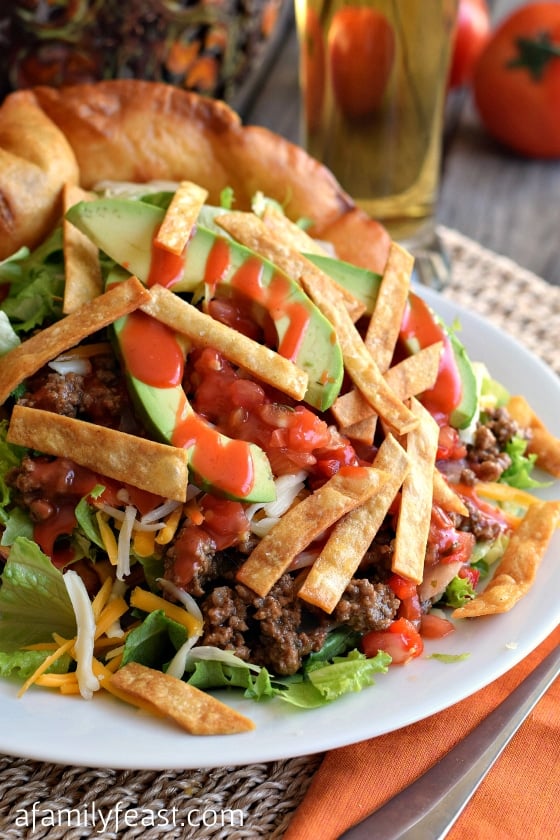 But the thing that makes this taco salad so delicious is our homemade Catalina dressing – it's the absolute perfect sweet and zesty complement to the spiciness in the beef and the other salad ingredients.  We also topped our salad with homemade corn chips (just cut some corn tortillas into strips and fry them up after you've made your shell) – or you can top with store-bought chips if you prefer.
Print
Taco Salad
Prep Time:

15 mins

Cook Time:

5 mins

Total Time:

20 minutes

Yield:

4 servings
---
Description
Note: Cook time listed does not include time required to cook the beef taco mixture.
---
Prepared Ground Beef Taco Meat (see recipe here)

4

large flour tortillas

2

small corn tortillas to make homemade corn chips, or store-bought corn chips of your choice
Enough peanut or corn oil to fill a wok (or similar-shaped pan with high sides) about ¾ full. (See note in instructions).
Chopped Romaine, Iceberg or Boston lettuce, about 2 cups per salad

1 cup

shredded yellow cheddar cheese

1 cup

shredded jack cheese

1 cup

diced tomato
Fresh sliced avocado
---
Instructions
Prepare the ground beef taco meat for this dish (see recipe here) and keep warm.
Heat the oil in a wok or similar size pan with high sides to 350 degrees. (Note: The oil needs to be deep enough to fry the large tortilla shell so that it is completely submerged while cooking.)
With a small spider strainer, press flour tortilla down into the hot oil and hold in place while it cooks into a bowl shape. Let hot oil fill bowl of tortilla shell so inside cooks. If rim of bowl did not get browned, flip bowl over in the oil and allow the rim to cook for a few seconds until browned. Carefully remove from the oil using tongs and drain on paper towels until completely cool. Repeat for remaining tortillas. (See our tutorial 'How to Make a Taco Shell Bowl' here).
Slice corn tortilla circles into small strips and fry in hot oil until crisp and golden. Remove to paper towels and immediately sprinkle with salt. Set aside. (Optional – top your taco salad with store bought corn chips.)
Place a tortilla bowl on a plate and fill with lettuce of your choice. Top with warm taco beef, then shredded cheese and diced tomato. Repeat for all portions. Then top each salad with avocado slices and Catalina dressing.
Finally finish by topping with corn chips and serve immediately.
---
You may also like: