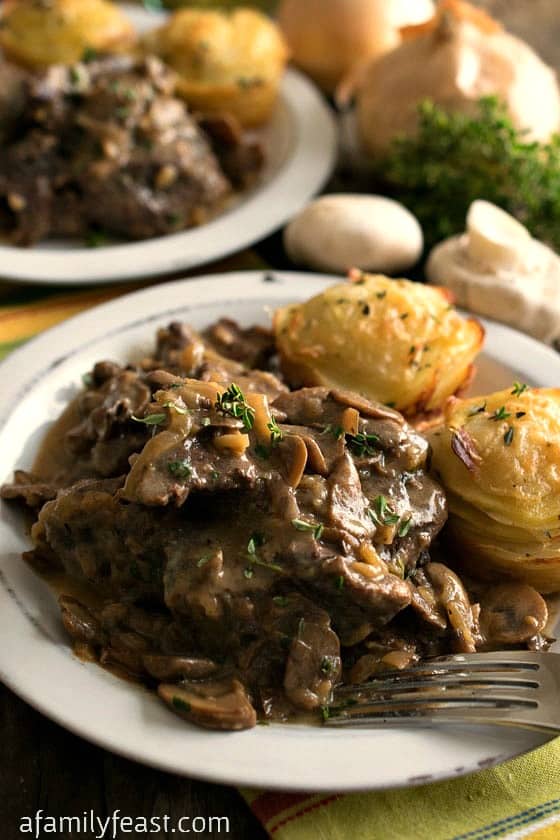 A few weeks ago, I shared a story about the time that my husband Jack was eavesdropping on a conversation between a group of moms at my daughter's dance class! (If you missed that story, you can read about it here.) Today's Slow Cooker Swiss Steak recipe is another delicious recipe inspired by that conversation.
This Slow Cooker Swiss Steak recipe meets all of the criteria that busy mothers (like the ones my husband listened to during dance class) are looking for in a slow cooker recipe! It's delicious and simple to prepare. It has a long cooking time – so all of the ingredients can be thrown together in the crockpot in the morning, cook all day while you are at work, and the dish will be ready at night when everyone is home from work and after-school activities!
This recipe was adapted from Slow Cooker Revolution
by America's Test Kitchen.  Although this recipe calls for pre-cooking the onions and mushrooms before you add them to the slow cooker, you can do that in advance the night before.  So – before heading out the door in the morning, all you need to do is add the steaks to the slow cooker, then turn it on to cook all day!
This Slow Cooker Swiss Steak is fork-tender beef in a super flavorful gravy with onions and mushrooms! We show it served with our Asiago Potato Stacks, but a more simple side of perfect mashed potatoes is equally delicious!
Print
Slow Cooker Swiss Steak
Prep Time:

30 mins

Cook Time:

8 hours

Total Time:

8 hours 30 minutes

Yield:

4-6
---
Description
Note: This slow cooker recipe requires some pre-cooking. If cooking this during the day for dinner that night, you can save time by doing the pre-cooking the night before if you'd like.
---
6

8-ounce blade steaks, about an inch thick

3 tablespoons

vegetable oil, divided

1 ½

pounds button mushrooms sliced thin

¼ teaspoon

salt

1 ½

pounds onion, cut in half and sliced thin

1 tablespoon

minced fresh thyme or

1 teaspoon

dry

1 ½ teaspoons

sweet paprika

¼ cup

flour

¾ cup

low sodium chicken stock

¼ cup

dry sherry (cream sherry can be used in a pinch, but dry is preferable in this dish)

¼ cup

heavy cream

2 tablespoons

minced fresh parsley
---
Instructions
Each blade steak has a line of gristle running down the center. To remove, cut each steak in half along the line of gristle and then with a sharp knife, slice off and discard the line of gristle on each piece. Then lay the steaks out on a plate and salt and pepper if cooking right away. If not cooking until the next day, do not season until then.
Pre-cooking steps:
In a large 12 inch skillet with a tight fitting lid over medium high heat, place one tablespoon of oil, all of the mushrooms and the salt. Stir, cover and cook for five minutes. The mushrooms will give up a lot of water. Remove cover and cook for 5-10 minutes until liquid has evaporated and mushrooms get dry and browned. Remove from heat and place in bottom of slow cooker.
In same pan, heat remaining oil with onions, thyme and paprika. Cook uncovered for 8-10 minutes until lightly browned.
Add flour and cook for one minute.
Slowly add stock and sherry while whisking until combined. Remove from heat and add to slow cooker.
At this point, if you are prepping the night before, refrigerate slow cooker bowl and steaks until morning.
Starting the Slow Cooker
When ready to cook, place slow cooker bowl into slow cooker.
Salt and pepper both sides of steaks and plunge into mushroom and onion mixture until completely submerged under mixture.
Cover and set timer to low for eight hours or high for five hours. After allotted time, check for doneness and cook longer if needed. On low, ours took exactly eight hours.
Remove meat to a platter and tent with foil.
Let slow cooker mixture rest for five minutes then skim any fat from top and discard.
Add cream and parsley to mushroom and onion mixture and stir.
To serve, place beef steaks on dinner plates and top with the mushroom and onion mixture. Sprinkle with additional chopped fresh thyme or parsley.
We show our steaks served with Asiago Potato Stacks.
---
Disclosure: This post contains affiliate links.
You may also like: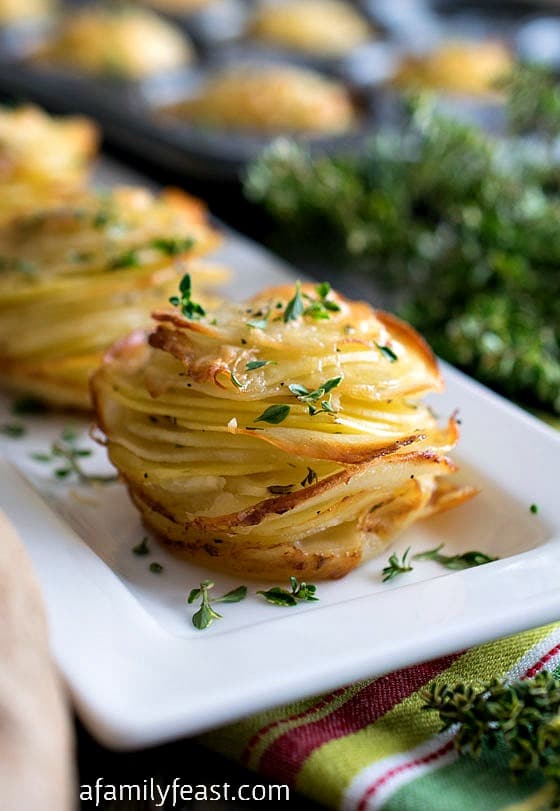 Slow Cooker Barbecue Beef Brisket