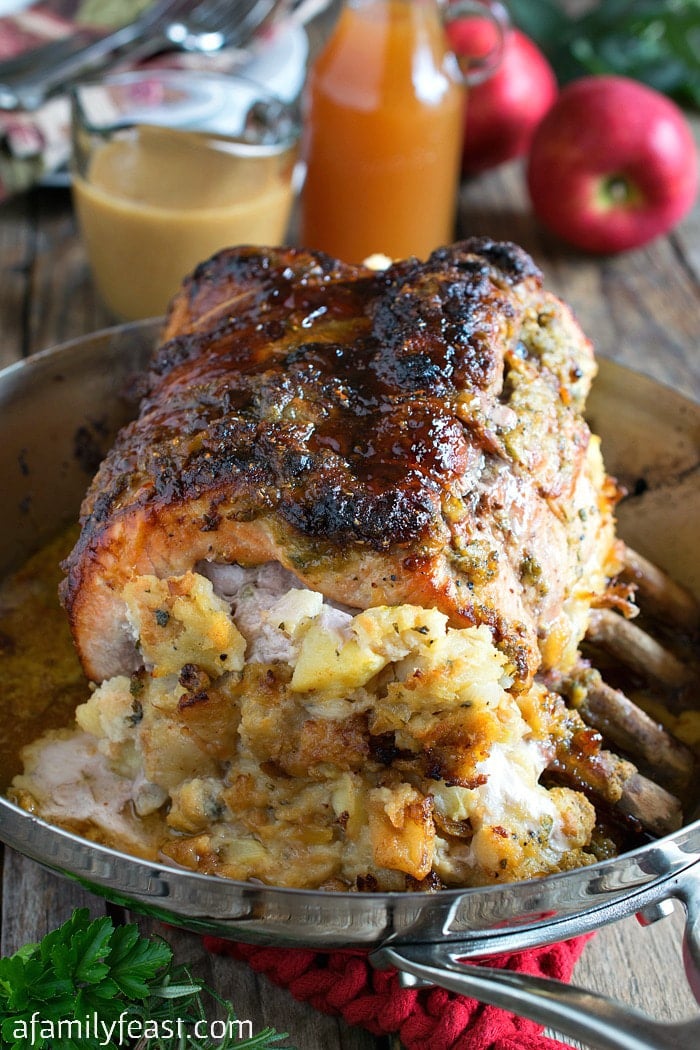 This Cider Glazed Bone-in Pork Roast with Apple Stuffing recipe is sponsored by Anolon®.  All opinions are 100% ours.

We are so excited to share this Cider Glazed Bone-in Pork Roast with Apple Stuffing recipe here today! This absolutely delicious, super flavorful, glorious pork roast is a wonderful menu idea for any special holiday gathering.
I can also guarantee that this is a meal your dinner guests will talk about for months to come! Our Cider Glazed Bone-in Pork Roast with Apple Stuffing is so fantastic, your family and friends will think they are eating at a gourmet restaurant when they visit you this holiday season.
A bone-in pork roast gets stuffed with a flavorful apple and bread stuffing and tied. The roast it is seared until golden, then roasted with a fantastic apple cider mustard glaze on top. Finally, the tender and juicy pork roast is served with a wonderful gravy. (You'll be licking your plate clean – this dinner is so good!)
To make this Cider Glazed Bone-in Pork Roast with Apple Stuffing, you're going to need a few things:
First – Bring a can-do attitude into the kitchen! This recipe isn't difficult at all, but there are a fair number of the steps involved in making this special meal. But don't worry – we included step-by-step photos below to make it even easier to follow along.
Second – Give yourself some time to make this special meal. This Cider Glazed Bone-in Pork Roast with Apple Stuffing is a bit of a labor of love and the delicious meal is well worth the effort!
Third – Invest in some quality cookware and bakeware for your kitchen – like these wonderful products from Anolon®!
When you're up for anything in the kitchen, make sure your cookware is too! Anolon®'s gourmet collection of cookware, bakeware, and other kitchen products are exceptionally crafted and engineered for high-performance, and they are designed for creativity in the kitchen.
It takes a lot to impress my husband Jack, and he couldn't stop talking about what a pleasure it was to prepare this Cider Glazed Bone-in Pork Roast with Apple Stuffing in the Anolon® cookware we tested.
The multi-layer metal base with copper core in the Anolon® Nouvelle Copper and Anolon® Nouvelle Copper Stainless Steel cookware promotes even heat distribution throughout. As we cooked our pork, it seared and browned evenly on all sides. Our stock and gravy heated quickly and evenly, and clean-up was a breeze too.
And if you are doing some baking this holiday season, look for Anolon® Advanced Nonstick Bakeware. The comfortable SureGrip™ handles are a great feature and construction is super solid!
Here's a help hint: Anolon® cookware and bakeware also makes a great gift for anyone on your list who loves to get creative in the kitchen! (I know I'd love to find more Anolon® under my Christmas tree this year!) 😉
Learn more about Anolon® products by visiting Anolon.com, and on Facebook, Instagram, Twitter, Pinterest, YouTube or Tumblr. You can also find Anolon® products at Macy's, Bed Bath & Beyond, and Dillard's.
Visit Anolon®'s Facebook page to enter the Anolon® "Holiday Hosting" giveaway, or click here for more information. #HolidayHosting
Print
Cider Glazed Bone-in Pork Roast with Apple Stuffing
Prep Time:

30 mins

Cook Time:

90 mins

Total Time:

2 hours

Yield:

4-6 servings
---
Description
Try to purchase a roast that already has the rib bones 'Frenched' (the meat between the ends of the bones are scraped down to the loin). This is more for looks and not necessary so if you can't find a Frenched roast no worries. Also, if your butcher can butterfly it for you (see Steps 1-5 below) and remove the chine bone (the bone across the bottom that holds each chop together), great. If not, see step one below. If the butcher does remove the chine bone, ask to take it home so you can add it to the stock you'll make as part of this recipe.
---
Ingredients
7

–

8

pork rib roast, see note above

2 cups

apple cider

1½ teaspoons

kosher salt

½ teaspoon

freshly ground black pepper

1½ teaspoons

fresh rosemary (or half the amount if using dry herbs)

1½ teaspoons

fresh sage (or half the amount if using dry herbs)

2 tablespoons

fresh garlic, chopped

1 tablespoon

Dijon mustard

2 tablespoons

extra virgin olive oil
Stock and sauce for pork
4

bones removed from roast

1

14.5-ounce can chicken or vegetable stock

½

large onion, cut into quarters

1

stalk celery, cut into quarters

1

medium carrot, cut into quarters

1

large garlic clove, crushed

2

sprigs fresh parsley

1

fresh sage leaf

1 teaspoon

kosher salt

3

black pepper corns

1

bay leaf
Water, see note step 9
Few drops gravy color (such as Kitchen Bouquet)
Pan drippings from roast

2 tablespoons

unsalted butter

2 tablespoons

flour
Stuffing
3 tablespoons

unsalted butter

½ cup

celery, diced

½ cup

onions, diced

1 teaspoon

fresh garlic, minced

1

whole Gala or other baking apple, peeled, cored and diced

2 tablespoons

vermouth or white wine

3 tablespoons

apple cider

3/4 cup

chicken stock

1 tablespoon

fresh parsley, chopped

1 teaspoon

fresh sage, minced (or half the amount if using dry herbs)

1 teaspoon

fresh rosemary, minced (or half the amount if using dry herbs)

½ teaspoon

kosher salt

¼ teaspoon

freshly ground black pepper

6 cups

loosely packed stale bread cubes

1

whole egg

4 ounces

apple sauce
---
Instructions
If you purchased a roast that has not been Frenched or butterflied, follow these simple steps. First, separate the bone that runs along the bottom called the chine bone. (This is the bone across the bottom that holds each chop together.) Save that bone for the stock. Next remove the smaller end of the roast by running the knife down between two bones so you are left with one large roast with four bones and the rest that you removed.
On the small piece of roast you removed, the bones and some of the meat will be used for stock. The remaining meat can be frozen for another meal and would make a great boneless pork chop dinner.
Run a sharp knife down and around to each bone tip of the larger piece and remove the meat. Set aside for the stock. Then take a sharp paring knife and scrape each bone in a downward motion down to the loin. Remove those pieces also for stock.
With a very sharp long knife, start running the knife flat between the bones and the loin, and go to within an inch of the bottom. Flatten this out by pulling the meat flap one way and the bones the other. Now run the knife again into the fat meat of the loin starting from the bone side and going to within an inch of the end and fold this open. The roast should now be butterflied. Set this aside while you work on the stock and the stuffing. We will get back to this.
Place the cider in a small sauce pan and bring to a boil. Then reduce to two tablespoons. Set aside.
With a mortar and pestle or in a small food processor, place salt, pepper, rosemary, sage and garlic. Grind or mash into a fine paste. Stir in mustard and set aside.
To make the stock, in a 3½ quart sauce pan, place bones and meat scraps, canned stock, onions, celery, carrots, garlic, parsley, sage leaf, salt, pepper and bay leaf. Cover with water to within an inch of the top and bring to a boil. Reduce to a fast simmer and cook 1½ hours while you prepare the remaining recipe. You should finish with 1½ to 2 cups of reduced stock after discarding solids. Place the liquid back into the pan and add the gravy color and heat back to hot.
In a small sauté pan, melt butter over medium heat and add flour. Stir and cook for four minutes then remove from heat and cool slightly. Add a little at a time to the stock to form gravy. Once at the desired thickness stir and remove from heat. You may or may not use all of the butter and flour mixture. Set aside.
Make the stuffing by melting the butter in a 3 quart skillet and add celery and onion. Sauté for three minutes then add garlic and apple and sauté for one more minute.
Add vermouth or white wine and deglaze.
Add cider, stock, parsley, sage, rosemary, salt and pepper and combine.
Add bread cubes and stir to combine.
Remove from heat and cool to room temperature. Then stir in egg and apple sauce.
Preheat oven to 350 degrees F.
Place the stuffing into the open cavity of the butterflied pork roast and fold up the meat side to the top. Using butcher's twine, place a section of string between each rib and on each end, tying in the center.
Heat an ovenproof 10½ inch heavy bottomed sauté pan over medium high. Add the two tablespoons of olive oil. Pat the roast dry and once the oil is shimmering, place one side down to sear for about two minutes per side (three sides). If any filling falls out, just pat it back in with the back of a wooden spoon.
Once the pork has been seared, slather the mustard-garlic-spice mixture all over the roast.
Place a probe thermometer into the thickest part of the roast and set the temperature for 145 degrees F. Drizzle the reduced cider across the top.
Place in the oven and roast for approximately one hour or until it reaches the desired temperature. If getting too brown, tent with foil for last 15 minutes of roasting time.
Remove from pan onto a platter and tent and let rest for 15 minutes.
Place a little water into the pan and heat over medium heat and scrape up any brown bits. Then strain that into the gravy.
Heat the gravy back to serving temperature.
To serve, slice the roast into four or five thick slices running the knife along each bone. The stuffing should be bursting from the ends but solid enough throughout to get stuffing with each slice.
Place a portion on each plate and top with the heated gravy.
---
This is a sponsored conversation written by me on behalf of Anolon. The opinions and text are all mine.