Quinoa with Spinach, Artichokes and Chicken. Your favorite hot and creamy dip has been transformed into a delicious easy meal!
I've mentioned before that we have a new-found love of quinoa (who knew what we were missing!) – so now, we're enjoying substituting or adding quinoa as a healthier and lower-carb option in many of our favorite dishes!
Today's recipe for Quinoa with Spinach, Artichokes and Chicken is one of those adaptations.  It's a cheesy and creamy combination of our favorite, warm spinach and artichoke dip – with quinoa and chicken added to make a complete and very delicious meal!  It's easy to make and cooks up very quickly – and your whole family will love it!
With all of the luscious cheeses that go into the sauce in this dish, I won't even try to fool you into thinking that this is a light and healthy meal – but I can assure you that this is serious comfort food at its best (and with the quinoa added, maybe a little healthier!)
We used corn starch as the thickener in the cheese sauce in this dish to keep it gluten-free, but if you prefer, you can use a roux made with flour as the thickener instead.
Print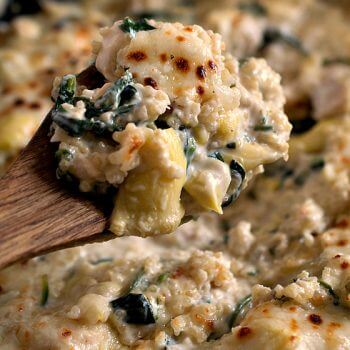 Quinoa With Spinach, Artichokes and Chicken
Prep Time:

15 mins

Cook Time:

15 mins

Total Time:

30 minutes

Yield:

4-6 servings
---
2 cups

chicken stock

1 cup

quinoa

3 tablespoons

butter

1 tablespoon

extra-virgin olive oil

2 cups

diced onion

1 ½ tablespoons

chopped garlic

1 ½

pounds boneless skinless chicken breasts cut into

one

inch pieces

8 ounces

fresh baby spinach

½ teaspoon

salt

¼ teaspoon

freshly ground black pepper

1 cup

heavy cream

8 ounce

package cream cheese

½ cup

grated Romano cheese

1 cup

grated Parmesan divided

1 ½ cups

shredded mozzarella, divided

2 tablespoons

corn starch

1

14-ounce can whole artichokes, drained and cut into quarters
---
Instructions
Bring chicken stock to a boil in a small to medium sauce pan. Add quinoa, reduce to medium low, cover and cook 12 minutes on a low boil. Remove from heat, leave cover on and time 15 more minutes. Remove cover and fluff with fork. Set aside.
Preheat broiler for final step.
While Quinoa is cooking, melt butter in a large oven proof skillet with high sides. Add oil, onions and garlic and sauté over medium high for three minutes.
Add cut up chicken and stir. Cook, stirring occasionally for five minutes or until chicken is partially cooked and is still soft when pushed. Add all of the spinach and keep mixing and turning until the spinach is submerged and starts to wilt, about one minute.
Add salt, pepper, heavy cream, cream cheese, Romano, ½ cup of the Parmesan and 1 cup of the mozzarella cheese. Stir this mixture and cook until fully heated through and the cheese has melted.
Dissolve the 2 tablespoons of corn starch in ¼ cup of water and drizzle a teaspoon at a time into hot mixture stirring and checking as it thickens. (Note: A corn starch slurry does not thicken right away, so you need to stir and wait 30 seconds after you add each teaspoon. The sauce should be similar to a thin pancake batter consistency.) Add the drained artichokes and gently stir.
Remove from the heat and stir in the quinoa. Then sprinkle the top with the remaining Parmesan and mozzarella cheese. Place under the broiler just long enough to brown the top, about one to two minutes.
Disclosure: This post contains affiliate links.


You may also like:
Quinoa Salad with Pecans, Orange and Currants