As food bloggers, I have to admit that we're a little bit late joining the quinoa bandwagon!  For years now, quinoa has been all the rage with so many bloggers, chefs and other food professionals who promote the wonderful health benefits of quinoa, as well as its delicious taste!
But I just didn't get it.  In fact, several years ago when quinoa was just starting to grow in popularity, Jack and I tried it and – yuk!  It tasted grassy and bitter, and I just couldn't understand all the hype!  So I just chalked it up as 'one of those foods' that I just didn't enjoy (raw celery is another on my list)…and we moved on.
So fast forward to last year, and Jack and I went out to dinner one warm summer evening.  I ordered a grilled meal that was served over a bed of quinoa – and I liked it!  And Jack did too!  So that got us thinking that we must try cooking it ourselves again, because clearly we missed something the first time around!
Turns out that quinoa has naturally occurring saponins (a natural, protective coating on some plants) which gives it a bitter taste unless the quinoa has been rinsed before cooking!  Most brands of quinoa sold today have been rinsed and dried before packaging (although clearly that wasn't the case with the brand we bought several years ago) to remove the saponins.
So now – finally – we have started to cook more frequently with quinoa, and I love it!  Today's recipe is a delicious Quinoa Salad with Pecans, Orange and Currants.  It is a great, healthy meal in and of itself – or a wonderful side dish served alongside some grilled chicken or fish!
The quinoa in this salad has been cooked in a combination of water and vegetable stock – giving it a lightly seasoned flavor without adding heavy dressings!  The quinoa is then tossed with chopped pecans, currants, fresh orange zest and fresh orange segments, along with a very small amount of olive oil, salt and pepper – leaving this a very light, healthy and delicious salad!
(And yes – this means you can expect to see more delicious recipes using quinoa in the future here on A Family Feast!)
Print
Quinoa Salad with Pecans, Orange and Currants
Prep Time:

10 mins

Cook Time:

12 mins

Total Time:

22 minutes

Yield:

4 servings
---
1 cup

rinsed quinoa (Look for pre-rinsed quinoa such as Bob's Red Mill one !important; margin:0px !important;" />)

1 cup

water

1 cup

vegetable stock

½ cup

roughly chopped pecans

½ cup

currants

2 tablespoons

chopped fresh Italian leaf parsley
Zest from

½

large orange

½ tablespoon

extra-virgin olive oil

½ teaspoon

salt

¼ teaspoon

freshly ground black pepper
Segments from

one

large naval orange, cleaned of all skin and seeds
---
Instructions
Bring quinoa, water and stock to a boil in a small to medium covered pan. Lower heat and simmer 12 minutes. Turn off burner and leave covered for 15 minutes. Fluff with fork and lay out flat on a plate or tray and refrigerate until chilled. Fluff with fork again.
Add cooked quinoa to a medium bowl and add all other ingredients. Mix and serve immediately, or store overnight refrigerated to allow flavors to blend together even more.
---
Disclosure: This post contains affiliate links.
You may also like:
Quinoa With Spinach, Artichokes and Chicken
Wheatberry Salad with Cranberries, Feta and Orange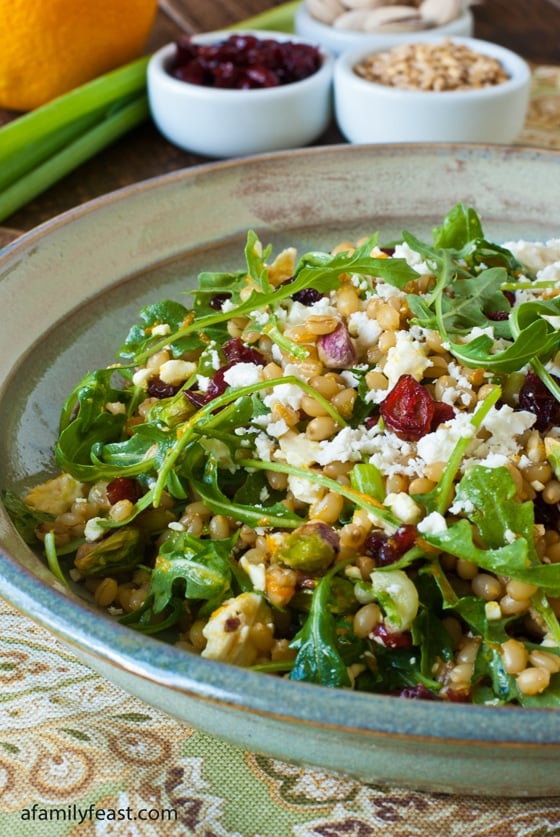 Lentils with Brown Rice and Feta
Baked Tilapia with Quinoa and Garlicky Green Beans
Farro Salad with Grapes, Goat Cheese and Tarragon Vinaigrette