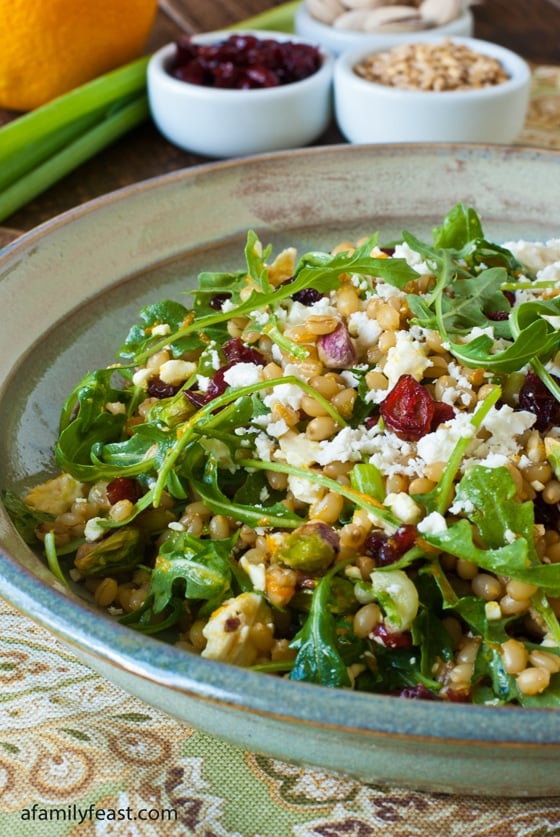 With Memorial Day behind us, bathing suit season is officially here (yipes!) and this Wheatberry Salad with Cranberries, Feta and Orange Citronette is a healthy and delicious option to help you stay swimsuit-ready!
This salad is filling and full of great, fresh flavors.  The wheatberries are really hearty with a chewy texture and a wonderful, nutty flavor.  And the combination of sweet-tart cranberries, creamy but briny feta, salty pistachios and peppery arugula are a great complement to the wheatberries.  But the sweet, bright orange citronette is really what brings the flavors of this salad together!
I'll admit – writing a food blog is making it very difficult to stay on my diet!  But dishes like this wheatberry salad with cranberries, feta and orange citronette satisfy my tastebuds, as well as my wish to eat healthy and light.
Recipe adapted from RadioGastronomy.
Print
Wheatberry Salad with Cranberries, Feta and Orange Citronette
Prep Time:

10 mins

Total Time:

10 minutes

Yield:

4-8 servings
---
Description
This recipe was adapted from one that was originally published here. As noted in the original recipe, salad dressings are typically a ratio of 1 part vinegar (an acid) to 3 parts oil, but since this recipe uses orange juice as the acid rather than vinegar, and the orange juice is sweet, the ratio of acid to oil can be varied. You can adjust the amount of oil up or down based on your personal tastes. Cooking times above do not include time to cook the wheatberries.
---
2 cups

cooked, warm wheatberries
Zest of

1

orange (about

2 tablespoons

)
Juice of

1

orange (about

1/3 cup

)
Extra virgin olive oil (about 1/3 cup – see note above)
Salt and freshly ground black pepper to taste

2

scallions, thinly sliced

1/3 cup

crumbled feta cheese

¼ cup

dried cranberries

¼ cup

shelled pistachios

1 cup

loosely-packed baby arugula, washed and dried well
---
Instructions
Cook the wheatberries according to your package instructions.
While the wheatberries are cooking, prepare the orange citronette. In a large bowl, combine the orange zest and orange juice. While whisking, slowly drizzle in the olive oil until you have about a 50/50 mix of orange juice to olive oil. Taste the dressing and adjust the amount of oil if desired. Add salt and pepper to taste.
Add the warm wheatberries to the citronette and stir to combine. Allow the mixture to cool to room temperature.
Once cooled, stir in the scallions, feta cheese, cranberries, pistachios, and arugula. Toss to combine and serve immediately. (If you are preparing this in advance, add the arugula just before serving.)
---
You may also like:
Quinoa Salad with Pecans, Orange and Currants
Wheat Berry Salad with Dried Figs