I absolutely love, love, love fresh garden tomatoes! But – this happens every summer – when our homegrown tomatoes are finally ripe – they ALL get ripe at the same time!
So at this point, we're still picking about five pounds of tomatoes a day. I'm not really complaining because we've been making some of our favorite tomato recipes: sauce, jam, pie, pizza sauce, soup, relish, pizza and salad, plus this quick sauté, and this delicious dinner!
And our latest, favorite recipe to share with you is this Fresh Tomato Au Gratin. Like other au gratins this recipe starts with a delicious creamy sauce that gets layered with chunks of fresh tomatoes and cheese. We also layered in some chopped, fresh basil (from our garden of course) and topped the whole dish with light and crispy panko bread crumbs.
This tomato au gratin bakes up quickly, and its savory, cheesy flavor is sure to be a hit with the whole family! Serve with a fresh garden salad for a delicious, end-of-summer meal.
P.S. Before we share the recipe, I do want to point out one very important step when making this tomato au gratin. Make sure that you remove as much liquid as possible from the tomatoes before baking.  Too much juice – and your casserole will end up soggy!  We share some tips on how best to drain the tomatoes in the recipe below.
Print
Fresh Tomato Au Gratin
Prep Time:

6 hours

Cook Time:

30 mins

Total Time:

6 hours 30 minutes

Yield:

6-8 servings
---
3

pounds Plum-type tomatoes such as Roma, or any large variety, cut into large chunks

2 teaspoons

salt to help remove water from tomatoes

3 tablespoons

butter

2 cups

chopped onions

1 tablespoon

minced garlic

2 tablespoons

flour

1 ½ cups

heavy cream

½ teaspoon

kosher salt

¼ teaspoon

white pepper

½ teaspoon

dry Colman's mustard

½ teaspoon

freshly grated nutmeg
Few drops Tobasco sauce

½ cup

basil chopped

8 ounces

Swiss cheese, shredded and divided

1 ½ cups

panko bread crumbs

½ teaspoon

paprika

3 tablespoons

melted butter
---
Instructions
About 4-6 hours before baking (or overnight), place the cut up tomatoes in a colander or strainer over a bowl and sprinkle generously with the salt. Stir to combine. Allow the tomatoes to drain their liquid, stirring occasionally and gently pressing down on the tomatoes (use a large spoon or a small flat bowl to press the tomatoes against the sieve but not too hard that you mash them), until the tomatoes are very well drained. Blot with a paper towel if necessary to remove extra moisture or squeeze in paper towels.
Preheat oven to 375 degrees.
In a medium pot, heat butter over medium high heat and sauté onions and garlic for 3 minutes.
Reduce to medium and add flour and stir frequently for 3 more minutes.
Microwave cream to hot but not scalding (necessary to avoid lumps). Add this to onion and flour mixture and stir with a whip to combine.
Add salt, pepper, mustard, nutmeg and Tobasco sauce. Stir and remove from the heat.
In a 9 inch round, 3 inch deep casserole dish, spray inside with pan spray. Then ladle a small amount of the sauce to coat bottom of pan ( about 1/3 cup).
Then begin layering half of the tomatoes, half of the remaining sauce, half the cheese, all of the chopped basil, the other half of the tomatoes, the other half of the cheese and the rest of the sauce.
In a small bowl, mix panko crumbs, butter and paprika and sprinkle on top of casserole.
Bake uncovered for 30 minutes, then let rest for 15 minutes to set up before serving.
---
You may also like: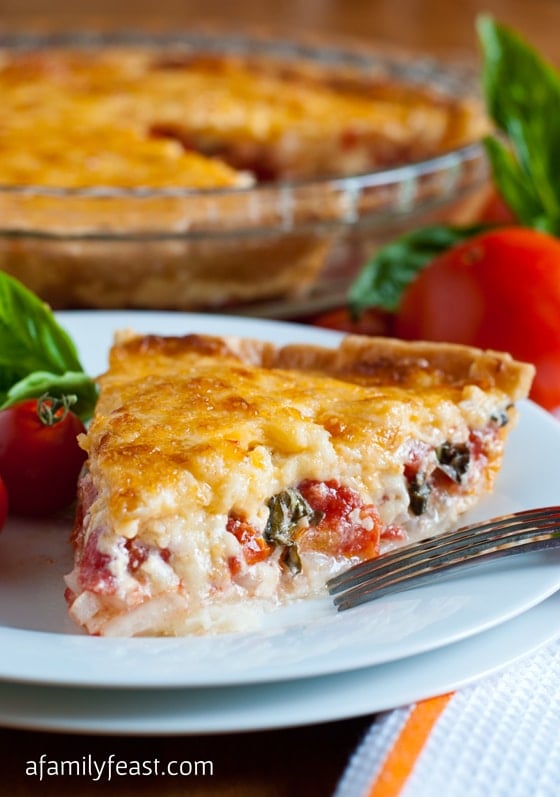 Pan Roasted Tomatoes with Herbs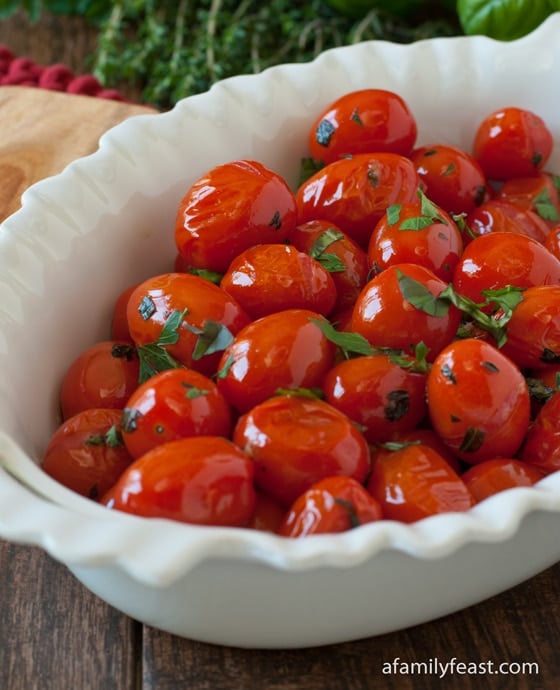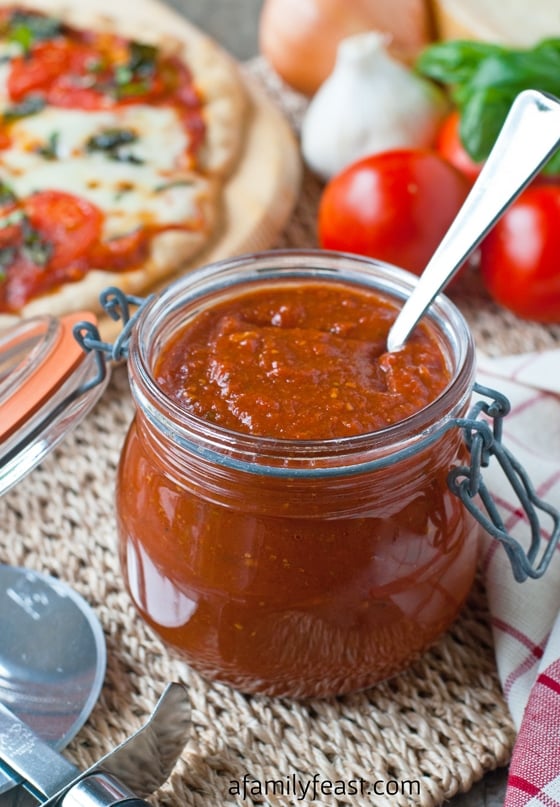 Pizza Margherita with Roasted Tomato Pizza Sauce