Today, it's all about crispy and delicious Crab Cakes – and I'm delighted to pass the story telling reins over to my husband Jack.  Jack also made a video to show you step-by-step how these crab cakes are made – scroll down to see it!
Jack writes:
When I'm not working on recipes for A Family Feast, I work full-time as a technology manager. I often take business trips to the Maryland area – home of some mighty delicious crab cakes – to meet with my boss and other technology managers.
A few of my Maryland-based colleagues are chow hounds for homemade crab cakes. Of course, neither of them will share their secret recipes (Troy and Bob, I'm talking about YOU!). So instead, I had to go about developing this recipe alone – but I think I did a pretty good job if I say so myself.
One tip Troy and Bob did share with me is that there are different grades of crab meat. They explained that the term "lump" used to mean large claw meat but somehow it now means shredded crab meat. To get large pieces of crab for your crab cakes, you must buy crab meat packages marked as 'jumbo lump' or 'petite jumbo lump'.
Another tip is to buy refrigerated, pasteurized crab meat – which has been heated to kill bacteria and the process extends the shelf life of your crab. Fresh crab meat can also be used but it is highly perishable so you have to cook with it almost immediately. (Troy and Bob do not recommend canned crab meat.) Phillips and Chicken of the Sea are two pasteurized crab meat brands – they can be found at some Costco, BJs Wholesale, and Walmart locations.
We found that during my experiments in the kitchen, jumbo lump by itself did not hold together well when I cooked the crab cakes, so (as you may have noticed in the video above) I mixed both lump and jumbo lump crab meat together, along with the other ingredients. The shredded pieces of lump helped hold the crab cakes together but there were still large claw pieces when you bit into the crab cake.
I've also included a recipe for a zesty Red Relish Spread that is delicious served with the crab cakes. (Many of the ingredients used in the sauce are also used in the crab cakes.) These Crab Cakes cook up crispy and golden brown on the outside, and moist on the inside. Perfect in my book!

Print
Crab Cakes
Prep Time:

1 hour

Cook Time:

15 mins

Total Time:

1 hour 15 minutes

Yield:

12 crab cakes
Ingredients
Red Relish Spread
1 cup mayonnaise
1 teaspoon country mustard or stone ground Dijon
1 tablespoon finely minced sweet onion
2 tablespoons red hamburger relish (sold in most supermarkets)
1 tablespoon lemon juice
1 tablespoon finely minced fresh parsley
¼ teaspoon kosher salt
¼ teaspoon black pepper
Crab Cakes
½ cup celery, finely diced
¼ cup sweet onion, finely minced
¼ cup fresh parsley, finely minced
1 tablespoon Dijon mustard
1/3 cup mayonnaise
2 teaspoons Worcestershire sauce
4 whole eggs beaten
1/8 teaspoon cayenne powder or more if you like it hotter
½ teaspoon kosher salt
2 teaspoons Old Bay seasoning (you knew this was going to be in here)
1 cup saltines crushed
1 pound pasteurized lump crab meat drained
1 pound pasteurized jumbo lump or petite jumbo lump crab meat, drained
Oil for frying (enough for 1/2-inch of oil in your skillet)
Instructions
To make the red relish spread, mix all ingredients in a small bowl and refrigerate.
To make crab cakes, in a medium to large bowl, mix celery, onion, parsley, mustard, mayonnaise, Worcestershire sauce, eggs, cayenne, salt and Old Bay. Mix to combine.
Add cracker crumbs and both crab types and gently fold to combine.
Using an ice cream scoop or a half cup measure, scoop out 12 cakes onto a parchment or foil lined sheet tray. Then roll each and flatten into a 3 ½ inch round thick disc.
Place back on the tray and refrigerate for at least 30 minutes to set.
When ready to cook, heat oil in large skillet to 350 degrees F.
With two spatulas, gently slide each one into the hot oil, cooking in two batches, six per batch.
Cook for about four minutes to brown. Lift one up at three minutes to check underside for color.
Using two spatulas again, gently, flip onto the waiting second spatula and slip back into the hot fat. Do it this way so they do not splatter oil when turned.
Remove to paper towels and once the oil is back up to temperature, cook the second batch.
Serve with the prepared sauce.
Disclosure: This post contains affiliate links.


You may also like: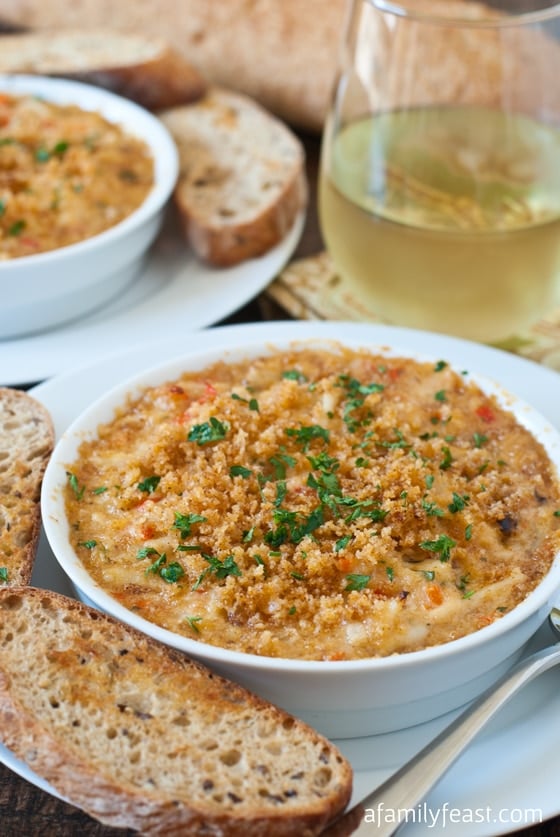 Slow Cooker Tomato Crab Bisque