Toast Points are simply buttered, seasoned, and toasted triangles of crustless bread. They sound very fancy – but they are quite easy to prepare!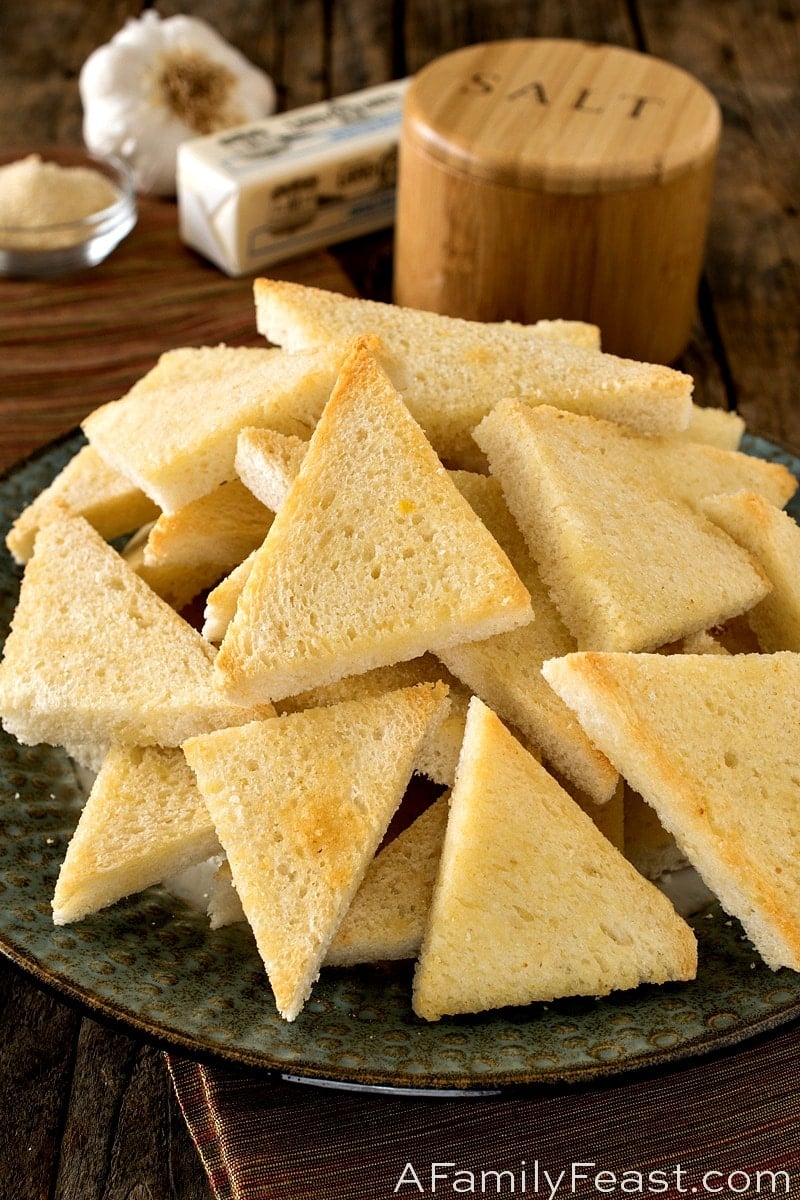 Skip the crackers this holiday season – Toast Points are an easy and delicious accompaniment to any appetizer or a side to a meal that includes a creamy sauce.
Toast Points are crustless, triangular pieces of toasted bread that have been buttered and seasoned. They are often associated with fancier appetizers such as caviar or pâté – but Toast Points are perfect for any spread or dip, or served alongside our Lobster Newberg (see recipe here).
Toast Points are so easy to make, and they really do add a nice little 'something extra' to a dish.
How do you make Toast Points?
We think that the best Toast Points are made with a hearty white bread, such as the Canadian White brand. The bread is dense, and the slices are thicker than other brands, and it really is ideal for this recipe. (This is not a sponsored post – we really do think this brand is the best choice!)
We also flavor our Toast Points with garlic-infused melted butter. Simply steep the chopped garlic in hot, melted butter for a few minutes, then strain away the solids.
Next, you'll stack the slices of bread. With a sharp bread knife, cut off the crust from all four sides. Then cut the bread into triangles – corner to corner to create that distinctive toast point shape.
Lay the triangles on a rack over a baking sheet, then brush each piece with the melted butter.
We like to season our Toast Points with onion powder, but you can skip this step if you'd like or swap in a different seasoning of your choice. Then bake your Toast Points in the oven for about ten minutes – or until lightly golden brown.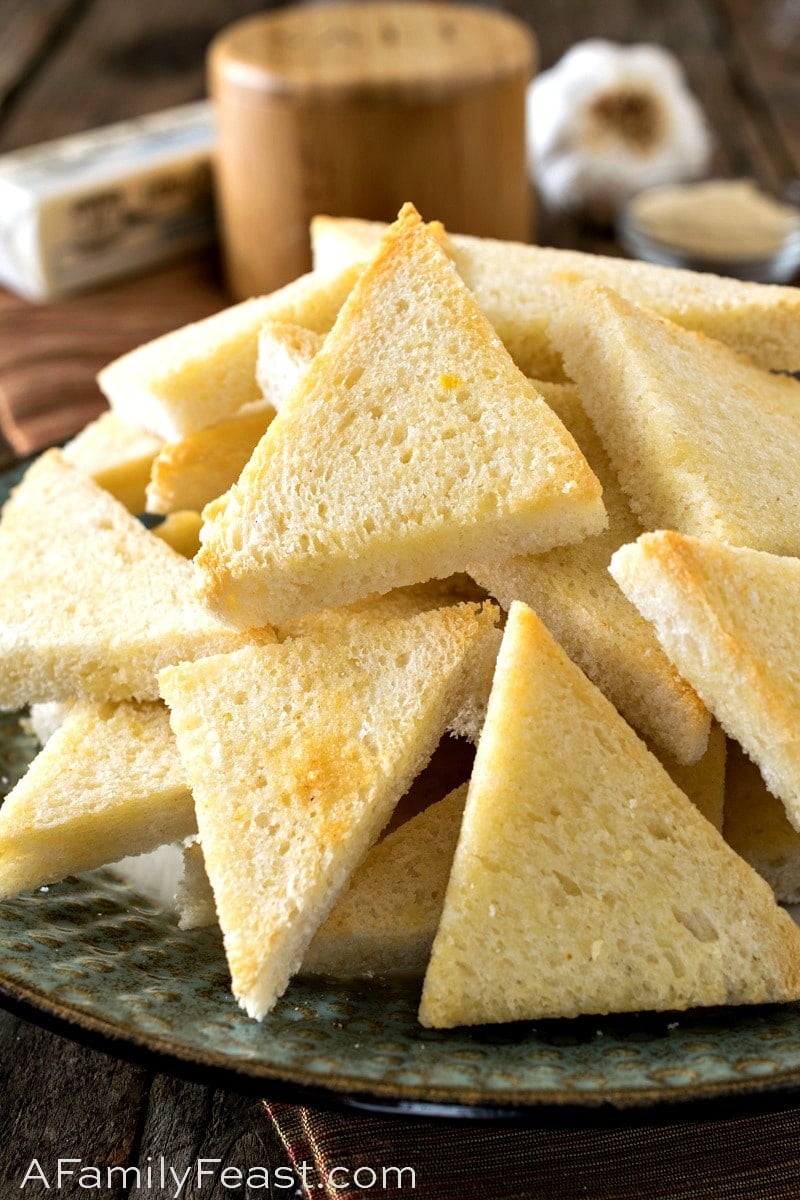 Cool, then serve with your favorite spread, dip or pâté. Or – click here to see how we served these Toast Points with our delicious Lobster Newberg recipe.
You may also like these other Appetizers:
Print
Toast Points
Author:

Prep Time:

10 minutes

Cook Time:

10 minutes

Total Time:

20 minutes

Yield:

40 toast points

Category:

appetizer, bread

Method:

baked

Cuisine:

French
---
4 tablespoons butter
2 medium garlic cloves, finely minced (use garlic press)
¼ teaspoon kosher salt
10 slices Canadian White bread *
¼ teaspoon onion powder
---
Instructions
In a small sauce pan, melt butter over medium heat and add garlic. Lower heat to low and let the garlic gently steep for 30 minutes. Add salt and mix to dissolve then strain the butter over a fine sieve and discard the garlic.
Preheat oven to 400 degrees F.
Line up two stacks of the bread and using a sharp bread knife, cut off the crust from the four sides. Then cut in half from one corner to the other and then again from the other two corners leaving 20 pieces. Repeat for second stack.
Line a sheet tray with a rack and lay out the 40 pieces of bread over the top.
Brush on the garlic butter just on the tops.
Sprinkle on the onion powder and bake on an upper rack for ten minutes, turning the pan a few times for even color. No need to flip and bake the other side.
The color should be pale or lightly toasted with no brown.
Cool and serve with any dish calling for toast points including our Lobster Newberg.
---
Notes
*We like to use Canadian white for this recipe because the slices are large and the bread is dense.