I first had this Smoked Bluefish Pâté at a party I attended during graduate school.  One bite into this amazing appetizer – I immediately asked the host for the recipe!
This recipe was tucked away in my recipe box, pretty much forgotten, until a few years ago when I made this smoked bluefish pâté for a small dinner party that we had with my husband Jack's best friend Don, and his wife Vinita.  We knew we shouldn't keep this recipe hidden any longer when Don proceeded to eat almost the entire bowl of pâté himself!  It's so good – it's almost addictive!
This pâté is a blend of smoked bluefish, horseradish, onion and other seasonings that are mixed with cream cheese which helps to mellow and balance the strong flavors of the other ingredients.  It's rich and creamy, and just a wonderful burst of flavors in your mouth!
Bluefish is readily available here in New England as well as other parts along the East Coast of the United States.  It's a cold water Atlantic predator fish and because of its abundance in our ocean waters, blues are commonly fished for both sport, as well as eating.  Some people who prefer very mild white fish may not care for bluefish – but smoked bluefish is really delicious and worth a try, especially prepared as this smoked bluefish pâté!
Smoked bluefish can be found at local fish markets or specialty markets, or you can also buy it online.  This smoked bluefish pâté mixes up in minutes in the food processor, and you can serve it more casually in a bowl to be spread on crackers or bread.  Or, for a more elegant presentation, you can pipe the pâté onto crackers using a pastry bag and a large star piping tip, like we show here.
Print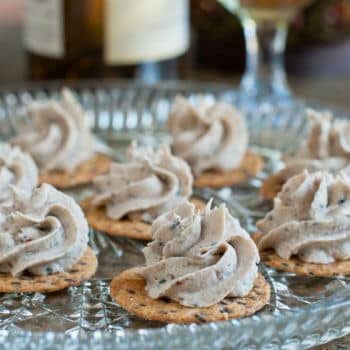 Smoked Bluefish Pâté
Prep Time:

5 mins

Total Time:

5 minutes

Yield:

Approximately 1 1/2 cups
---
Description
We found a lemon pepper smoked bluefish at our local seafood market and used it for this recipe, so you can see more black pepper in our Smoked Bluefish Pâté photographs here, than you normally would see if you use a plain smoked bluefish when preparing this recipe.
---
½

pound smoked bluefish, any skin removed

8 ounce

package cream cheese, softened to room temperature

1 tablespoon

horseradish

1/8 teaspoon

cayenne pepper

1

heaping teaspoon finely chopped fresh parsley

1

heaping teaspoon finely chopped onion
Freshly ground black pepper to taste
---
Instructions
In the bowl of a food processer, break up the bluefish by pulsing a few times.
Add all of the other ingredients.
Pulse on and off until fully combined.
Serve in a bowl along with some crackers or bread. Or if desired, put the softened mixture into a large pastry bag fitted with a large star tip and pipe onto the crackers.
---
You may also like: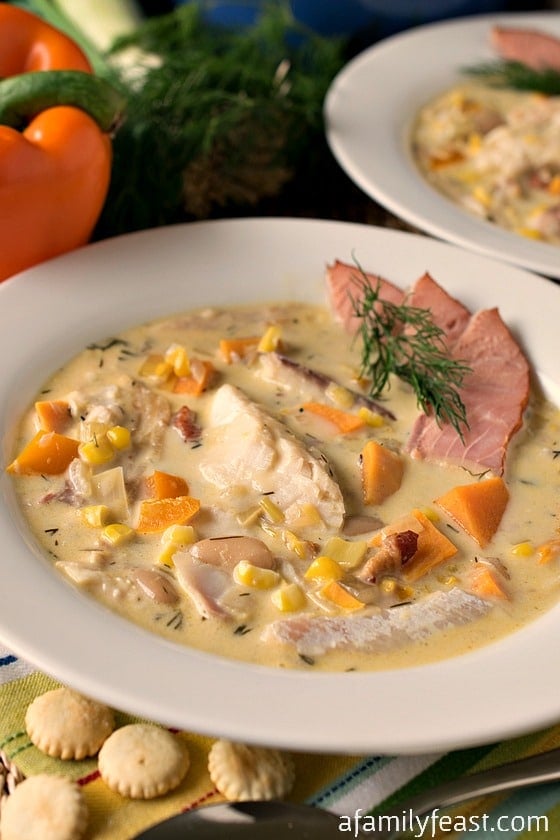 Ceviche Salmon and Peas on Triscuit Crackers