We created our Ceviche Salmon and Peas on Triscuit crackers as part of a #TriscuitSnackoff sponsored post for Socialstars. All opinions are 100% my own.
Salmon and peas have been a classic, summertime flavor-pairing in New England for centuries!  Years ago, fresh garden peas were always harvested right around the same time as the annual salmon run in local waters.  So, to take advantage of in-season ingredients – New Englanders created many wonderful dishes using these two foods!
Salmon and peas also happens to be one of our own favorite flavor combinations – so when Jack and I were asked to develop a recipe for the Triscuit Summer Snackoff using peas (and Triscuit crackers of course!) for inspiration – we knew immediately that salmon would also be part of the recipe!
You'll almost always find a box of Triscuit crackers in our kitchen cupboard – we love them!  And they're perfect for topping with your favorite ingredients to make easy snacks, as well as hors d'oeurves impressive enough for any fancy cocktail party!
Our Ceviche Salmon and Peas on Triscuit crackers starts with Garden Herb flavored Triscuit crackers, then a flavorful, creamy spread made from mascarpone cheese, minced prosciutto, chives and shallots, plus the zest and juice from a lemon.  That is topped with fresh snow peas and salmon which has been marinated in a mixture of citrus and dill (the citrus essentially 'cooks' the salmon – just like in a traditional ceviche dish)!
Add a final topping of some dill fronds (or pea shoots) – and you've got a simple, delicious and elegant appetizer that is sure to impress your guests!
Do you have a great recipe idea using Triscuit crackers?  Martha Stewart and Triscuit want to see it – and you could win some very cool prizes!
Here's more about how you can submit your recipe ideas to the Triscuit Summer Snackoff:
Go to Triscuit Summer Snackoff.com and find out what Martha Stewart has selected as the seasonal ingredient you will pair with a Triscuit to make a delicious snack!  Share photos of your creations on Triscuit Summer Snackoff.com, and you'll be entered for a chance to win a trip to New York City to meet Martha Stewart as well as lots of other cool prizes!  You can learn more about the bi-weekly challenges and ingredients at TriscuitSummerSnackoff.com.
Print
Ceviche Salmon and Peas on Triscuit Crackers
Prep Time:

45 mins

Cook Time:

1 min

Total Time:

46 minutes

Yield:

32 pieces
---
Description
A few notes about prosciutto: Depending on the saltiness of the brand of prosciutto you purchase, you may need to adjust the amount of salt used in the Mascarpone spread mixture, so taste before you add the salt. Also the easiest way to mince the prosciutto is to cut and stack a few times until you have a short high pile. Then cut in strips, turn and cut into pieces.
---
For the Ceviche Salmon
1

pound fresh salmon (from the thick part of the filet)
Juice from

2

whole lemons
Zest from

2

whole lemons

2 tablespoons

minced fresh dill

½ cup

good quality extra virgin olive oil

½

pound fresh peas that have been shucked
For the Mascarpone Spread
8 ounces

mascarpone cheese

3 tablespoons

minced chives

2 tablespoons

minced shallots
Zest of

½

a lemon
Juice from

½

a lemon

4

very thin slices of prosciutto, minced

¼ teaspoon

salt (as needed)
Few grinds of black pepper
Other Ingredients
32

snow peas

32

Garden Herb Triscuit whole wheat crackers
Pea shoots to garnish platter, optional
Dill fronds as garnish for individual pieces
---
Instructions
On a cutting board, lay out the salmon. With a very sharp long knife, start cutting ½ ounce slices on the bias. Cut your slices so that one pound of salmon will yield 32 ½-ounce slices.
In a small bowl mix juice and zest from two lemons, add dill and with a whisk, whip in oil.
Lay out a medium sized platter and one by one, dip the salmon in the lemon juice mixture and place flat on the platter. Repeat for all 32 pieces. Reserve the marinade left in bowl.
In a small pan, bring water to a boil and blanch green peas for one minute then transfer to a bowl of ice water to shock them. Drain water and place peas over marinating salmon.
Then pour the remaining lemon juice mixture from the bowl over the peas and salmon, and let sit at room temperature for 30 minutes.
While salmon and peas are marinating, mix mascarpone spread by mixing all ingredients until blended. Set that aside.
Fill a small pot of water and bring to a boil. Place snow peas in water for one minute then transfer to an ice water bath. Drain and dry snow peas.
To assemble, divide mascarpone spread between 32 Garden Herb Triscuit crackers by pressing the spread down onto the cracker with the back of a spoon leaving it high on one side and low on the other. With a spoon, place a few marinated green peas over the spread, then top the low side with a snow pea, hanging off either end.
Twist a piece of salmon into a curl and place over the spread and snow pea. Spoon a few more peas over that, garnish with a dill frond and serve on a cheese board or platter scattered with pea shoots.
Serve immediately. (We do not recommend assembling this recipe too far in advance.)
---
You may also like: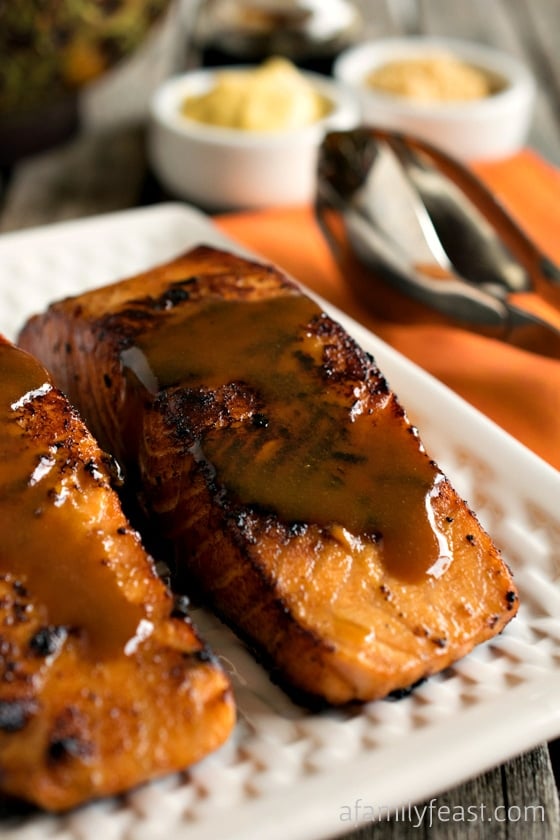 Zesty Salmon Burgers with Dill Spread