This post is sponsored by Jones Dairy Farm. All opinions are 100% mine.
We're so thrilled to be partnering with Jones Dairy Farm to create and share some delicious recipes with you this summer – starting with this Smoked Ham with Butternut Squash over Noodles! This recipe is pure comfort-in-a-bowl, and your family is sure to love its wonderful rich, smoky flavors as much as ours!
Picture this fantastic flavor combination in your mind: Slices of Jones Dairy Farm Hickory Smoked Ham…caramelized butternut squash…fresh baby spinach… shallots sautéed along with Jones Dairy Farm Dry Aged Sliced Bacon…garlic…sage…nutmeg…toasted walnuts (for a little crunch) – all tossed with egg noodles and a final sprinkle of Parmesan cheese!
WOW!
And this delicious dish wouldn't be nearly as good if it weren't for the all-natural, quality products from Jones Dairy Farm! We've been a huge fan of Jones Dairy Farm pork sausage for years – and we were thrilled to discover that a newly-opened supermarket near our home also carries Jones Dairy Farm bacon! Seriously – we won't buy any other brand of bacon from now on – it's that good!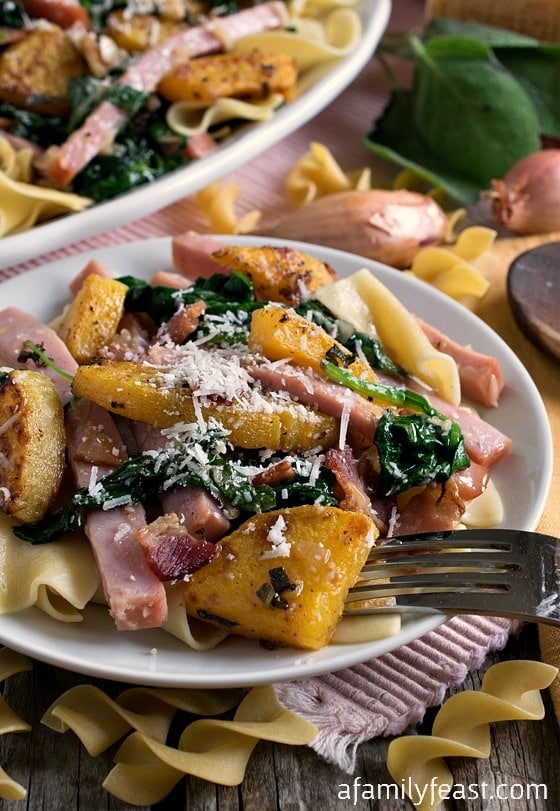 We love that the Jones family is firmly committed to creating natural and wholesome products (they even offer certified gluten-free options) – and they've been doing that for 125 years! In fact, in celebration of their 125th anniversary, Jones Dairy Farm has put together 125 of their favorite recipes – everything from breakfast to desserts – all featuring Jones Dairy Farm products. You can see that beautiful, free ebook right here!
To learn more about Jones Dairy Farm, just visit their website. Or follow them on Facebook, Twitter, Pinterest and Instagram!
And don't forget to give our lip-smacking, fantastically smoky recipe for Smoked Ham with Butternut Squash over Noodles a try! You and your family will love it!
Print
Smoked Ham with Butternut Squash Over Noodles
Prep Time:

30 mins

Cook Time:

30 mins

Total Time:

1 hour

Yield:

6-8 servings
---
1

medium butternut squash peeled, seeded and cut into

½

inch bite sized pieces

3 tablespoons

walnut oil, divided

2 tablespoons

fresh sage cut into small strips

1 teaspoon

freshly grated nutmeg

1 teaspoon

salt

½ teaspoon

freshly ground black pepper

12 ounces

dry wide egg noodles

½ cup

walnut halves, slightly chopped

½

pound Jones Dairy Farm Hickory Smoked Dry Aged Sliced Bacon, cut into

¼

-inch dice

1 cup

diced shallots

2 tablespoons

minced fresh garlic

8 ounces

fresh baby spinach

½ cup

vegetable stock

7

-ounce package of Jones Dairy Farm Hickory Smoked Ham Steak, cut into strips

1 cup

freshly grated Parmesan cheese, plus more for serving
---
Instructions
Preheat oven to 475 degrees.
In a medium bowl, mix cut squash with two tablespoons of walnut oil, sage, nutmeg, salt and pepper. Pour onto a sheet pan and place in oven and cook until just tender and a little crispy on the outside, about 15 minutes flipping half way.
Cook egg noodles according to package directions, drain and cool to room temperature. Bring a pot of water back to a boil and hold water at a low boil.
Place walnuts in a small dry pan over medium heat and toast slightly for about 8-10 minutes tossing often. They should be toasted but not too dark.
While squash is roasting, in a large skillet, cook bacon with remaining tablespoon of oil until crisp. Drain off all but two tablespoons of bacon fat and over medium heat, sauté shallots with cooked bacon for three minutes. Add garlic and cook for one minute.
Add spinach, vegetable stock and ham slices and cook just until spinach has wilted.
Add Parmesan cheese and chopped toasted walnuts.
Drop cooked egg noodles into hot water just to heat. Drain noodles and place on platter.
Remove squash from oven and pour over hot noodles.
Pour ham and spinach mixture over noodles and squash and top with additional Parmesan cheese.
---
You may also like:
Grilled Polenta with Bacon Jam