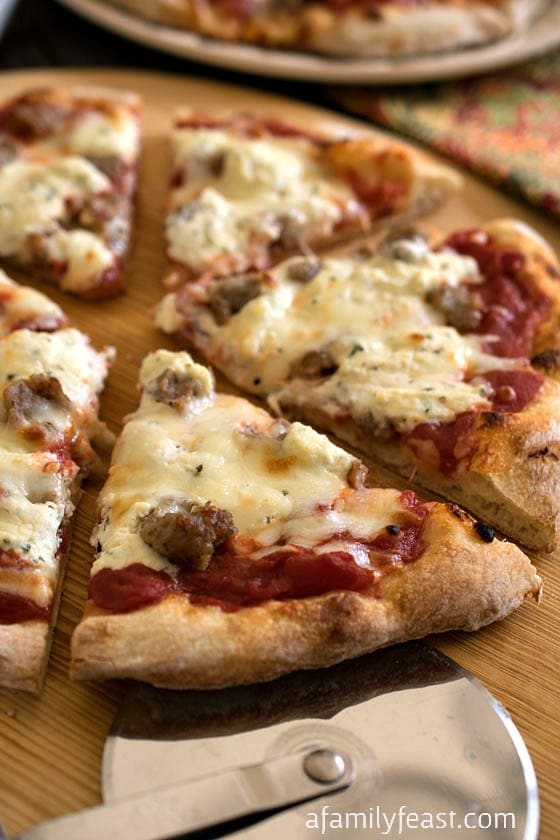 We made this restaurant-quality Sausage and Ricotta Pizza at home as part of a sponsored post for Jones Dairy Farm.
One of our favorite places to go out for pizza is a brick-oven pizza chain called Bertucci's. They first opened up shop about 30 years ago in Somerville, Massachusetts – just north of Boston –and over the years, this Eastern United States restaurant has expanded into a chain with locations throughout New England, and as far south as Virginia.
Bertucci's is best known for their foods prepared in their wood-fired oven including some addictively good dinner rolls as well as their pizza – including their "Sporkie" pizza which was the inspiration behind today's recipe for Sausage and Ricotta Pizza made with Jones Dairy Farm sausage.
Like the original pizza that inspired our recipe today, this sausage and ricotta pizza uses simple, quality ingredients – San Marzano tomatoes, ricotta cheese, mozzarella cheese and sausage.  (I know – it almost sounds too simple but trust me, this is a fantastic pizza!)
And the trick to getting the flavors just right is to use the best quality ingredients you can find – including Jones Dairy Farm's all-natural pork sausages! For our sausage and ricotta "Sporkie-copycat" pizza, we used Jones Dairy Farm All-Natural Golden Brown Sausage Links in Mild Flavor (it also comes in Maple Flavor). All of Jones' precooked pork sausages are all natural and contains no preservatives, MSG or nitrites for a delicious farm-fresh taste and they were a convenient addition to our pizza!
The Jones family is firmly committed to creating natural, wholesome and quality products – and they've been doing that for 125 years! To learn more about Jones Dairy Farm, just visit their website, or follow them on Facebook, Twitter, Pinterest and Instagram!
Print
Sausage and Ricotta Pizza
Prep Time:

1 hour 15 mins

Cook Time:

15 mins

Total Time:

1 hour 30 minutes

Yield:

2 10-inch pizzas
---
Description
Note: You can crush whole fennel seeds with salt in a mortar and pestle if you only have whole fennel.
---
1

pound pizza dough, store-bought or see our Perfect Pizza Dough recipe here

1

14-ounce can whole San Marzano tomatoes

1

8-ounce tub whole milk ricotta cheese

¼ teaspoon

ground fennel, see note

½ teaspoon

kosher salt

1/8 teaspoon

dried marjoram

1/8 teaspoon

dry oregano

1/8 teaspoon

dry basil

¼ teaspoon

dry parsley

1 Tablespoon

finely shredded Parmesan cheese

1

7-ounce package Jones Dairy Farm All-Natural Golden Brown Fully Cooked Sausage, Mild Flavor (defrosted)
Flour for your board
Corn meal for pizza peel

4 ounces

shredded mozzarella cheese
---
Instructions
One hour prior to cooking pizza, bring dough to room temperature. Divide in two, form two round balls and let rest on floured surface covered with a dish towel.
While dough is resting, have a small bowl, medium bowl, a cutting board and a knife ready. Remove each whole tomato from the can and cut vertically. Over the small bowl, hold the tomato half with one hand and run your fingers over the seeds with the other letting the seeds and water run into the small bowl and then rip pieces of the cut tomato into the medium bowl discarding stem if any. Repeat for all tomatoes. Discard small bowl of seeds and water. Add remaining tomato liquid from can and any tomato from cutting board to medium bowl. Once done you will have 12 ounces of tomato and two ounces of waste.
In a small bowl mix ricotta, fennel, salt, marjoram, oregano, basil, parsley and Parmesan. Stir to combine.
Preheat oven to its highest temperature (ours went as high as 550 degrees), and place rack in bottom section of oven with pizza stone. Let oven fully heat before cooking.
On a floured surface, flatten each dough ball to ten inches. If dough is not completely pliable, shape as much as possible, let rest ten minutes and continue to press into circle.
Sprinkle corn meal over pizza peel and lay out one ten inch dough round onto peel.
Cover with half the tomatoes coming to about one half inch from edge.
Break the sausages apart with your fingers using half for each pizza.
With a spoon, drop dobs of half the ricotta mixture around pizza, do not spread. Just let it stay as it lands so the spoonfuls are spread out.
Sprinkle with half the mozzarella.
Slide pizza from peel to stone with short little jerking motions and bake for six to seven minutes. Ours was done in six. Remove to a cutting board and cut. While first pizza is baking, assemble second with remaining ingredients and bake following same method.
Serve immediately.
---
You may also like these other recipes featuring Jones Dairy Farm products: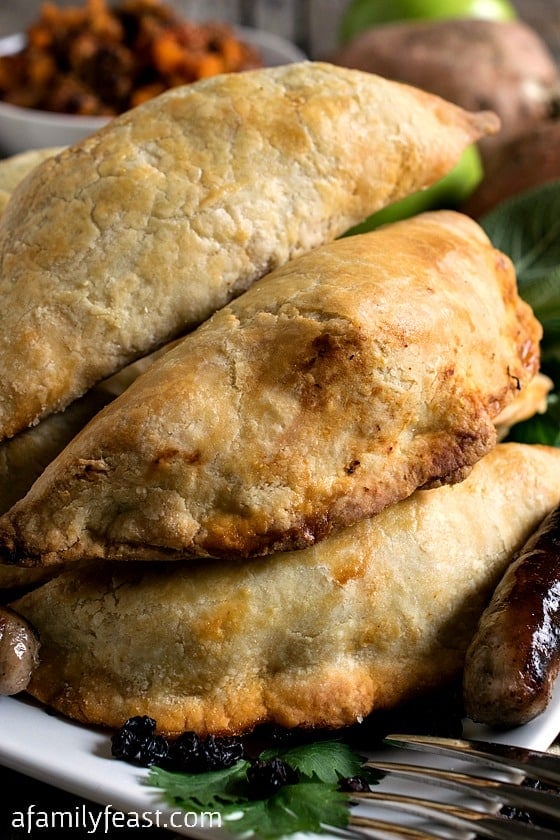 Smoked Ham with Butternut Squash over Noodles
Grilled Polenta with Bacon Jam