This Chicken Cordon Bleu recipe was developed as part of a sponsored post for Jones Dairy Farm. All opinions are 100% mine.
Back when my husband Jack and I first started dating – and we were trying to impress each other by taking turns cooking for each other – I mentioned to Jack that one of my all-time favorite dishes was Chicken Cordon Bleu! So to this day – being the sweetheart that he is – Jack has always made Chicken Cordon Bleu for me as a special treat on my birthday or other special occasion.
Chicken Cordon Bleu is traditionally a flattened or butterflied chicken breast that has been lined with ham and Gruyère Swiss cheese, then rolled and coated in breadcrumbs.  The rolled chicken is fried and then baked until the chicken is tender and the cheese is melted. It's served with a creamy white sauce spooned over the top – and it is (and always has been) my idea of the perfect comfort food!
Our recipe today makes this classic Chicken Cordon Bleu recipe even better because we've used Jones Dairy Farm Canadian Bacon in place of the more traditional ham! Jones Canadian Bacon is naturally lean and it gives the Cordon Bleu a more distinctive salty, cured flavor that contrasts perfectly against the chicken and Swiss cheese in this dish!
Like all of Jones Dairy Farm's products, their delicious Canadian Bacon is all-natural and made from quality ingredients. The Jones family has been inspired to do things the right way for 125 years!
And to learn more about Jones Dairy Farm and all of their products, just visit their website. Or follow them on Facebook, Twitter, Pinterest and Instagram!
Print
Chicken Cordon Bleu
Prep Time:

60 mins

Cook Time:

30 mins

Total Time:

1 hour 30 minutes

Yield:

4-8
---
Ingredients
4

8-ounce boneless chicken breasts

6 ounce

s (

one

package) Jones Dairy Farm Canadian Bacon, cut into half inch pieces

6 ounce

s Swiss cheese, sliced and cut into half inch pieces
Long tooth picks or small wooden skewers for securing meat

1 cup

flour

1 teaspoon

salt

¼ teaspoon

freshly ground black pepper

2

eggs

¼ cup

whole milk

1 ½ cup

s bread crumbs

4 tablespoon

s butter

¼ cup

vegetable or canola oil
For the White Sauce
1

14-ounce can chicken stock or see our recipe here for homemade

1 cup

whole milk

2 tablespoon

s butter

1 tablespoon

fresh thyme

2 tablespoon

s flour (or

3 tablespoon

s if you prefer a thicker sauce)

½ teaspoon

kosher salt

¼ teaspoon

freshly ground black pepper

1/8 teaspoon

freshly ground nutmeg
---
Instructions
Butterfly the chicken breasts to get them uniform in size before pounding. To do this, run a sharp knife under the tenderloin from the inside center almost to the edge and then fold it open. Then turn the breast around and do the same by running the knife from the center out almost to the edge and fold that open (picture the wings of a butterfly). Cover with plastic wrap and pound to about ¼ inch thick. Repeat for other three breasts.
Lay one breast on the board so that the outside of the breast faces down.
Divide the Jones Dairy Farm Canadian Bacon and Swiss cheese into four piles and place one pile of Canadian Bacon (1 ½ ounces) and Swiss (1 ½ ounces) in the center of the breast. Fold the edges up and over the filling leaving no openings. Using tooth picks or skewers, secure sides to each other so that the filling stays in place. Repeat for remaining breasts and hold on a plate for next step.
Mix flour, salt and pepper in a medium bowl. Mix eggs and milk in a second bowl. Place seasoned bread crumbs in a third bowl.
Gently lift each breast and roll in flour. Shake off excess and roll in egg wash. Finally roll in bread crumbs and place back on the plate.
Refrigerate for 30 minutes to firm up.
While the stuffed breasts are setting up, make the pan sauce.
In a small pan, place stock and cook to reduce to one cup. Add milk, heat and hold. Do not boil.
In a medium pan, melt butter and add thyme. Cook over medium for one minute and add flour. Continue to cook for three minutes on medium, stirring often.
Add milk mixture to butter mixture one third at a time, whipping as you add each third.
Add salt, pepper and nutmeg, stir to combine and remove from heat.
Preheat oven to 375 degrees.
In a large sauté pan, heat the four tablespoons of butter with the ¼ cup of oil over medium to medium high heat.
Remove chicken from refrigeration and with tongs place in hot pan skewered side down. Cook to brown, watching to make sure they don't brown too quickly. Reduce to medium heat if needed.
Have a 9×9-inch or larger baking dish standing by.
Brown the chicken on all sides. I found it easiest to brown the bottom, then the top then each side, rolling them on their sides as they brown.
Place them skewered side down in baking dish and bake for 25 minutes uncovered. A probe thermometer inserted into the center should be 140 degrees. (Be advised that wherever you poke with the thermometer will ooze melted cheese).
Remove from oven and slide tooth picks or skewers out. Let rest for two minutes tented with foil.
While chicken is resting, bring sauce back to temperature.
To serve, slice thick slices on a cutting board and transfer to a platter, or serve half or whole portions.
---
You may also like these other recipes made with Jones Dairy Farm products: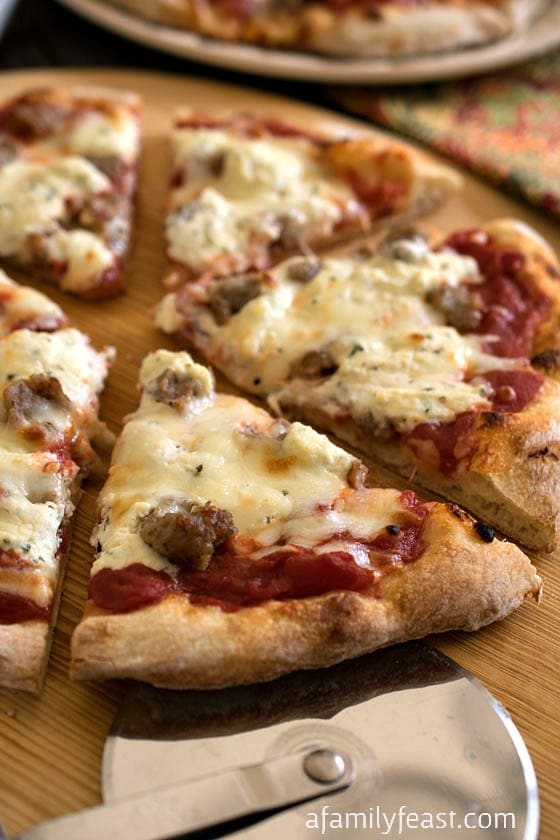 Grilled Polenta with Bacon Jam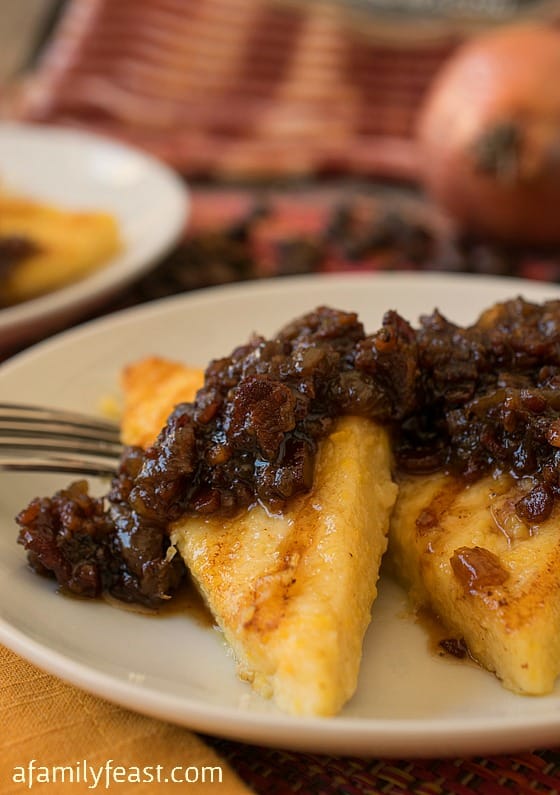 Smoked Ham and Butternut Squash Over Pasta