Chicken Cordon Bleu has tender, breaded and fried chicken breast stuffed with ham and Swiss cheese, then slathered with a creamy white sauce.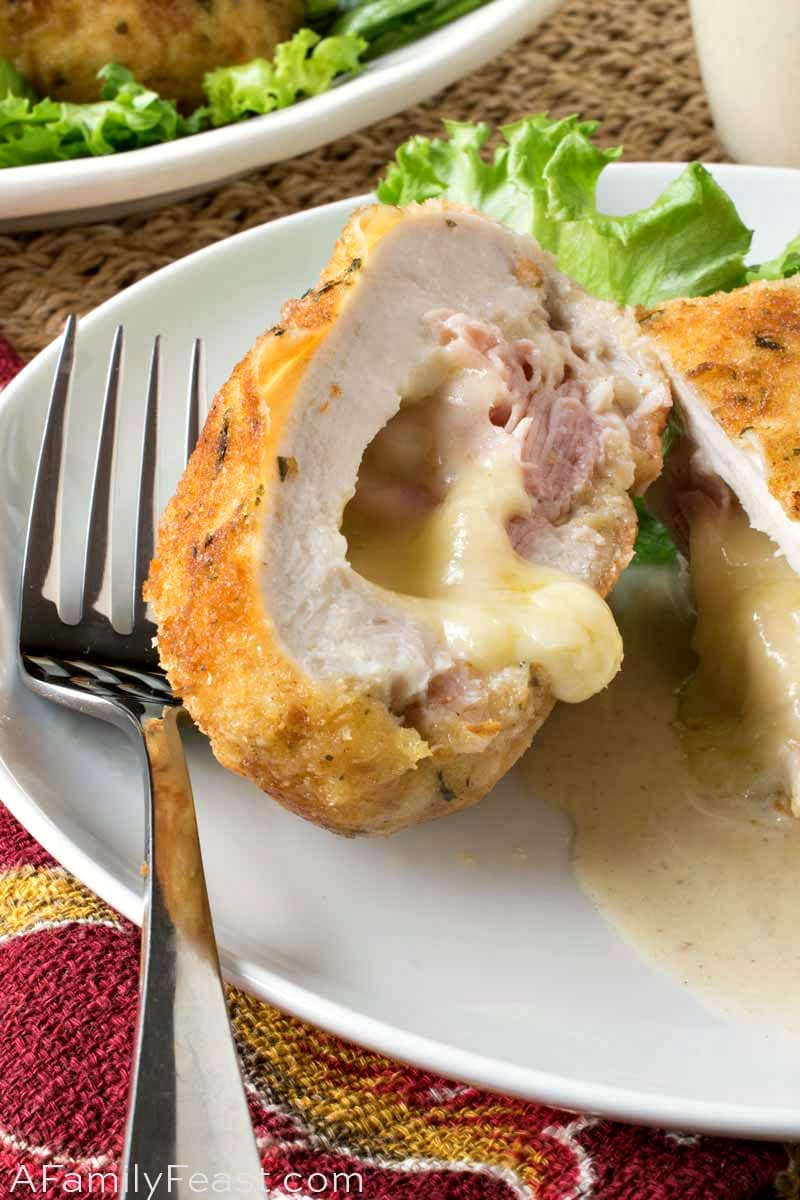 Back when my husband Jack and I first started dating – and we were trying to impress each other by taking turns cooking for each other – I mentioned to Jack that one of my all-time favorite dishes was Chicken Cordon Bleu! So to this day – being the sweetheart that he is – Jack has always made Chicken Cordon Bleu for me as a special treat on my birthday and for other special occasions.
What is Chicken Cordon Bleu?
Chicken Cordon Bleu is traditionally a flattened or butterflied chicken breast that has been lined with ham and Gruyère Swiss cheese, then rolled and coated in breadcrumbs.  The rolled chicken breast is fried until the chicken is tender and cooked through, and the cheese inside is warm and melted. It's served with a creamy white sauce spooned over the top – and it is (and always has been) my idea of the perfect comfort food!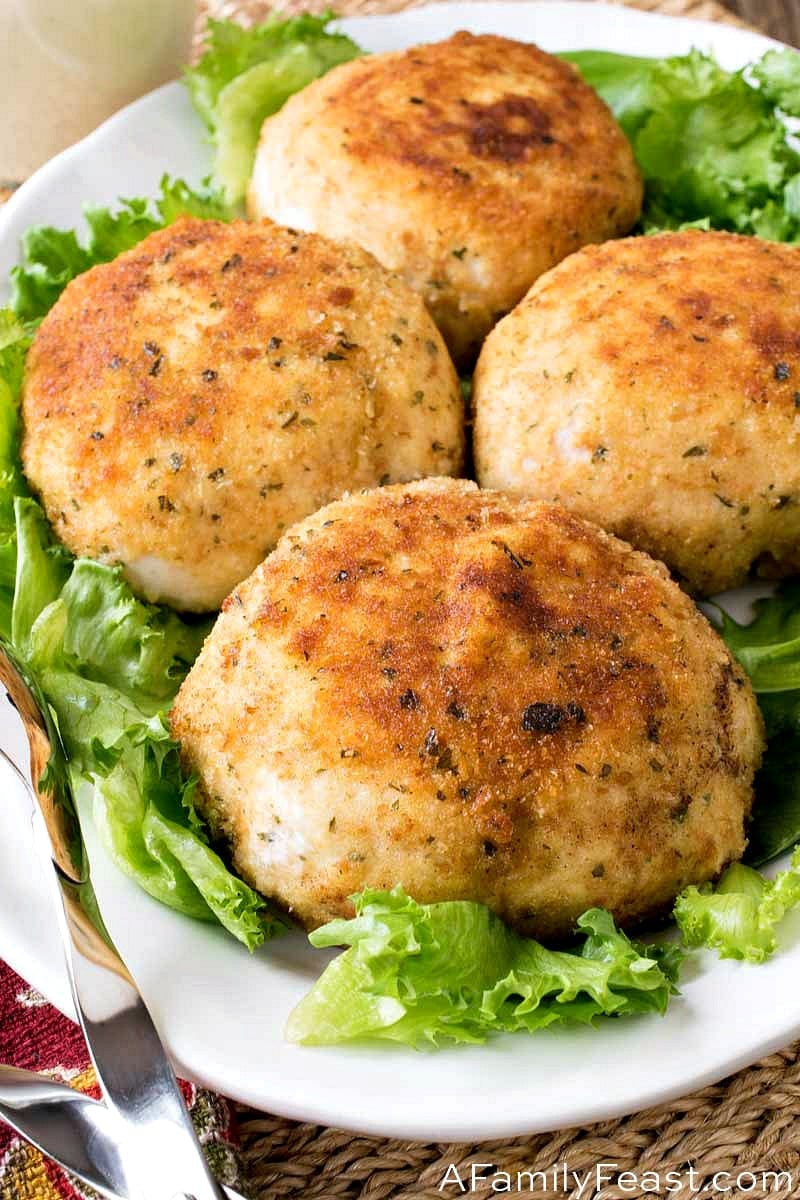 How do you make Chicken Cordon Bleu?
Today's recipe is one that Jack was taught in culinary school – and it does seem to differ a bit from many of the other Chicken Cordon Bleu recipes you'll find on line.
While many other Chicken Cordon Bleu recipes prepare this dish as a pinwheel or roulade, Jack learned a different approach that keeps the outer chicken juicy and tender, and the inner filling hot and melty.
He starts by butterflying a boneless, skinless chicken breast, then pounding it flat between two pieces of wax paper. Then Swiss cheese and ham are piled in the center of each breast – then the edges of the chicken are rolled around the filling to form a ball. After a quick chill in the freezer to firm up the ball, the Chicken Cordon Bleu is then breaded and fried in butter until cooked through.
Finally, a creamy and delicious white sauce is made from the pan drippings, flour and chicken stock. This sauce is served alongside the Chicken Cordon Bleu.
Is it Chicken Cordon Blue or Chicken Cordon Bleu?
Although pronounced the same, the correct name is Chicken Cordon Bleu. Cordon bleu is a French term that translates to "blue ribbon" – and over the years, the term has evolved to apply to foods prepared to a very high standard by outstanding cooks. (Just like my husband Jack! 😉 I'm his biggest fan!)
According to Wikipedia, the origins of the dish date back to Switzerland in the 1940's, where cheese-filled veal schnitzel was popular. The first reference to chicken cordon bleu dates back to 1967 when a recipe appeared in The New York Times.
Ever since then, Chicken Cordon Bleu has been a favorite, classic recipe that everyone should know how to prepare! Who wouldn't love cutting into a juicy chicken breast filled with melty, gooey cheese and salty ham!
Print
Chicken Cordon Bleu
Prep Time:

60 mins

Cook Time:

30 mins

Total Time:

1 hour 30 minutes

Yield:

4

Category:

entree

Method:

fried

Cuisine:

French
---
2 pounds boneless skinless chicken breasts (four 8-ounce breasts)
¼ pound smoked ham (Black Forest is perfect for this dish)
¼ pound thinly sliced good quality Swiss cheese (Boar's Head is our favorite)
1 cup all-purpose flour
½ teaspoon kosher salt
¼ teaspoon white pepper
2 whole eggs, beaten
1 tablespoon whole milk
1 cup breadcrumbs
1 tablespoon dry parsley flakes
8 tablespoons butter, divided (1 stick)
¼ cup white wine
1 cup chicken stock
1 cup heavy cream
Few grinds nutmeg
Additional salt and pepper to taste
---
Instructions
Lay out the breasts on your cutting board (the side that had the skin, face down).
Use a sharp knife and butterfly each breast by running the knife parallel to the cutting board from the center of the breast and slice from the center one way almost to the edge and then the other almost to the edge and then fold it open like a book would open.
Lay each piece between two pieces of waxed paper and pound to ¼ inch thick, no thinner (Again keep the side that had the skin facing down).
Cut the Swiss slices into small pieces and pile ¼ of the cheese in the center of each, keeping the skin side of the chicken breast down.
Pile ¼ of sliced ham on top of the cheese onto each piece.
Fold in the short edges then fold over the long edges and invert onto a plate, keeping the seam down and the ball tightly together.
Place the plate in the freezer for 30 minutes. This will help keep it together when frying.
While the chicken is chilling, lay out three wide bowls and fill one with flour, salt and pepper, the second with beaten eggs and milk and the third with bread crumbs and parsley.
After 30 minutes, remove chicken from freezer and coat in flour, shake off excess, coat in egg, shake off excess and coat in bread crumbs and shake off excess.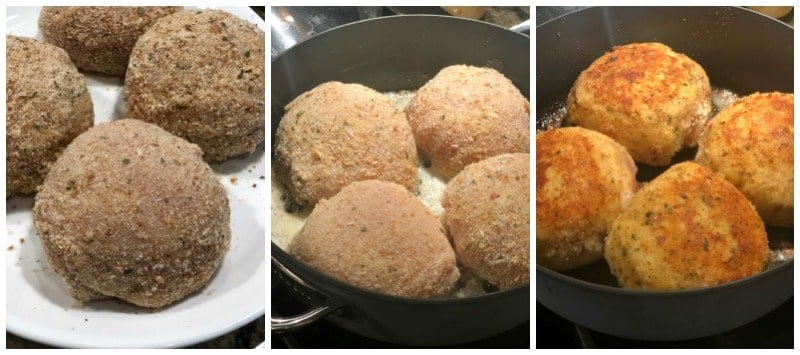 In a medium pan with high sides (I used a 10" non-stick pan with 3" sides), melt 6 tablespoons of the butter over medium heat.
Once the butter is frothy and just starting to brown about the edges, place the four chicken breasts in, seam side down and cook for 2 ½ minutes. Gently turn and cook for another 2 ½ minutes.
Flip back to the seam side down, cover, lower heat to low and cook for 15-20 minutes or until a probe thermometer inserted into the center reads 160 degrees F. Ours took 18 minutes.
Remove the chicken to a platter and cover loosely with foil.
Raise heat to high and add the wine and cook until almost all of the wine evaporates.
Add the stock and reduce the mixture to ¼ cup.
Add the cream and when it steams and starts to bubble, remove from the heat and whisk in the last two tablespoons of butter.
Add nutmeg and taste for salt and pepper.
Strain and serve on the side with the chicken.
The sauce will not be very thick but a creamy consistency.
---
Keywords: Chicken Cordon Bleu