---
2 pounds boneless skinless chicken breasts (four 8-ounce breasts)
¼ pound smoked ham (Black Forest is perfect for this dish)
¼ pound thinly sliced good quality Swiss cheese (Boar's Head is our favorite)
1 cup all-purpose flour
½ teaspoon kosher salt
¼ teaspoon white pepper
2 whole eggs, beaten
1 tablespoon whole milk
1 cup breadcrumbs
1 tablespoon dry parsley flakes
8 tablespoons butter, divided (1 stick)
¼ cup white wine
1 cup chicken stock
1 cup heavy cream
Few grinds nutmeg
Additional salt and pepper to taste
---
Instructions
Lay out the breasts on your cutting board (the side that had the skin, face down).
Use a sharp knife and butterfly each breast by running the knife parallel to the cutting board from the center of the breast and slice from the center one way almost to the edge and then the other almost to the edge and then fold it open like a book would open.
Lay each piece between two pieces of waxed paper and pound to ¼ inch thick, no thinner (Again keep the side that had the skin facing down).
Cut the Swiss slices into small pieces and pile ¼ of the cheese in the center of each, keeping the skin side of the chicken breast down.
Pile ¼ of sliced ham on top of the cheese onto each piece.
Fold in the short edges then fold over the long edges and invert onto a plate, keeping the seam down and the ball tightly together.
Place the plate in the freezer for 30 minutes. This will help keep it together when frying.
While the chicken is chilling, lay out three wide bowls and fill one with flour, salt and pepper, the second with beaten eggs and milk and the third with bread crumbs and parsley.
After 30 minutes, remove chicken from freezer and coat in flour, shake off excess, coat in egg, shake off excess and coat in bread crumbs and shake off excess.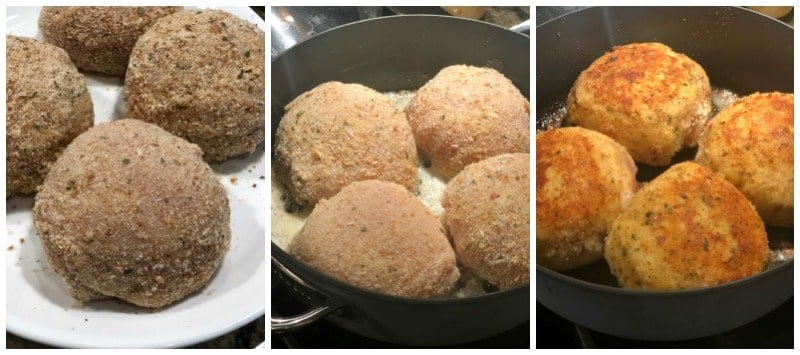 In a medium pan with high sides (I used a 10" non-stick pan with 3" sides), melt 6 tablespoons of the butter over medium heat.
Once the butter is frothy and just starting to brown about the edges, place the four chicken breasts in, seam side down and cook for 2 ½ minutes. Gently turn and cook for another 2 ½ minutes.
Flip back to the seam side down, cover, lower heat to low and cook for 15-20 minutes or until a probe thermometer inserted into the center reads 160 degrees F. Ours took 18 minutes.
Remove the chicken to a platter and cover loosely with foil.
Raise heat to high and add the wine and cook until almost all of the wine evaporates.
Add the stock and reduce the mixture to ¼ cup.
Add the cream and when it steams and starts to bubble, remove from the heat and whisk in the last two tablespoons of butter.
Add nutmeg and taste for salt and pepper.
Strain and serve on the side with the chicken.
The sauce will not be very thick but a creamy consistency.
---
Keywords: Chicken Cordon Bleu