Today is a day for celebrating and we've made this delicious White Chocolate Banana Cream Pie!  My husband Jack calls this the Most. Delicious. Pie. Ever.  –  and I have to agree!
This white chocolate banana cream pie is layer after layer of creamy, delicious goodness starting with a chocolate crumb bottom crust, then slices of fresh banana, then a creamy white chocolate and vanilla custard!  Repeat all of those layers again – and finally top with some lightly sweetened vanilla whipped cream.  Add some dark and white chocolate shavings plus a few more banana slices on top for garnish – and OMG this pie is very, VERY good!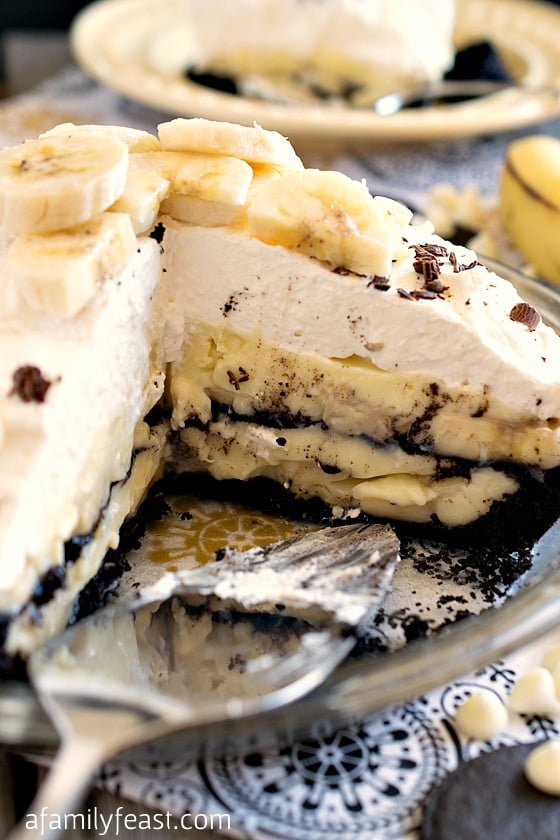 Such a special pie is perfect for a day of celebrating!  And what are we celebrating?  First of all – it's Pi Day, the annual celebration observed on March 14th that commemorates the mathematical constant π. (Get it? 3.14…)
Second of all – it's our grandson JC's birthday!  He doesn't know that I'm mentioning it here – and I would love it if you clicked over to his blog (he just started it) to wish him a happy birthday!  You can tell him I sent you if you'd like!
Print
White Chocolate Banana Cream Pie
Prep Time:

4 hours 30 mins

Cook Time:

20 mins

Total Time:

4 hours 50 minutes

Yield:

8-10 servings
---
Description
Recipe adapted from one originally created by Bernice V. Janowski of Stevens Point, Wisconsin who won $200 in the Custard and Cream Pies category in a recipe contest sponsored by Better Homes and Gardens in 1997.
---
1

9-ounce package chocolate wafers (such as Nabisco Famous Chocolate Wafers)

1/3 cup

unsalted butter, melted

3

egg yolks

½ cup

granulated sugar

¼ cup

cornstarch

¼ teaspoon

salt

2 ½ cups

whole milk

4 ounces

white chocolate chips

1 ¼ teaspoon

vanilla, divided

3

–

4

medium bananas

1 cup

heavy cream

2 tablespoons

sifted powdered sugar
For optional garnish: Dark chocolate and white chocolate curls (see note below recipe for some tips on creating the chocolate curls) and extra slices of banana
---
Instructions
In the bowl of a food processor, process the chocolate wafer cookies until they are fine crumbs. In a small bowl, place 1½ cups of the chocolate crumbs and hold the remaining crumbs aside in a separate bowl.
In a medium bowl, combine the 1½ cups of chocolate crumbs with the melted butter and stir to mix well. Press crumbs evenly into the bottom and up the sides of a 9-inch pie plate to form a solid crust. Place in the refrigerator to chill while you begin making the custard for the pie.
In a medium bowl, lightly beat the egg yolks. Set aside.
In a heavy bottomed saucepan, combine sugar, cornstarch, salt and milk. Stirring constantly heat over medium heat until the mixture just starts to get bubbly and thick. Cook for 2 minutes, stirring constantly.
Remove the pan from the heat. While whisking, gradually add a few spoons of the hot custard mixture to the bowl with the egg yolks, being sure to whisk quickly so the yolks do not start to cook or curdle. Keep whisking and slowly add more of the hot custard mixture to the yolks, until you have about a cup of custard in the bowl with the yolks.
Add the egg yolk mixture back into the pan and stir. Heat the mixture in the pan back up over medium heat, again stirring constantly. Once it starts to bubble, reduce heat to low and cook for 2 more minutes. Remove from heat and stir in white chocolate chips and 1 teaspoon of the vanilla, stirring until the chocolate melts completely. Allow the white chocolate custard to cool slightly.
Slice two of the bananas and place in a single layer over the chilled crust. Spoon half of the custard filling over the bananas and spread into an even layer. Sprinkle the remaining chocolate crumbs over the custard. Then slice the remaining bananas and place over the chocolate crumbs, then spoon the remaining custard over the bananas. Cover and chill for at least 4 hours so the custard cools and the pie sets.
When ready to serve, in the bowl of a stand mixer and with the wire whip attachment, combine heavy cream, remaining ¼ teaspoon vanilla and powdered sugar. Whip at high speed until stiff peaks form. Spread whipped cream over the pie. Garnish with shaved chocolate and additional banana slices.
---
Notes
To make the chocolate curls, just use a vegetable peeler and shave off thin slices of chocolate from a premium white and dark chocolate bar. The best curls will come from using chocolate with a high fat content (we used Ghirardelli's).
You may also like: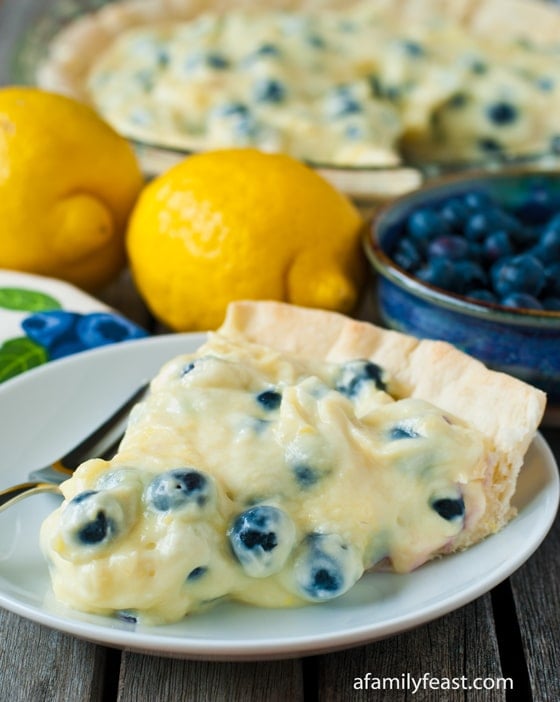 No-Bake Chocolate Cheesecake Pie