These Mississippi Sin Ham Sliders are sponsored by Hatfield and SheKnows Media.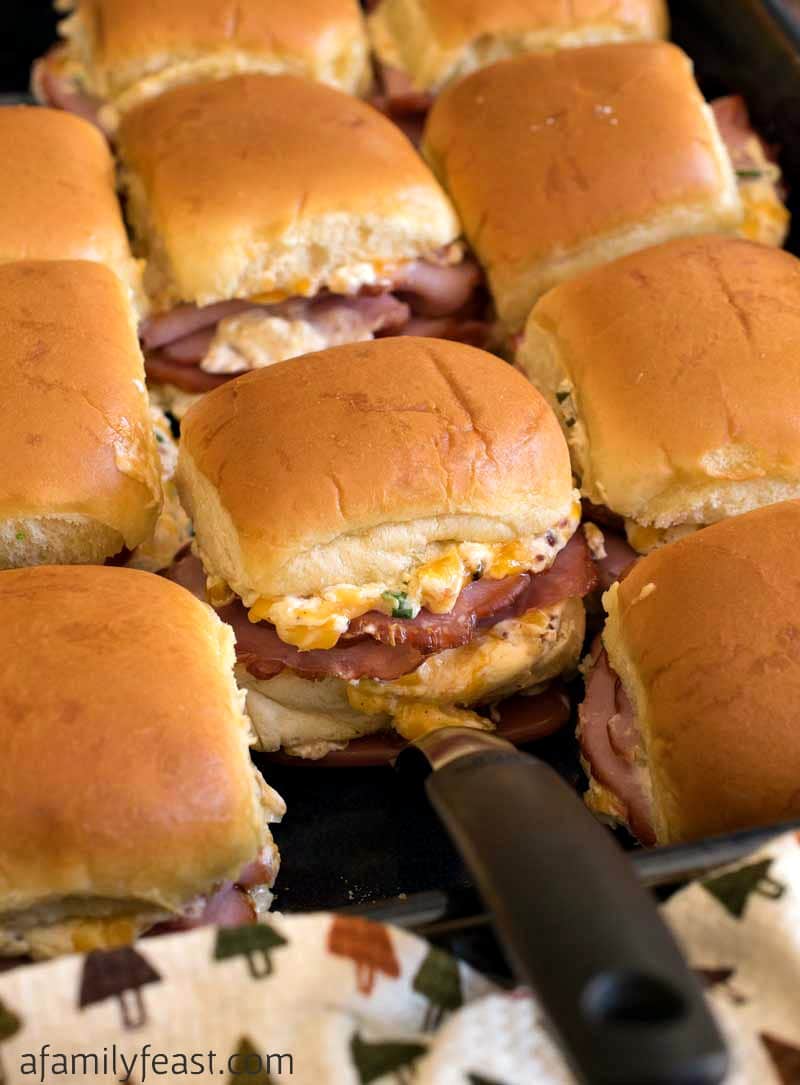 It's a crazy-hectic time of the year—but I really wouldn't have it any other way! Our family is coming over for the holidays, we're meeting up with friends and neighbors for parties, and we also have some winter weekend road trips planned.
One common theme around all of these fun family and friend gatherings is delicious, easy, and stress-free make-ahead food! After all, who wants to be slaving over a hot stove when the party has started?!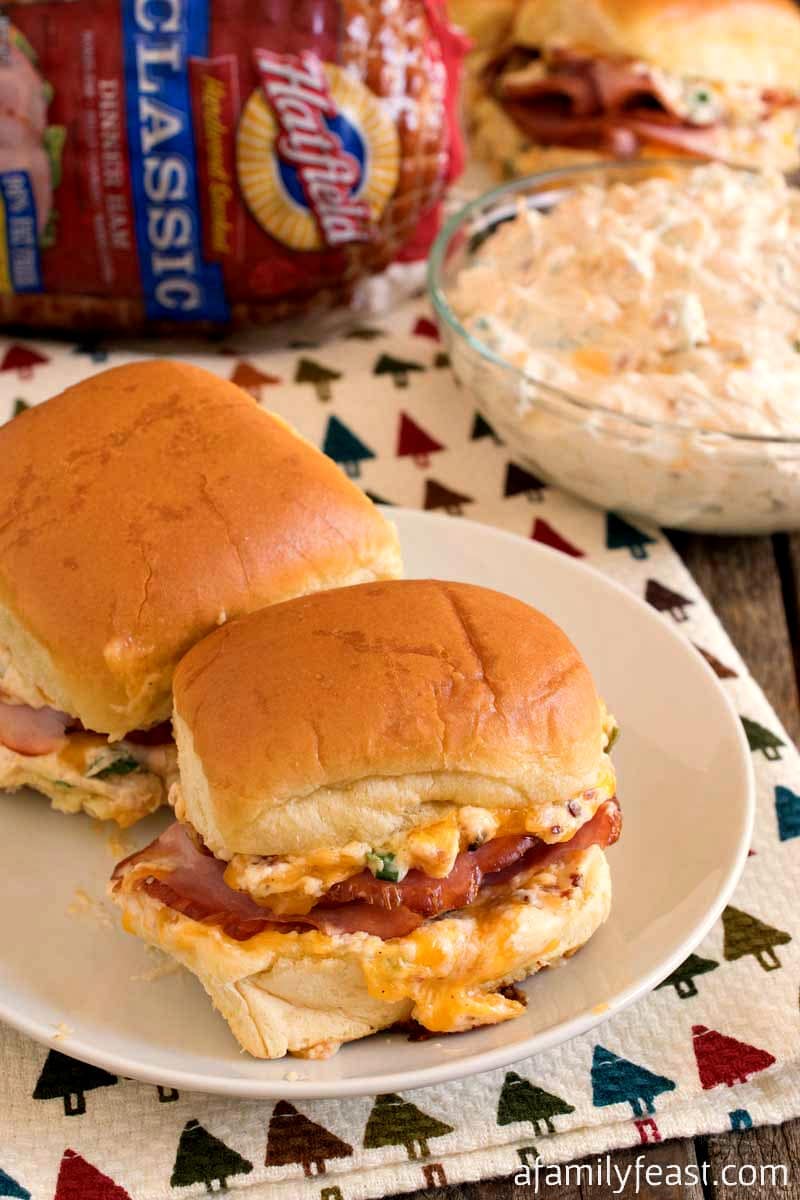 Our delicious Mississippi Sin Ham Sliders are going to make a regular appearance at this year's festivities. These easy sliders are a delicious new variation on the addictively-good Mississippi Sin Dip with chopped ham that so many people know and love.  (I predict both kids and grown-ups in any crowd will love these melty, cheesy ham sandwiches!)
Our Mississippi Sin Ham Sliders can be made ahead of time – then warmed up in the oven when guests arrive. This dish even travels well – simply assemble the sliders right in a baking pan and heat them when you get to the party.
To make these Mississippi Sin Ham Sliders, we started by mixing up the same dip ingredients: Shredded cheddar cheese, sour cream, cream cheese, mayonnaise, chopped Hatfield Bacon, scallions, plus different seasonings.  Next, we thinly sliced up some delicious boneless ham from Hatfield.
Each slider roll gets a generous schmear of the dip mixture on the top and bottom halves of the bread – then a generous pile of sliced Hatfield Boneless Ham is added.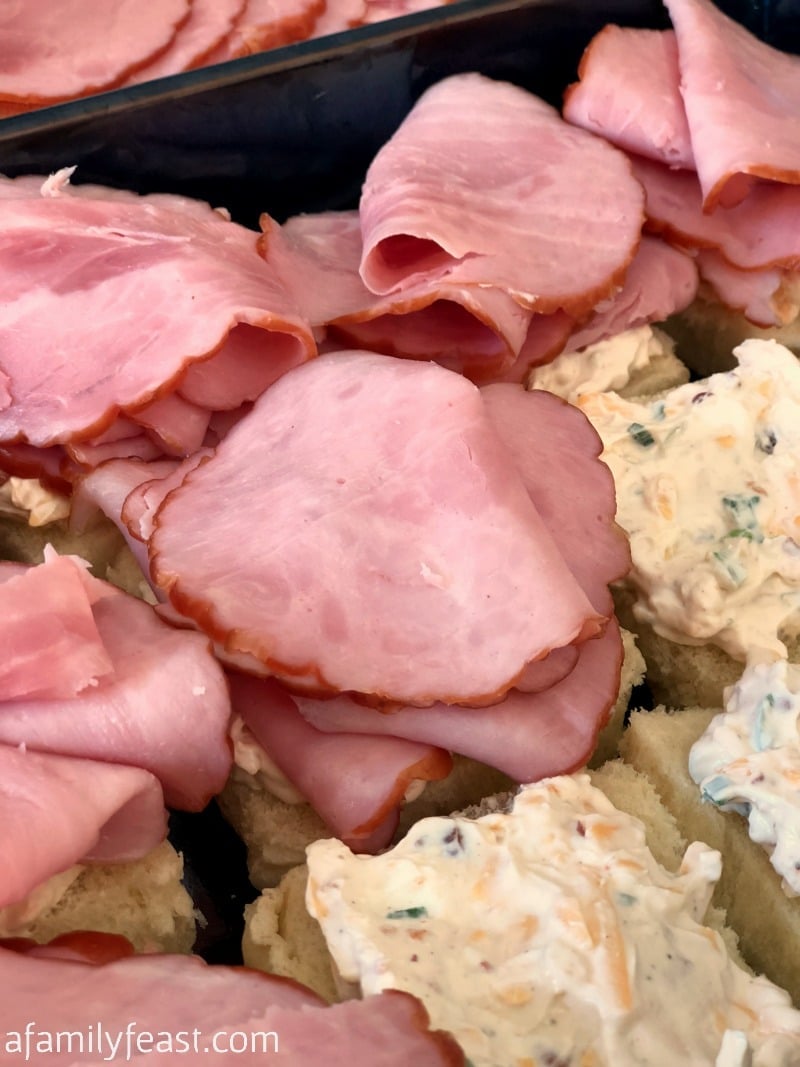 Place the slider roll top over the ham and brush with melted butter before baking.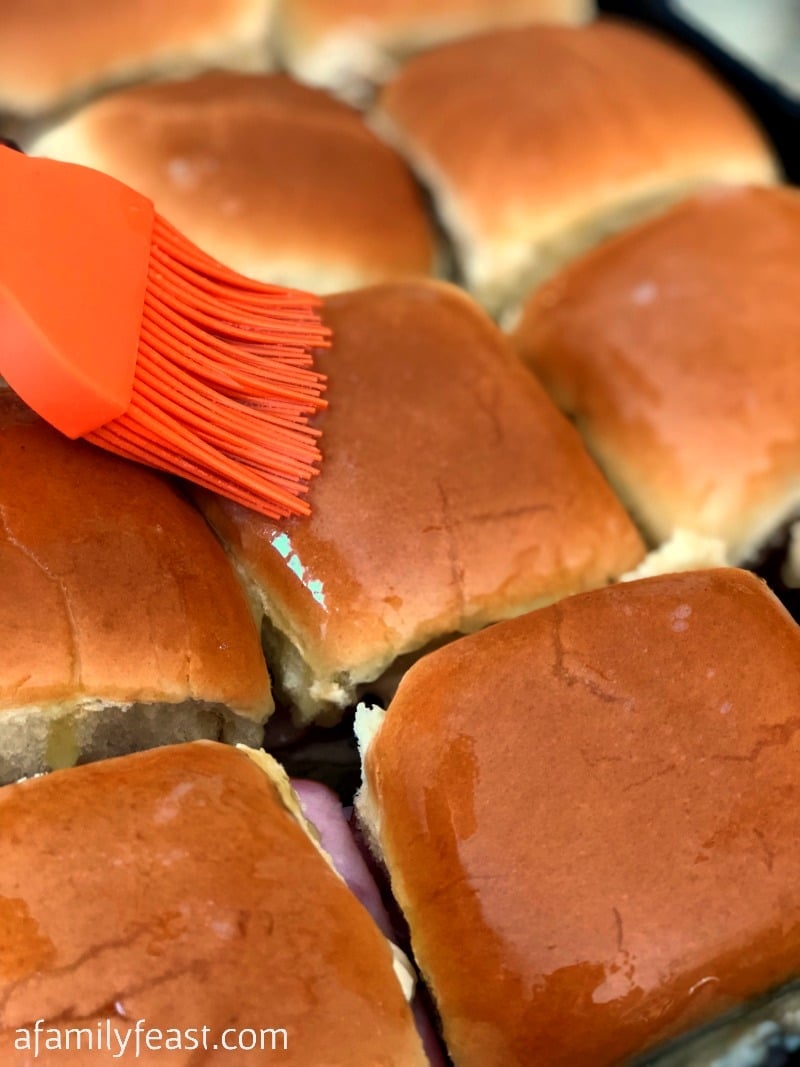 When these Mississippi Sin Ham Sliders come out of the oven, the spread is melty-cheesy, and the zesty flavor is a perfect complement to the tender, perfectly-cured Hatfield Boneless Ham.  These flavorful sliders are just as addictively good (maybe even better 😉 ) as the original dip version!
Hatfield is one of Pennsylvania's family-owned heritage brands. Hatfield knows that spending time with your family (and good friends too) is so important – so their American-made products help you keep things delicious, simple, and stress-free in the kitchen.
Click here to find out where you can buy Hatfield products including their Dry Rub Seasoned Pork Tenderloin and Loin Filets, Recipe Essentials (including a variety of sausage products), Bacon, Uncured products, and their Boneless Ham.
The Hatfield Boneless Ham we used in today's recipe is a true holiday mainstay, and it is a delicious choice for any family gathering any time of the year.  And, Hatfield Bacon comes in both thick-cut and classic varieties.
Serve this ham for your holiday meal – then use some of that delicious, leftover Hatfield ham to make these Mississippi Sin Ham Sliders recipe.
Print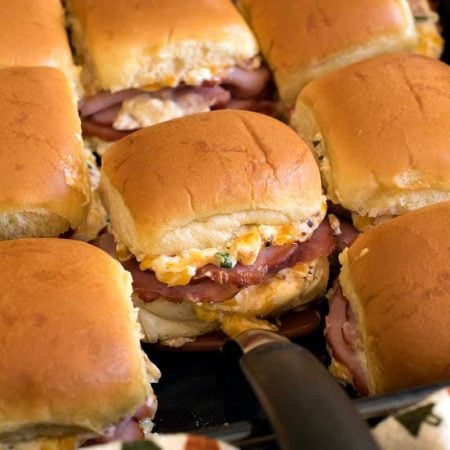 Mississippi Sin Ham Sliders
Prep Time:

30 minutes

Cook Time:

30 minutes

Total Time:

1 hour

Yield:

18 sliders
---
½ pound Hatfield Thick-Cut Hardwood Smoked Bacon
1 3-pound Hatfield Classic Boneless Ham
8 ounces cream cheese, softened
1 10-ounce block yellow cheddar cheese, shredded (approximately 3 cups)
1 8-ounce container sour cream
1 cup mayonnaise
½ cup scallions minced small, tops and bottoms (3–4 scallions)
Dash of your favorite hot sauce
1 teaspoon Worcestershire sauce
1 teaspoon kosher salt
½ teaspoon freshly ground black pepper
1 teaspoon onion powder
1 teaspoon garlic powder
1½ dozen soft pull-apart slider rolls
2 tablespoons butter, melted
---
Instructions
Preheat oven to 350 degrees F.
Lay out bacon on a parchment-lined sheet tray and bake until crisp, about 15-20 minutes. Drain on paper towels, cool and chop into small pieces. Set aside. Leave oven on.
Using a very sharp slicing knife, slice the entire ham into thin slices. Set aside.
In a large bowl, add softened cream cheese, shredded cheddar cheese, sour cream, mayonnaise, scallions, hot sauce, Worcestershire sauce, salt, pepper, onion powder and garlic powder.
Add the cooked bacon and mix to combine.
Slice the rolls in half and divide the spread between the tops and bottoms of all 18 rolls.
Divide all of the ham between the 18 roll bottoms, folding larger slices to fit the roll size then top with the roll tops.
Place each slider tightly packed into a 9×13-inch baking pan (or larger pan depending on the roll size)
Brush the tops with the melted butter, cover with parchment and foil and bake for 10 minutes.
Uncover and bake for an additional 15 more minutes.
Remove from oven and serve immediately.
---