I've mentioned before that my husband Jack and I have been making a concerted effort to eat healthier foods and exercise more in these last few months!  Starting a food blog has added a few inches to both of our waistlines over the last year and a half (unfortunately) – and with our daughter Courtney's wedding coming up later this summer, we're both trying to look and feel better by losing some weight.
So with all of this health-conscious, weight-loss effort going on at our house – it might surprise you to learn that anytime Jack or I are on the treadmill, we both usually end up watching the Food Network or the Cooking Channel on TV while we work out!  (Talk about torturing ourselves – all of that yummy food that we shouldn't eat…)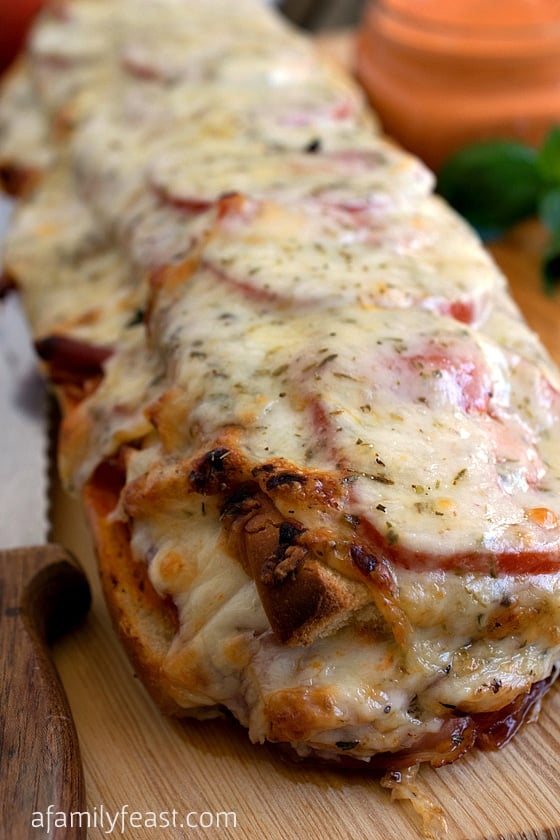 But watching one of those shows gave us the inspiration for today's Loaded Italian Sub with Roasted Red Pepper Aioli!  Jack saw a show where someone made a grilled ham and cheese sandwich and then they put pizza cheese over the top and melted the whole thing under a broiler.  With our mouths salivating, we decided to try making a similar sandwich – but giving it an Italian twist of our own!  This loaded Italian sub is first slathered with a wonderful roasted red pepper aioli, then piled high with Italian cold cuts including salami, mortadella, capicolla, and prosciutto, followed by slices of provolone cheese and fresh basil!
But it doesn't stop there!  The sub is grilled on a panini press
, THEN a layer of fresh tomato slices are added PLUS a mix of shredded parmesan, mozzarella and muenster cheeses on top!  After a final sprinkle of oregano, this incredible sandwich is put under the broiler in the oven until the cheese melts and starts to turn a wonderful golden color!
This loaded Italian sub with roasted red pepper aioli is part Italian cold cut sub – part panini – part pizza and 100% delicious!
And – in case you are wondering – Jack and I did eat a small portion of this sandwich after we took these photos!  (We split that slice you see right above here between the two of us.  Everything in moderation – right?) Then the rest was given away to grateful family members who live nearby and have been enjoying our blogging food leftovers!
Print
Loaded Italian Sub with Roasted Red Pepper Aioli
Prep Time:

20 mins

Cook Time:

40 mins

Total Time:

1 hour

Yield:

4-6 servings
---
Description
Note: This recipe makes more aioli than is needed for this sandwich. Also note: You will need a panini press or a flat grill pan for this sandwich.
---
For the Aioli
2

large sweet red bell peppers

1

head of garlic

½ cup

mayonnaise

4 tablespoons

extra virgin olive oil, divided
To Make the Sub
½

loaf of Italian or French bread at least 3 inches wide and a foot long

¼

pound sliced Genoa salami

¼

pound sliced Italian Mortadella

¼

pound sliced sweet or hot (your preference) capicolla (also known as capocollo, or coppa)

¼

pound thinly sliced prosciutto

¼

pound aged good quality provolone cheese, sliced

2 tablespoons

extra virgin olive oil

2

Roma tomatoes, sliced

½ cup

fresh basil leaves, divided

¼ cup

shredded Parmesan Reggiano

1 cup

shredded Scamorza mozzarella or regular mozzarella (but avoid using a very wet fresh mozzarella)

¼ cup

chopped Muenster cheese (buy

¼

pound sliced and chop by hand)

1 teaspoon

dry oregano
---
Instructions
Preheat oven to 500 degrees.
To Prepare the Aioli
Line a medium pan with foil and place both whole peppers with stems attached onto the pan.
Cut the top and bottom off a head of garlic and place in a small pocket made from a piece of foil. Drizzle one tablespoon of oil and one tablespoon of water over garlic and pinch the foil pocket closed. Place this foil packet on the pan with the peppers. Roast for ten minutes and turn peppers one third, roast for ten more minutes and turn another third then roast for ten more minutes and remove from the oven. (If the skin isn't charred all around, roast for another five minutes until nicely blackened and charred.)
Raise the oven temperature to 550 degrees.
Immediately place whole red peppers into a large zipper seal bag and seal to steam the skins off. Allow the peppers remain in the plastic bag for ten minutes, then take them out of the bag and place them on a cutting board. Peel the skin off and discard. Then split the peppers down the middle, remove stems and seeds and place the roasted flesh of the peppers into a blender (the peppers collect moisture inside while roasting, try not to add this excess liquid to the blender). Remove the roasted garlic head from the foil pouch and squeeze out the roasted cloves into the blender, adding them to the peppers (you may want to use a tiny piece of foil to squeeze the garlic out of the skin so you don't burn your fingers).
Add the mayonnaise to the blender and set to puree. Lift off the cap and slowly drizzle in 3 tablespoons of olive oil with motor running until mixture is thick and creamy.
To Prepare the Sandwich
Take the top crust off the 12 inch loaf by running a bread knife just below the top. Next split the loaf horizontally in half so you have two open halves. Spread two tablespoons of the aioli on each inside cut.
Then begin layering the cold cuts on the bottom half and finish with the provolone. Top with half of the basil leaves and place the top half of the bread over the basil pressing the aioli side down over the basil.
Heat the panini grill to hot or heat a grill pan on the stove. Brush one tablespoon of olive oil on the top half of the sandwich and brush the other tablespoon of olive oil on the panini press or grill. Place sandwich on heat over brushed oil and brown both sides, pressing down slightly to flatten sandwich. Heat until the bread is nicely browned.
Line a small sheet pan with foil and place the grilled sandwich onto the foil.
Lay the other half of the basil leaves and all of the sliced tomatoes over the top of the browned top of the sandwich.
Mix the Parmesan, mozzarella, Muenster and oregano in a small bowl and spread over the basil and tomatoes (Try to get the cheese to stay in place by pressing down with your hands).
Place the pan in the hot oven for 5-7 minutes to melt and brown cheese. To brown further, place under a broiler for a few minutes.
Serve by cutting into four even pieces. Great served with the roasted red pepper aioli on the side as a dipping sauce.
---
Disclosure: This post contains affiliate links.
You may also like:
 Grilled Chicken Club with Rosemary Aioli
Italian Sausage Sub with Toasted Fennel Aioli