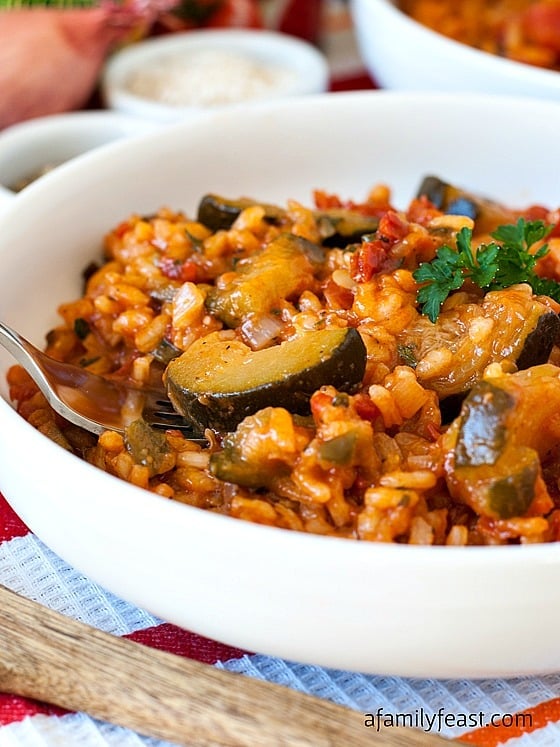 It's January – and like so many other people at this time of year, my husband Jack and I have both made some New Year's resolutions! We're both trying to live a healthier lifestyle – exercising more (no excuses – we have a treadmill and weights in our basement) and eating more fruits and vegetables is at the top of our to-do list.I mean, really….we're food bloggers, right? So you're probably thinking that we must eat very well!
But the reality is that sometimes, when our refrigerator is full of decadent and fattening food that we've prepared for our blog – the last thing we're thinking about eating is a healthy salad or a piece of fruit or some other vegetable-filled dish! And living in New England, produce during the winter is usually shipped in from warmer climates – so it's not always the freshest by the time it reaches our supermarket.
And that's where Del Monte can help us all out! With Del Monte® fruits, vegetables and tomatoes in your pantry, you can have garden quality™ fruits and vegetables at your fingertips all year round. And, their canned tomatoes and zucchini are the perfect choice for making our delicious Zucchini Tomato Risotto any time of the year!
In our recipe, a classic risotto gets a wonderful zesty twist! A combination of Del Monte® Diced Tomatoes and Del Monte® Zucchini with Italian Style Tomato Sauce are combined with sun dried tomatoes, parmesan cheese, and other seasonings making a really fantastic dish that is healthy, filling and flavorful!
If you've never tried Del Monte® products before, let me assure you that they are sticklers about quality! Nearly 90% of Del Monte fruits and vegetables are grown in the United States in areas of the country known for their good growing conditions – so that helps ensure you'll get consistent, quality products. Most of Del Monte fruits and vegetables are picked at the peak of ripeness – and many are canned the very same day they are picked – which also helps lock in flavor, vitamins, antioxidants and essential nutrients too. In fact, studies show that in some instances, canned tomatoes – like the ones used in this recipe – contain more antioxidants and vitamins than fresh!
So be sure to get your healthy-eating resolutions on the right track in the New Year with a pantry stocked with garden-quality goodness found in Del Monte® fruits, vegetable and tomatoes!
Print
Zucchini Tomato Risotto
Prep Time:

15 mins

Cook Time:

35 mins

Total Time:

50 minutes

Yield:

6-8 servings
---
2

cans Del Monte® Zucchini with Italian Style Tomato Sauce

1

can Del Monte® Diced Tomatoes

3 cups

vegetable stock, divided

2 tablespoons

extra virgin olive oil

¾ cup

shallots, sliced

1 tablespoon

chopped garlic

½ teaspoon

dry marjoram

1 1/3 cups

Arborio rice

½ cup

white wine

1/3 cup

sun dry tomatoes, chopped or sliced (if packed in oil, drain)

¼ cup

fresh Italian flat leaf parsley chopped plus some for garnish

1/3 cup

Parmesan cheese

¼ teaspoon

freshly ground black pepper
---
Instructions
Place a strainer over a medium bowl or container and pour the two cans of Zucchini and Tomato Sauce as well as Diced Tomatoes into the strainer, reserving the liquid. With a spoon, keep stirring gently until all liquid has drained into bowl. Reserve zucchini and tomatoes in a separate bowl and set aside.
Add one cup of the stock to the reserved tomato liquid and reserve the rest of the stock for later in the recipe.
In a medium to large Dutch oven or heavy bottomed pot over medium heat, place oil and shallots and sauté for two minutes. Add garlic and marjoram and stir. Cook for one minute. Add rice and cook for two more minutes stirring often.
Add the wine and sun dried tomatoes and stir until all liquid has been absorbed. Add half the tomato-stock liquid and cook, stirring frequently until liquid has been absorbed. Add second half of tomato liquid and cook and stir until liquid has been absorbed. Add remaining 2 cups of stock ¼ cup at a time, stirring and letting liquid absorb before adding more, until all the stock has been used. (The whole process from the time the rice was added is about 30 minutes.) Test the rice for doneness. It should be al dente. Add in reserved zucchini, tomatoes, Parmesan and pepper and heat just to hot.
Remove from heat and cover pot with the lid. Let mixture sit covered for five minutes. Remove cover, stir, adjust seasoning and serve.
---