Oh yum…I think you're going to love this recipe!
And don't be mistaken by appearances – this may look like your average Italian sausage sub with mushrooms, peppers and onions.  But it's so much more!  Our version of an Italian sausage sub is all about layering flavors – and that makes this a truly memorable sandwich!
Each ingredient – the sweet Italian sausage sautéed with fresh basil, the bourbon-infused mushrooms, the caramelized onions, garlic and peppers – are all cooked at different temperatures and for a different length of time to ensure that the texture and flavor profile of each component of the sandwich is maintained before they are combined at the end.  (This method takes a bit longer, but the wonderful flavors are worth the extra effort!)
Finally, toasted, crushed fennel seeds are added to mayonnaise to make a wonderful aioli – and the flavors are a really fantastic complement to the sausage and vegetables!
Jack really surprised me with this recipe – one bite into this Italian sausage sub with toasted fennel aioli, and I knew it was something special!
Our Italian sausage sub with toasted fennel aioli is a really delicious option for serving at your Labor Day cookout, or for a quick weeknight dinner any time of the year!
Print
Italian Sausage Sub with Toasted Fennel Aioli
Prep Time:

15 mins

Cook Time:

1 hour

Total Time:

1 hour 15 minutes

Yield:

3 servings
---
4 tablespoons

extra virgin olive oil, divided

½

pound cremini mushrooms, sliced into thick slices

2 tablespoons

bourbon

1 tablespoon

butter

1

pound sweet onion (such as Vidalia) cut into ½ inch round half slices

¼ teaspoon

black pepper

3

medium garlic cloves sliced

1/8 cup

fresh basil chopped

1 tablespoon

fennel seeds

1 teaspoon

garlic passed through a garlic press

1/3 cup

mayonnaise

1

pound Italian sweet sausage links (

6

links)

1

pound mixed sweet and mild peppers (such as green bell, red bell, Poblano, banana, etc.), cut into ½ inch wide strips.

1/8 cup

vermouth or white wine

3

8-inch sub or hoagie rolls, cut down side but left whole

¼

pound sliced provolone cheese, cut into

6

slices
---
Instructions
In a large skillet, heat pan on high and add 1 tablespoon of the oil. Heat until the oil starts to smoke and add mushrooms. With a wooden spoon move the mushrooms around so they cook evenly. Using high heat keeps them from giving up their liquid and they stay plump so keep the heat on high. After they are nice and browned, shut off burner, add bourbon and stir. The mushrooms will absorb the liquid and the alcohol will burn off. Move them to a bowl and set aside.
Heat the pan back up to medium high and add one more tablespoon of oil and the butter. When butter has melted, add the onions and black pepper. Turn the burner down to medium low and cook slowly for fifteen minutes, stirring occasionally. Add garlic and cook for ten more minutes. Shut off burner and stir in basil. Remove to a bowl and set aside.
While onions are slowly sautéing, heat a small pan over medium high heat and dry cook the fennel seeds. Toss or stir frequently until slightly browned. Pour onto a cutting board and crush thoroughly with the bottom of a heavy pan or use a coffee grinder to crush to a powder. Mix this with the garlic and mayonnaise and set aside.
After removing onions, heat pan back up to medium high and add one tablespoon of the oil then add sausages. Brown for 2 minutes on each side then turn the burner down to medium and cook until cooked through, about 5 – 10 more minutes. Check one by cutting open if you are not sure. Set the sausages aside.
Remove the fat except for one tablespoon and add the remaining tablespoon of oil. Heat to medium high and add the peppers. Cook stirring occasionally for about 15 minutes until they are tender and browned but not mushy. Remove to a bowl.
Heat back to medium high and add vermouth. Scrape pan bottom and add in all other cooked ingredients. Toss to combine and remove from the heat.
Heat oven to 350 degrees.
To assemble, spread 1/3 of the aioli into the inside of the cut roll. Add two sausage links and 1/3 of the vegetable mixture. Layer two slices of provolone cheese over each sub then repeat with the other two subs. Place in the oven for a few minutes just to heat rolls and melt the cheese.
Since this is such a hearty sandwich, serve with something simple like chips and a pickle.
---
You may also like:
Loaded Italian Sub with Roasted Red Pepper Aioli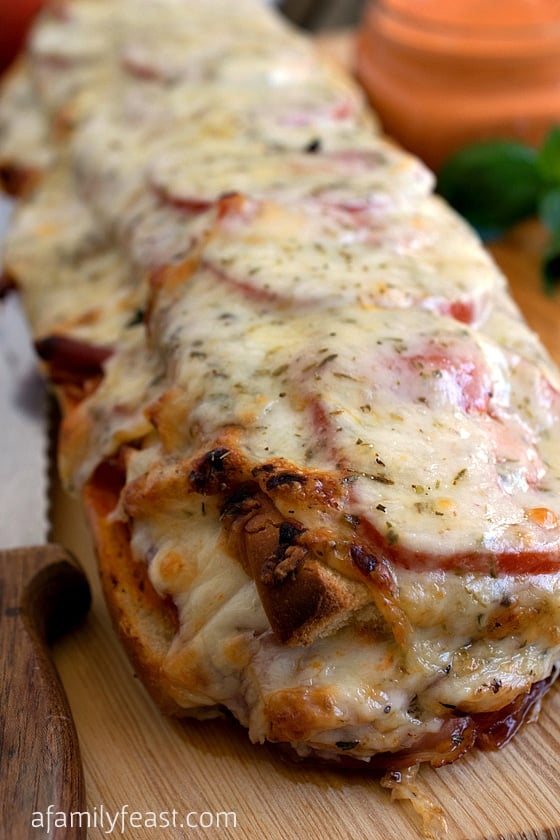 Butternut Squash and Sausage Chili