After all of the cooking and baking we did for the holidays, the last thing on our mind is spending more time in the kitchen cooking an elaborate meal!  Even as food bloggers – we need a bit of a break, and instead of cooking so much, we're taking time this week to relax a bit and recharge by enjoying time with family and friends!
But we still have to eat – and when guests are visiting, we still want to put a nice meal on the table!  Easy recipes like this Sausage Bread are the perfect thing to prepare when you want something delicious, but don't want to put in a whole lot of effort!  This simple recipe may not be very fancy – but the flavors are really fantastic!
Just start with some store-bought bread dough you can find in the frozen foods section of the supermarket, and allow the dough to thaw overnight in the refrigerator.   Then – remove the dough from the refrigerator and allow it to come up to room temperature and proof in a warm place.  While the dough is warming up, sauté a flavorful mixture of sweet Italian sausage, peppers, onions and other seasonings.  Roll out the proofed dough into a flat rectangle and place a line of the sausage mixture down the center of the dough.  Fold half of the dough over the mixture, spoon another line of the sausage mixture down the center of the dough, and then fold again. Let the dough rest one more time before baking in the oven for about 20-30 minutes until lightly golden brown and cooked through.
This sausage bread is a warm and comforting meal – as you bite into the slices of freshly baked, warm crusty bread, your taste buds will also be rewarded with the wonderful tastes of sausage, peppers and onions!
And, if you are looking for other quick and easy dinner ideas, see our collection of quick recipes right here!
Print
Sausage Bread
Prep Time:

12 hours 20 mins

Cook Time:

30 mins

Total Time:

12 hours 50 minutes
---
Description
Note: The majority of the prep time listed here is for allowing the dough to thaw overnight, or for allowing the thawed dough to proof before filling or baking. Your total active prep time is only about 20 minutes!
---
2

frozen loaves of bread dough

2 tablespoons

extra virgin olive oil

1 cup

large diced sweet red pepper

1 cup

large diced green bell pepper

2 cups

large diced sweet Vidalia onion

2 tablespoons

minced garlic

1 tablespoon

dry basil

6

sweet Italian sausage links, removed from their casing

1 teaspoon

salt

¼ teaspoon

freshly ground black pepper

2 tablespoons

tomato paste
---
Instructions
Thaw dough in the refrigerator overnight for best results or thaw according to package directions.
About two hours before you are ready to eat, bring dough out to room temperature, cover and place in a warm place for at least one hour.
While dough is warming up, in a large skillet over medium heat, place oil and bring to hot. Add both peppers and onion and cook about 3 to 4 minutes, or just until the onions are no longer crunchy. You want the vegetables somewhat tender but not over cooked. Add garlic and basil and cook for one minute.
Move vegetables to the sides of the pan and place the sausage meat in the center. With two wooden spoons, break the meat apart and keep cooking until browned. When the meat is no longer pink, bring the vegetables in from the sides and mix all together. Add salt, pepper and tomato paste and stir to combine. Remove from heat and transfer mixture to a dinner plate. Place in the refrigerator to cool down somewhat (you want this mixture to be at room temperature before adding to the raw dough).
Once the dough has proofed for an hour, dust your counter with flour and roll out each dough loaf to 10×16-inches letting the dough rest for a few minutes between rolling so the gluten can relax. The dough will stretch better after each rest period. Dust with more flour as needed.
Divide your meat mixture into four (two portions for each loaf of dough). Run one quarter of the meat down the center almost to the ends. Then fold the side closest to you over covering the meat to about 2/3 to the opposite side. Place another one quarter of meat on top of the center going close to each end.
With a brush and water, brush a little water on the open seam. Then fold in each end slightly. Next take the back edge and fold it forward pinching it closed where the edge meets the dough. It is important that it gets pinched and sealed tight.
Lift the filled dough onto a parchment lined sheet pan (seam down), cover with a towel and let rest in a warm draft free place for about an hour.
Preheat oven to 350 degrees and move rack to center.
Bake for 20 minutes until browned. If you bake both pans at the same time, rotate half way through. You may need to bake longer if both pans are cooked together.
Move to a cutting board and let rest five minutes. Then slice thick slices and serve.
---
You may also like: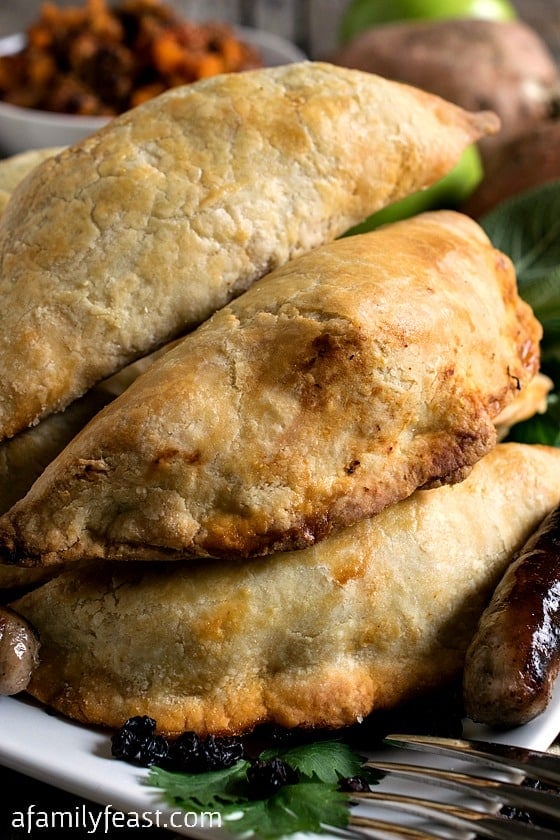 Quick & Easy Weeknight Dinners
Butternut Squash and Sausage Chili