Our thick and creamy Chicken Tortilla Soup is loaded with zesty flavor!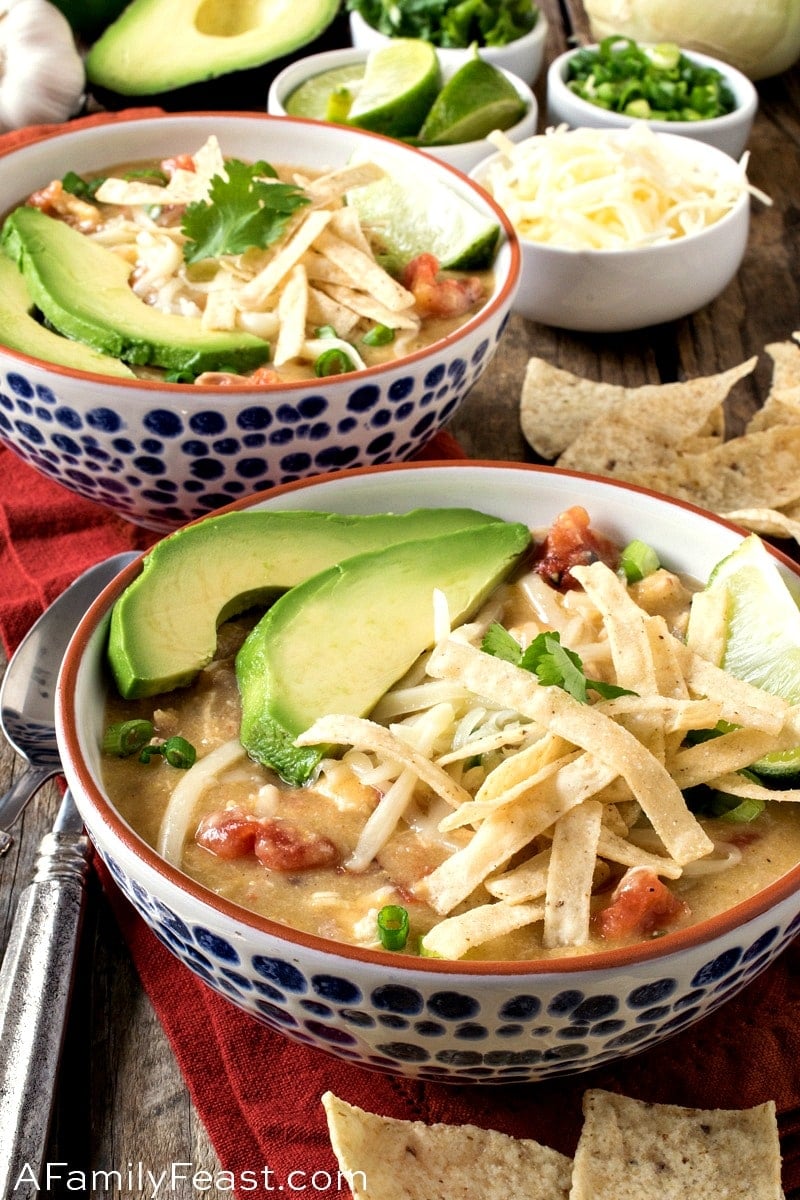 Hi Everyone. It's Jack again. Years ago, during my food service management career, we served Chicken Tortilla Soup on a regular basis. Our customers loved this soup — with its thick and creamy broth, shredded chicken, vegetables, and delicious zesty flavors.
I'm not sure why it has taken us more than six years of blogging to finally share our recipe here on A Family Feast — but better late than never.
I've seen lots of other Chicken Tortilla Soup recipes online over the years. But so many of those recipes miss the mark (in my humble opinion) because they use crispy tortilla strips simply as a garnish on top of what is essentially a zesty chicken soup recipe.
We add those crispy tortilla strips on top too, but in my experience, an authentic Chicken Tortilla Soup has a broth that is made and thickened with corn tortillas. The corn tortillas not only add a fantastic, roasted corn flavor to the soup, but they also give the finished soup a silky, thick texture.
Our Chicken Tortilla Soup recipe also includes an optional, but highly-recommended ingredient: gumbo filé powder, which is the leaf from the sassafras tree. Adding it really elevates this Chicken Tortilla Soup! Here in New England, gumbo filé powder isn't sold in many of our local stores, so we resorted to ordering it online here.  But if you live in an area of the country where Creole cooking is popular, you can likely find it at the supermarket.
Serve your Chicken Tortilla Soup with a drizzle of taco sauce on top, as well as slices of fresh avocado, a squeeze of fresh lime, fresh cilantro, shredded jack cheese, sour cream and chopped scallions.
This Chicken Tortilla Soup recipe makes a big batch so it's great for feeding a hungry crowd.  It also freezes very well, so feel free to portion some soup out and freeze to enjoy at a later date.
You may like these other Mexican chicken recipes:
Print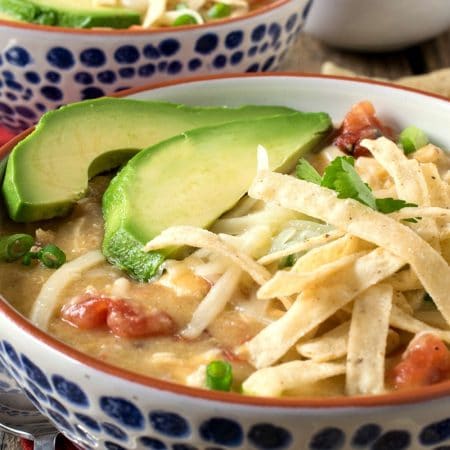 Chicken Tortilla Soup
Author:

Prep Time:

30 minutes

Cook Time:

30 minutes

Total Time:

1 hour

Yield:

8 to 12 servings

Category:

soup

Method:

stovetop

Cuisine:

Mexican
---
2 quarts chicken stock (see recipe here) or canned chicken stock
Meat from one chicken (see recipe here) or (here) or use a rotisserie chicken from the supermarket
16 white or yellow corn tortillas (4 will be cooked and used as a topping and 12 will be cooked and used to thicken the soup)
1 tablespoon olive oil
2 tablespoons vegetable oil
2 cups onion, diced
2–3 tablespoons jalapeno, diced (depending on how hot you like it)
2 tablespoons fresh garlic, chopped
1 ½ teaspoons ground cumin
1 teaspoon ground coriander
½ teaspoon white pepper
2 teaspoons gumbo filé powder (optional but recommended)
1 14.75-ounce can creamed corn
1 7-ounce can diced mild green chilies
2–4 tablespoons yellow corn meal (depending on how thick you like it) *see note
2 14.5-ounce cans fire-roasted diced tomatoes (drained)
Few shakes Worcestershire sauce
Kosher salt, as needed to taste
Topping options
Lime wedges
Jack cheese
Cilantro
Tortilla strips, reserved from earlier step
Taco sauce (see our recipe here)
Slices of fresh avocado
Sliced scallions
Sour cream
---
Instructions
Prepare a homemade chicken stock (see recipe here) or used canned or carton. Set stock aside.
Use shredded chicken from your homemade chicken stock, or roast your own chicken, or buy a large rotisserie chicken and remove meat from the bones and shred. Set aside.
Preheat oven to 425 degrees F and line a sheet tray with parchment paper.
Lay out 16 corn tortillas on your cutting board and slice into thin strips. Spread out on the sheet pan and coat with a drizzle of olive oil just too moisten.
Bake for 20 minutes, tossing every five minutes. If getting too brown, remove before the 20 minutes is up. Separate one quarter of the cooked tortillas as a garnish for serving. Set the remainder aside for later in this recipe.
In a 5-6 quart heavy bottomed soup pot or Dutch oven, heat the vegetable oil over medium heat. Once hot, add the onions, jalapeno, garlic, cumin, coriander, white pepper and gumbo filé powder if using.
Stir and saute for five minutes.
Add the stock, creamed corn, diced green chilies, the cooked tortilla strips from earlier and the corn meal (see note below on corn meal) and bring to a boil, then lower to a simmer and cook five minutes.
While soup is simmering, drain the canned tomatoes and discard the liquid.
After five minutes, use an immersion blender or table top blender and puree the soup until smooth. Check for thickness. If you want it thicker, add more cornmeal. If too thick, dilute with more stock or water. When adding corn meal, it needs five minutes of cooking to bloom and thicken the soup so don't add too much at once.
Add the drained tomatoes and Worcestershire sauce then taste. Only add salt now if you think it needs it. It may or may not depending on how salty your chicken stock was.
Shred the chicken and add to the soup.
Serve immediately with any or all of the listed toppings including the cooked tortilla strips reserved from earlier.
---
Notes
If you use two tablespoons of corn meal, the finished soup will be creamy in consistency and will easily drip from a spoon. Four tablespoons will make the finished soup thick, almost porridge like. You could start with two and if it seems too thin, gradually add more. Corn meal needs about 5 minutes to dissolve, bloom and thicken as the soup cooks so wait a bit before adding more.
Keywords: Chicken Tortilla Soup