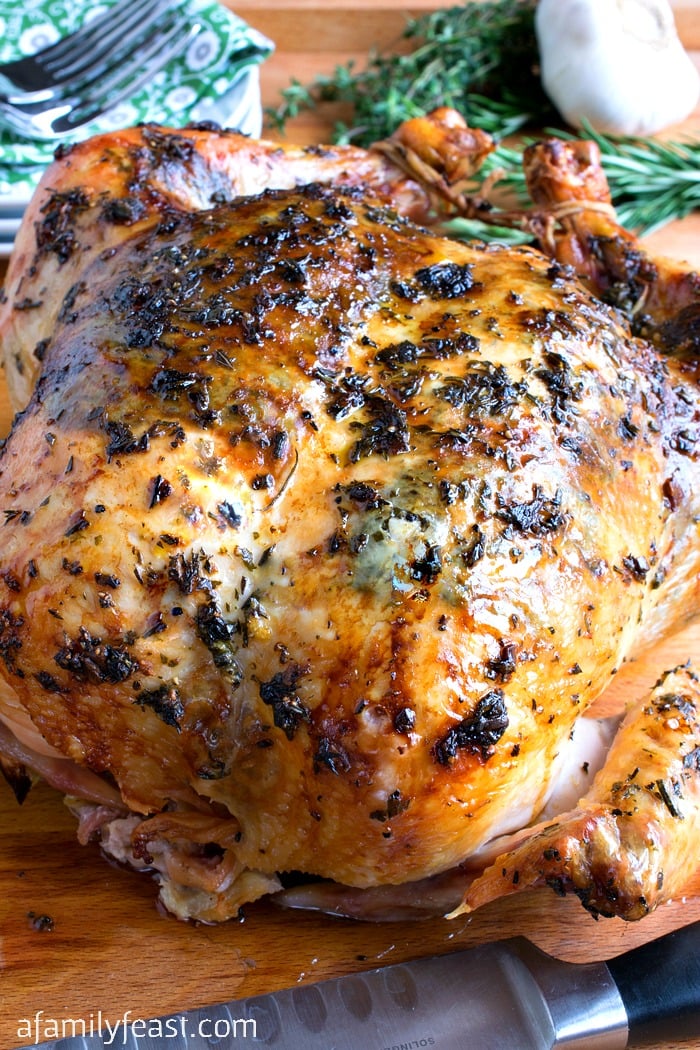 This Perfect Herb Roasted Chicken is sponsored by Peapod.  All opinions are 100% mine.
Say the words "comfort food" and what comes to mind? Maybe a hearty stew? Or a cheesy pasta dish? Or how about a sweet and delicious baked apple bread?
For me, a Perfect Herb Roasted Chicken is my idea of the absolute best comfort food! There's nothing better than the aroma of a tender, juicy chicken roasting in the oven – and the anticipation of enjoying a delicious family dinner. Better yet – cooking a Perfect Herb Roasted Chicken is actually very easy to do.
We start by mixing a variety of fresh herbs, garlic and seasonings in some softened room-temperature butter. (We found a fresh herb 'poultry blend' on Peapod – but any variety of fresh rosemary, sage, thyme, parsley or other favorite fresh herbs will work.)
Then, place a large roasting chicken in a pan on a bed of onions, carrots, celery stalks and lemon rind. You'll also want to place a few of the vegetables and poultry herbs inside the cavity of the chicken. Next, spread the herb and butter mixture over and under the skin of the chicken. Then insert a meat thermometer into the breast of the bird before roasting in the oven until perfectly golden, juicy and tender.
You can find the detailed recipe for this Perfect Herb Roasted Chicken right here. We ordered everything to make this delicious recipe from Peapod's grocery delivery service.
Right from the comfort of your own home, you can order thousands of grocery items, as well as other kitchen items such as roasting pans, meat thermometers, kitchen twine and more. Then –  arrange delivery to your home when it is most convenient for you.
To learn more about Peapod's grocery delivery service, visit them here.
Click here to find the recipe for this fantastic Perfect Herb Roasted Chicken – it's a recipe that everyone should have in their collection! You'll also find many more delicious recipes over on From the Pod.
You may enjoy these other recipes made with groceries from Peapod:
Slow Cooker Tex-Mex Chicken Stew