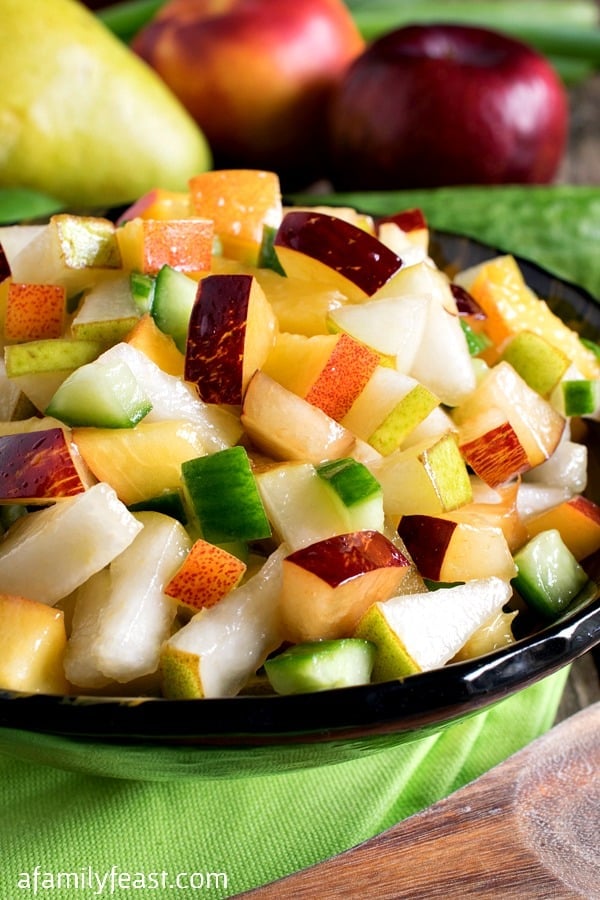 This Fruit and Cucumber Salsa is an absolutely perfect accompaniment to the Peanut Ginger Chicken recipe that we shared yesterday.
Also adapted from this recipe I clipped from the pages of Better Homes and Gardens years ago, I have to admit something.  Initially, I wasn't too sure about the flavor combination in this recipe! This salsa includes a mix of chopped fresh fruit including pears, peaches or nectarines, and plums, then the fruit is combined with seeded, chopped cucumber.
Surprisingly – it is a fantastic flavor pairing!  The cucumber lends an almost melon-like flavor again the sweetness of the fresh fruit – and it is wonderful!  This Fruit and Cucumber Salsa also has some chopped scallions, plus a splash of apple cider vinegar in the mix – lending a savory bite that prevents this salsa from becoming too sweet.
The fresh flavors in this Fruit and Cucumber Salsa are great served alongside our Peanut Ginger Chicken (you can see that recipe here) because it helps cut through some of the richness of the chicken. And – if you happen to have any of this Fruit and Cucumber Salsa leftover, it's also delicious served with chips!
Go figure…fruit and cucumber! 🙂
Print
Fruit and Cucumber Salsa
Prep Time:

2 hours

Total Time:

2 hours

Yield:

2 1/2 cups
---
1½ cups

chopped fresh fruit, such as peeled peaches, nectarines, pears, or plums

1 cup

chopped, seeded cucumber

2 tablespoons

thinly sliced scallions (green part)

1 tablespoon

sugar

1 tablespoon

canola oil

1 tablespoon

apple cider vinegar
---
Instructions
Combine all ingredients in a bowl.
Cover and chill for 1 to 2 hours before serving.
Serve alongside our Peanut Ginger Chicken.
---
You may also like:
Ruby Red Grapefruit and Cranberry Chicken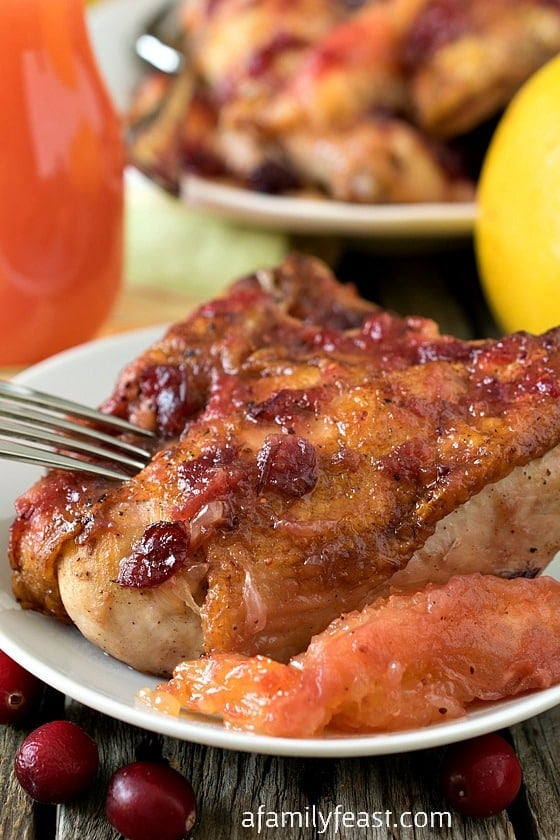 Chicken with Sweet and Sour Plum Sauce