Our creamy Chicken Enchilada Soup is loaded with tender chunks of chicken in a thick, rich, zesty tomato-based broth that has tons of delicious flavor.
On a recent family road trip, we made an impromptu stop for dinner at a Chili's restaurant. Traffic was heavy, and we were all getting a little hungry (and a little cranky 😉)—so we decided to stop to eat, and to let traffic ease up a bit.
My husband Jack ordered some Chicken Enchilada Soup to start his meal—and immediately added it to our recipe to-do list!
How do you make Chicken Enchilada Soup?
There are lots of different Chicken Enchilada Soup recipes around—with most using some shortcuts like rotisserie chicken, canned chicken stock, and pre-made enchilada sauce for flavor.  (There's nothing wrong with taking shortcuts!)
But Jack decided to go for the real deal with our Chicken Enchilada Soup recipe today. He made his own Mexican-style chicken stock, infused with fresh poblano and dried Pasilla chiles (also called chile negro) peppers.  Both of these pepper varieties added a gentle heat to the stock, as well as delicious flavor. (You can find both at most supermarkets these days.)
Next, that Mexican-style chicken stock was combined with onions, garlic, tomato paste, tomatoes with green chiles, plus a variety of spices including cumin, smoked paprika, chili powder, oregano and coriander.
Chicken Enchilada Soup gets its creaminess from masa harina—a fine corn meal that is also used to make corn tortillas. When added to the soup, it serves as a thickener, but also gives the soup a rich flavor. A little bit of cream cheese (or Mascarpone, Queso Fresco, or Cojita cheese) smooths out the spices.
Finally, add cooked chicken picked from the carcass that you used to make the stock for your Chicken Enchilada Soup. It too picked up some extra, delicious flavor from the peppers added to make the stock.
What do you serve with Chicken Enchilada Soup?
We kept things simple with our Chicken Enchilada Soup – adding some shredded cheddar cheese and crispy tortilla strips to the top.
But you could go farther—adding a dollop of sour cream, chopped scallions, and a drizzle of enchilada sauce or even hot sauce if you prefer.
Additionally, you could add black beans, corn, chopped fresh tomatoes, and any other favorite cheese if you'd like.
You may enjoy these other Enchiladas recipes:
Print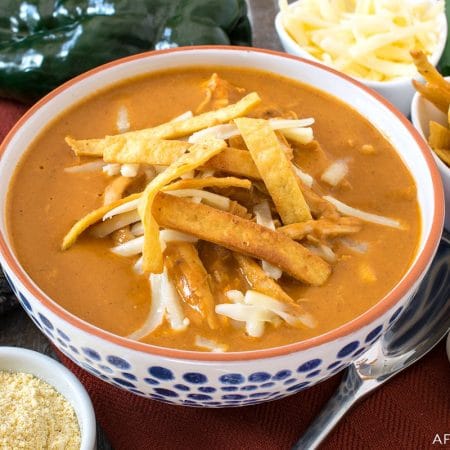 Chicken Enchilada Soup
Author:

Prep Time:

1 hour

Cook Time:

3 1/2 hours

Total Time:

4 1/2 hours

Yield:

8 - 10 servings

Category:

soup

Method:

stovetop

Cuisine:

Mexican
---
Stock
1 whole chicken, 5-6 pounds
1 medium carrot peeled and cut into quarters
2 stalks celery with leaves
4 sprigs fresh parsley
1 whole bunch fresh cilantro (rinsed)
2 bay leaves
1 tablespoon kosher salt
12 peppercorns
1 bunch scallions, whites separated from greens (roots removed)
8 quarts water
1 large yellow onion cut into eighths
1 large poblano chili pepper, stem removed and cut in half the long way
1 dried Pasilla chili pepper
6 large cloves garlic, skin left on
Soup
2 tablespoons extra virgin olive oil
1 cup yellow onion, diced
1 tablespoon fresh garlic coarsely chopped
1 6-ounce can tomato paste
1 10-ounce can Ro*Tel diced tomatoes with green chilies
1 teaspoon smoked paprika
2 teaspoon ground cumin
2 teaspoons chili powder
1 teaspoon dried oregano
1 teaspoon ground coriander
1 cup Masa Harina
Corn tortillas, cut into strips, for garnish
Vegetable oil, to fry corn tortilla strips
4 tablespoons cream cheese (*see Notes below)
8 ounces sharp cheddar, for garnish
Optional chopped scallions, for garnish
Optional sour cream, for garnish
---
Instructions
In a large stock pot, place chicken and neck if available, carrot, celery, parsley, cilantro, bay leaves, salt, peppercorns, and the greens of the scallions. Add the water and turn on high to boil.
In a cast iron pan on high heat, add onions and char black on both sides of the pieces, about five minutes, and add to the stock. Keep the pan on high and add the fresh poblano pepper and whole dried pasilla pepper along with the skin-on garlic and scallion bottoms and again char to black, about 5 minutes. Remove the garlic to your cutting board and peel skins off then add garlic to the pot along with the scallions and peppers.
Once the pot comes to a boil, lower to a medium-high simmer and cook for one hour. (Good rolling bubble but not a full boil)
With long handled tongs, remove chicken to a platter but return the pot to heat and continue simmering.
When the chicken is cool enough to handle, pull white and dark meat off and place remaining carcass back into pot. (OK if wings are still attached). Keep chicken meat refrigerated until later.
Continue to cook the stock for another hour, about 2 ½ hours total. Strain, discard solids and you should have 3 ½ to 4 quarts of stock. If not, cook down to reach that amount. Set aside. Note: The stock can be made a day in advance. Skim off and discard any fat that rises to the top. (Chilling the stock makes it easier to skim the fat off.)
To make the soup, in a 5-6 quart Dutch oven over medium heat, add olive oil and once hot add the onions and garlic and cook for about 4-5 minutes or until just starting to brown.
Add the tomato paste along with the can of diced tomatoes, paprika, cumin, chili powder, oregano and coriander. Cook this stirring continually for five minutes.
Add the stock but reserve 3 cups of the stock in your measuring container and add the masa and whisk to combine, then add to the soup pot. This will thicken the soup.
Whisk, then cook for 15 minutes on a medium to low simmer, making sure you stir often.
While the soup is simmering, cut the corn tortillas into small strips (I cut the round tortilla into quarters then cut the quarters into strips)
In a heavy bottomed pan, heat about an inch of vegetable oil to 350 degrees F and once hot, cook the tortilla strips in batches but don't overcrowd the pan. I cooked one package of corn tortillas cut into strips in four batches.
Remove with a spider or strainer to paper towels and sprinkle with salt as soon as they come out.
Shred the cheddar on the large holes of a box grater.
After the soup has simmered for 15 minutes, add the cream cheese then use an immersion blender and puree to smooth.
Shred the chicken with your fingers into the soup leaving some bite sized pieces.
Stir and heat to serving temperature and serve with the fried tortilla strips and cheddar cheese.
Also serve optional scallions and sour cream.
---
Notes
*Cream cheese adds a touch of sweetness to the soup, as well as smooths the flavor of the spices. You could also use mascarpone, queso fresco or Mexican Cotija cheese. We went with cream cheese because we had it on hand.
Keywords: Chicken Enchilada Soup