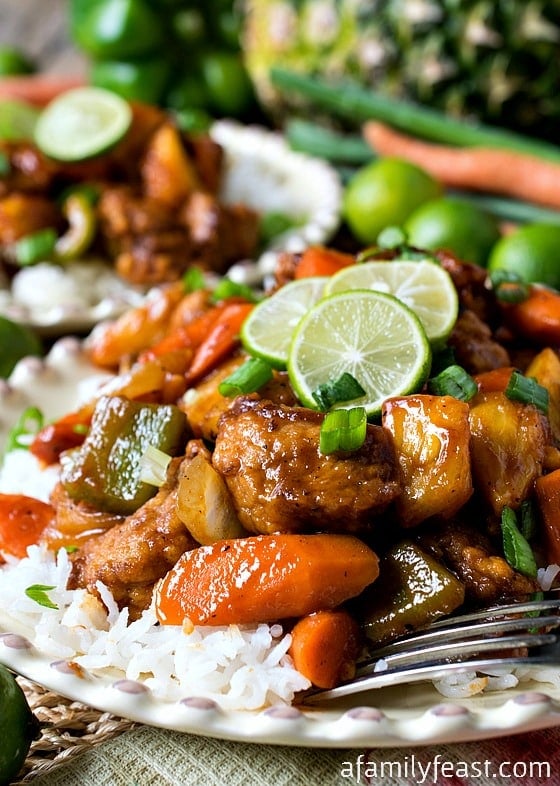 Do you remember seeing this post? If you did – then you might remember that Jack and I had a couple of bags of Key limes in our refrigerator a few weeks ago that were just begging to be used! Today's recipe for Sweet and Sour Key Lime Pork is just one of several recipes we made using those Key limes!
Key limes have a stronger and more tart taste than the limes most often found at the supermarket, so a little bit of their juice goes a long way! Key limes are often used in dessert recipes where a generous amount of sugar can be used to offset the almost-bitter taste.
But Key lime juice is also great in savory dishes like this Sweet and Sour Key Lime Pork! We used the juice as a marinade for the pork, and it also adds the 'sour' to a sauce that is otherwise fairly sweet thanks to pineapple juice, soy sauce, brown sugar, ketchup and optional red chili paste.
In this recipe tender chunks of lightly-breaded pork tenderloin are sautéed in a wok
along with fresh vegetables and pineapple – then that wonderful sweet and sour sauce gets added at the end. Served over a bed of rice, this sweet and sour key lime pork is a delicious meal that your family is sure to love!
And – check back tomorrow because we made an amazing Key Lime Ice Cream that would be a perfect sweet Key lime treat to complete your meal!
Print
Sweet and Sour Key Lime Pork
Prep Time:

45 mins

Cook Time:

45 mins

Total Time:

1 hour 30 minutes

Yield:

6-8 servings
---
Description
A few notes: Since the sauce is made separately from the dish and added at the end, you have the opportunity to adjust the taste to your liking. The sauce is (of course) sweet and sour, however if you want it sweeter, add more brown sugar. If you want it less sweet, add more Key Lime juice. Also, the sauce can be made the day ahead if you wish and stored in the refrigerator until needed. Lastly, as with most stir-fry dishes that are cooked using a wok, preparing all of the ingredients in advance is a must so you can cook the stir-fry quickly.
---
For the Sweet and Sour Sauce
1

6-ounce can pineapple juice

½ teaspoon

ginger powder

¼ teaspoon

salt

¼ teaspoon

freshly ground black pepper

1 teaspoons

regular soy sauce

1 teaspoon

dark soy sauce

¼ cup

brown sugar

2 ½ tablespoons

key lime juice (about

4

Key Limes)

½ teaspoon

lime zest

½ cup

ketchup

¼ cup

tomato paste

½ teaspoon

red chili paste (optional)
For the Pork
2

pounds pork tenderloin, cleaned of silver skin and cut into

one

-inch cubes

1 tablespoon

sherry or rice wine

1 teaspoon

regular soy sauce

1 teaspoon

oyster sauce (optional, you can also just increase the amount of soy sauce used)

2 tablespoons

key lime juice (about

3

or

4

Key Limes)

2

egg whites

¾ cup

corn starch or more (for dredging pork). Excess will be discarded

2

–

3

inches of canola oil for your wok
For the Stir Fry
5 tablespoons

canola oil, divided (it's OK to use some of the oil you used to fry the pork)

1 tablespoon

fresh garlic, minced

1 tablespoon

fresh ginger, minced

1 cup

onion, cut into large bite sized pieces

1

bunch scallions, white part cut into one inch pieces (tops used as garnish)

½

fresh pineapple cleaned and cut into chunks (about

2 cups

)

½

pound carrots, cleaned and cut on bias into bite sized pieces

1

large green pepper, cut into large bite sized pieces
One bunch scallion tops, sliced and used as garnish
---
Instructions
Place all sauce ingredients in a medium sauce pan and heat to combine. Remove from heat and store until needed.
In a bowl, mix pork, sherry, soy sauce, oyster sauce and key lime juice. Let sit at room temperature for 30 minutes while you prepare the remaining ingredients.
Start your rice if you are serving with white rice.
After the pork marinates for 30 minutes, add the two egg whites and work into the mixture with your hands. Pour out the corn starch onto a platter or bowl and dredge the pork in the corn starch. Do a few at a time and lay out on a board not touching. They will be sticky and gooey. Repeat for all pork using more corn starch as needed.
Add oil to wok to about two to three inches (deep enough to cover pork as it cooks). Heat to 350 and drop a few pieces of pork in at a time using tongs. Have a plate lined with paper towels close by.
As the pork cooks, it will brown and float. As long as you can maintain a steady 350 degrees in the oil, keep adding and removing the pork until you have cooked all of the pork pieces. Set aside. A spider strainer like this one works best to remove the cooked pork from the oil.
Drain off oil into a metal container. You will be removing five tablespoons of this oil to cook the vegetables and the remaining oil can be saved for other recipes. If you do save it, strain it a few times with cheese cloth after it cools and store in a container with a tight fitting lid (a mason jar works well for this).
Clean out the wok, dry and heat to hot. Add two tablespoons of the oil and stir fry garlic and ginger for one minute. Add onions and scallion bottoms and stir fry for about two to three minutes until the onions just start to become a little soft. Add one more tablespoon of oil, add pineapple and stir fry for two minutes. Remove this mixture to a large bowl.
Heat Wok back up with remaining two tablespoons of oil and add carrots and stir fry for two minutes then add peppers on top of carrots. Stir fry one more minute and add onion and pineapple mixture back in. Stir fry until vegetables are at your level of doneness then add cooked pork and sauce over vegetables and pineapple. Stir until heated through and remove to the bowl you used for onions and pineapple.
Serve over rice and topped with chopped scallion tops.
---
Disclosure:  This post contains affiliate links.
You may also like:
Key Lime Ice Cream with Graham Cracker Pistachio Crumb Topping
30+ Fantastic Key Lime Recipes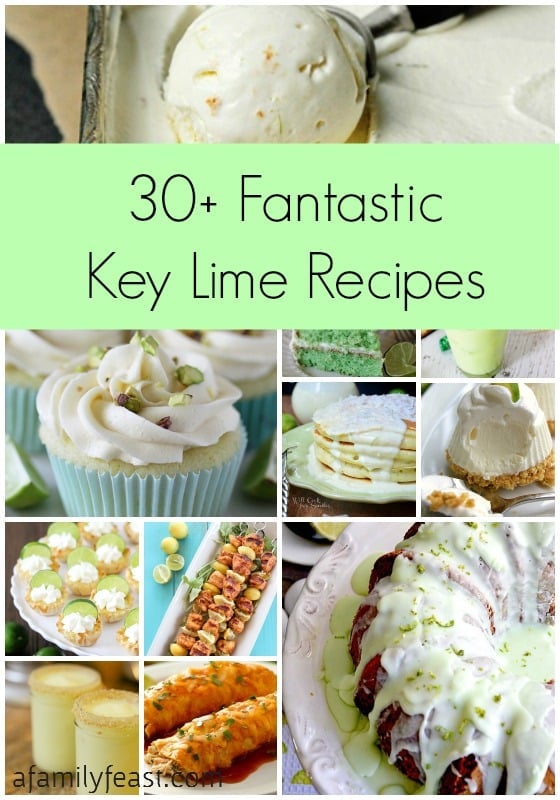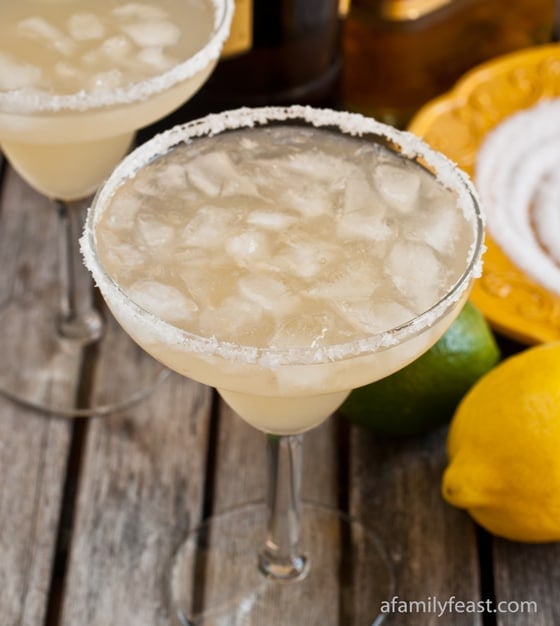 Crispy Asian Chicken Wings with Ginger-Lime Dipping Sauce